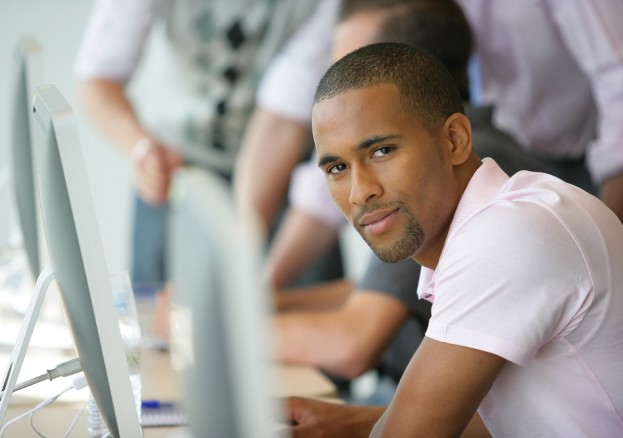 The BBC's Journalism Trainee Scheme is the flagship journalism entry and training scheme run by the BBC Academy. Since 2007 they have recruited and trained scores of high-quality journalists, many of whom continue to work on high-profile programmes and in newsrooms across the BBC.
The scheme offers vocational journalists the opportunity to immerse themselves in BBC News for a year of high quality training and work experience. Successful applicants need to be able to demonstrate creativity, resilience in a high-pressure environment, and a thorough understanding of the role of the BBC's journalism.
There aim is to make sure you're in a strong position to apply for broadcast journalism jobs across the BBC once your traineeship ends. We also offer coaching and support on how to apply for jobs within the BBC.
We seek to recruit journalists with some experience who want to broaden their broadcasting skills, as well as creative career-switchers who have evidence of their journalism potential. We place a premium on diversity and welcome applicants who can bring their different life experiences into the BBC's newsrooms.
The JTS has a high retention rate – most of our trainees have gone on to successfully compete for BBC journalism roles. The majority of past JTS trainees are still working in the BBC.
What's on offer?
An 11-month fixed term contract paying £20,800 per annum (outside London) or £25,205 (including London weighting).
We also cover some travel and accommodation expenses during training periods.
Multi-platform work experience in BBC News
First-class training led by BBC Academy
Mentoring throughout the scheme from a senior BBC journalist
The chance to arrange a four week work placement in an area of news of your choice during the year
What you need to apply
Serious contenders for the JTS follow news in all its forms – online, social media, newspapers, TV and radio. First and foremost they see themselves as journalists.
They have an excellent grasp of the role of social media in journalism and an understanding of why and how they can connect with audiences to improve their story-telling.
There is no upper age limit and the scheme welcomes career-changers who have ambitions to work in broadcast news, but have been pursuing a career in other industries.
Our scheme is not for complete beginners, and we need to see some solid evidence of your journalism so far so we can judge your potential in our application and assessment process.
If you're already working as a broadcast journalist, then consider whether this scheme is for you – we do not want to duplicate training you have already had.
There are no academic entry criteria to apply for the JTS. We think talent, potential and determination count for more than an academic background.
You do need to be flexible about where you live, as well as working hours – journalism is not a 9-5 job. You'll also be expected to demonstrate you can work with a wide range of colleagues and members of the public.
Specialist Placements
The JTS offers a number of specialist placements, and if you are interested in applying for one of them you will be invited to state a preference on the application form.
These include a sport placement in MediaCityUK, Salford, a Welsh language placement based in Cardiff, a political news placement in the BBC's Westminster office (the Gareth Butler placement) and a placement that includes some time working in the Visual Journalism Unit in London.
You will also be given the opportunity to state a preference if you want to work in one of the BBC's newsrooms in Salford.
Please note – applying for a specialist placement does not invalidate your application for the JTS as a whole – you will be still be considered for a place on the scheme.
More information on how we organise JTS placements is available on our FAQ page.
Timetable
If you're shortlisted, we'll invite you to an assessment and interview. These will take place in London and Salford in April, and in Cardiff in May. Successful applicants will be invited to a mandatory welcome event and then begin on the scheme in October 2016.
You will have the opportunity to let us know If you have a disability both on the application form and before your assessment. We can help you with any reasonable adjustments necessary for your assessment and for when you start on the scheme.
Your work placements will be based at any of the BBC's national or regional news centres across the UK, including London, Glasgow, Cardiff, Belfast and Salford. During your 11 months you will also have the opportunity and support to arrange a short work placement of your own within the BBC. Previous trainees have had a chance to report on everything from the US elections and the Olympics, to issues around living on one of the most remote islands in the world.
With the exception of our specialist placements, potential trainees cannot choose a particular location when they apply. Should you be selected, you will however be able to state a preference at your interview stage.
Please follow @BBCTrainees and #bbcjts for the latest news about the scheme and tips about making the best of your application.