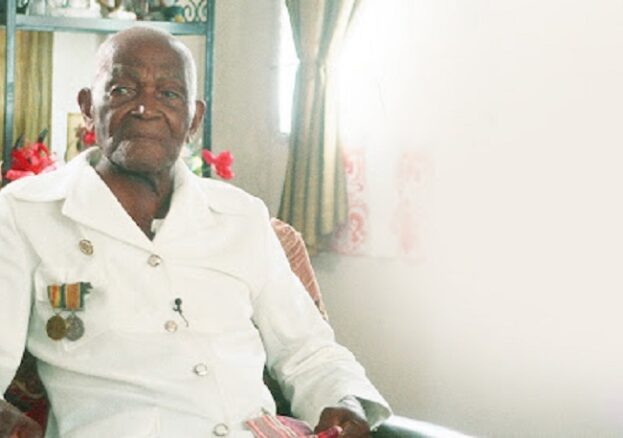 Born in British Guiana (now Guyana), Gershom lived in rural Bagotsville, he was officially too young to enlist at the outbreak of the First World War as he was aged 17, but he was so eager to fight for his King and country that he forged his age as 18 and was accepted. He did not let his mother know he had volunteered for fear she would stop him. Gershom served with the British West Indies Regiment (BWIR) which was established in 1915.
By the war's end, the BWIR had registered 15,204 men from British Guiana and across the Caribbean. The BWIR was sent to North Africa to fight there and in Palestine against the forces of Ottoman Empire. At 19 and a sergeant Gershom was part of the BWIR when it attacked the Ottoman army and captured a bridge, an action that was later officially acknowledged as one of the most crucial within that war zone. When the war ended in 1918 Gershom was on the front-line, he described the Armistice as 'a joyous time' and went on to become part of the British and Commonwealth occupation force in Egypt.
During World War One, sixteen soldiers from the BWIR were decorated for bravery but they lost 185 soldiers. A further 1,071 died of illness and 697 were wounded. After being demobilised Gershom returned to Guyana where he returned to Bagotsville working in agriculture, but he made good use of his military training, having been a scout in the army he knew how to move about in forests and became a successful diamond seeker.
Not only was Gershom a successful farmer and family man, but also a village leader and served for many years on the Village Council. During a visit with him when he was in his mid-90s and already retired, two neighbours from the village who had a land dispute came to him to arbitrate the matter. Both parties laid out their case as Gershom Browne listened attentively. After a brief summary which was also based on his detailed knowledge of the village, its history and culture, he handed down his decision. That decision was accepted by both neighbours who left fully satisfied, and with no rancour. As an observer, I was immensely impressed with how Gershom so quickly settled what could have been a serious and long-drawn-out issue between two village neighbours.
At many of the observances of Remembrance Day at the Cenotaph in Georgetown, Gershom always attended and laid a wreath. Official attendees and on-lookers always responded with a round of applause as he walked on steady feet to the Cenotaph to lay his wreath. Born in 1898, at age 102 he marched off triumphantly into eternity in 2000. He was one of the few Guyanese who had lived across three centuries. Before he left, and already a centenarian, Gershom wrote a book on "The History of Bagotville." He is likely the only Guyanese who has written a first book after becoming a centenarian. An official plaque to his honour has been placed on the house in which he lived. "Caribbean, where are your heroes?" is a well-known song by Guyana's Dave Martins. One answer is, World War One Hero, Gershom Onesimus Browne, of Bagotville, Region Three, Guyana.