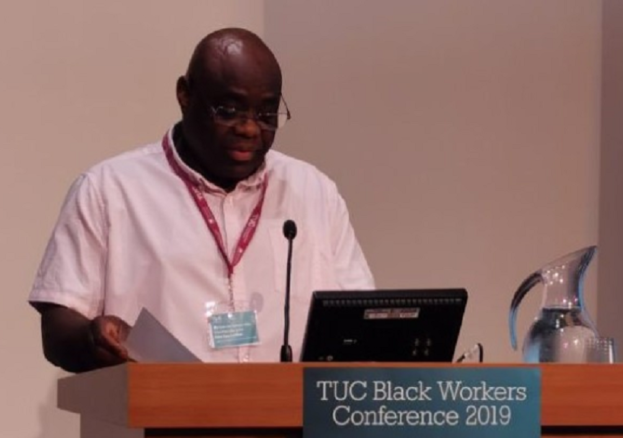 Community describes itself as the modern union for a changing world. The union was formed following an amalgamation of unions in 2004 but it's already made a big impact on the world of work and in the communities where its members live.
Its roots lie in two of the UK's biggest traditional industries, when after large-scale deindustrialisation in the 1980s and 90s, the Steel Trades Confederation and the Knitwear, Footwear and Apparel Trade Union joined together to form Community. Its unique, community-based approach saw other unions join over the years, including the National League of the Blind and Disabled (NLBD) in 2000, the British Union of Social Work Employees (including NSPCC employees) in 2008, and members of the Prison Service Union in 2013.
To find out more, we spoke to Chris Knight, a black union representative and prison officer who has worked in both the public and private prison service, with over 15 years' experience.
What's your background and why are you passionate about trade unionism?
I work at HMP Woodhill in Milton Keynes and I'm in the second year of a BA Honours Degree in Criminology and Law but in the longer term I've got my sights set on a political career. I really want to spread the word about how relevant trade unions are to 21st century workers – at work, at home, and in their communities. I passionately believe that every worker in the UK should belong to a trade union that can protect their interests and give them a stronger voice at work.
What do you like best about your role as a prison offer?
Having a rapport with the prisoners I support is the aspect of the job I like best. The key to good relations in a prison environment is for everyone not to judge the other, everyone should show respect to others, because at the end of the day, the one thing we all have in common is that we're people. Most prisoners appreciate the opportunity to talk and share their concerns. I'm pleased to be able to make an impact to prisoners' lives, and to the development of the prison services offered to them.
Do you think it's important for prisons to be part of the wider community?
Yes definitely, prisons should be part of the neighbourhoods where they're located. Having people from the local area visiting boosts the morale of prisoners and prison officers alike. Visitors also help to reinforce the messages we share to help prisoners prepare for their return to life outside.
Why is it so important for the prison service to be more diverse, inclusive and representative of the people and communities it serves?
Sometimes calls from 'home' upset the equilibrium of a prisoner and having someone from the same cultural background taking the time to notice their body language and offer a quiet space to talk things through is an important part of the support service we provide.
One way to understand and appreciate the different cultures represented in the prison is to actively learn about each of them. I enjoy sharing my own culture as a way of helping others to appreciate it. For example, when prisoners play dominoes Caribbean-style the game is usually accompanied by lots of noise from the bantering between players and tiles being slammed down on the board. As someone from a Caribbean background, I know it's merely exuberance and that everyone is having a good time, so I can reassure onlookers that despite how it looks, the players aren't falling out!
It's even more important that everyone knows about other people's cultures when you're responsible for their care and safety.
In your experience, do you feel as if the prison service is making progress when it comes to tackling racism?
The prison experience for black prisoners and staff is still affected by institutional racism. There still aren't enough black people in senior positions within the prison service.
However, relations in prison between prisoners and staff, black and white, are at a better place than they have been. In part, that's down to understanding and appreciating different cultures and the role that Community is playing. Union members and staff feel that their voices are being heard and there is a distinct, definite and noticeable change in the system, although there is still some way to go to overcome institutional racism.
What makes Community different from a traditional trade union?
As a keen member of Community and a union representative, I help people to understand the value and benefits of belonging to a union, especially a union like Community, which represents a whole range of different workers, rather than a single trade or industry.
Community is also proud to deliver for our members using a modern approach – we have difficult conversations and get into a room with an employer to solve problems and create a better workplace for everyone – we don't just stand outside and complain about why we aren't happy with things as they are.
Community is there to help members, not just with work-related matters, but with things outside of work too. For example, it offers legal and financial support, and education and training. I still find people who say trade unions work with employers, and not on behalf of their employees, but I'm making some headway in getting the message across to my colleagues because the number of black prison officers joining the union is growing, and many of them are also taking up roles within the union.
How did you get involved with Community?
I became a member 15 years ago and then moved through the ranks, moving from being a member to a union representative, then a Health and Safety Officer, and now I'm a Branch Secretary. My personal involvement in the union has become more intensive over the years. I don't just provide direct support to prison officers, I support workers around the UK in my role as BAME representative of Community's National Executive Committee. Community is affiliated to the Trades Union Council (TUC) and I've also been a member of their Race Relations Committee for the last two years.
What inspires you to keep moving through the ranks?
I remember the days when black people didn't have a seat at the table, so I'm pleased that progress is being made and even more change is imminent. I see helping to create union policy as a privilege. Each of the positions I've held on my rise through the union ranks has been a challenge, but succeeding in them has meant I'm able to give others the benefit of learning from my experience. My personal tactic to get through the challenges is to keep smiling, carry on, and just get on with it.
An important part of my role is to inspire and motivate other workers to go for promotion, whether that's in the prison service, another industry, or within the trade union structure – and to get involved in trade union activities. I encourage all staff, regardless of their ethnicity, to join the union. I believe that it's the people in the union that make it – and that everyone in it is stronger together.
How do you support people in your union role day to day?
Sometimes it's just a case of slowly chipping away at the problems, while at other times, it's about making sure your voice is heard. I do my best to make myself available to union members, to the point of making personal sacrifices. When a person's job is on the line and many people could be adversely affected, including their family and community, it's important that I step up to the plate, respond immediately and deal with the issue as quickly as possible. At other times, supporting workers is more about encouraging them to go for it, because they'll get through the difficulties.
Both my prison officer role and my union role involve creating a good environment for prisoners and prison officers.
What one piece of advice would you like to share?
I'd encourage everyone to have a goal, and to go for it. Pick yourself up when you're knocked down by challenges and just keep going.
What are you hoping to see in the future?
It would be a great achievement to see more black colleagues represented in the prison service and in the union at all levels. On a personal level, I'd like to make a bigger contribution to my local community and help make national policy, so the plan is to complete my studies and then aim for a political career.
You can find out more about Community on their website at community-tu.org