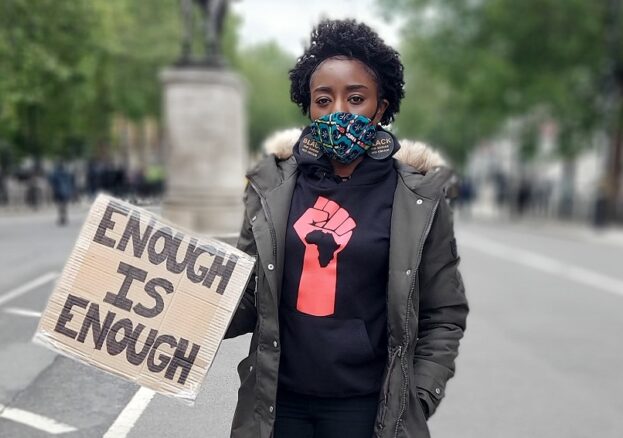 For many 2020 was set to be a big year, there was something about entering a new decade which made you feel revitalised and looking forward to the new year. However, for many that was not the case. News of a virus outbreak flooded in and within months the UK went into Lockdown. For the first time the world came to a halt as the pandemic set in and with this shed light on a much sinister beast. Racial tension was higher than ever, and the tipping point came with the death of George Floyd.
Early June while aimlessly scrolling on social media my feed became filled with the unsettling and disturbing videos of a Black man in the US being pinned to the ground and subsequently dying. I and millions around the globe were seeing police brutality in its undeniably rawest form. To many Black people this was nothing new, as horrible as it is, we have all seen this before, but there was something different this time. For this time people  around the world were able to witness the injustice, to see a man laid out on the concrete road with the knee of a white police officer in his neck taking his last breath.  We all watched the racist murder for the eight minutes and forty-six seconds it took.The outcry from the Black community was immense, "Black Lives Matter!". Hashtags were all over social media and across the globe people took to the streets in solidarity to peacefully protest against police brutality, black injustice, and racial bias. Our non-black counterparts were forced to assess their own privilege and their role, whether friend or foe. 
This combination of racial injustice and the rise of Covid-19 further shone light on the health inequalities faced by Black and ethnic minorities. As the cases across the UK rose it became prevalent that Black and ethnic communities were at a disproportionately higher risk of contracting and dying from the virus. The reasons for this are numerous from inadequate health care, economic deprivation, underlying health issues to the high proportion of ethnic minorities working in our front-line services where there were higher risks of transmission. As a Black woman I had to reassess my own safety and like many others isolating and working from home became the new normal. I relied on the news and governmental measures to protect us and control the spread of the virus, but these were in fact exacting a heavier social and economic price on those already experiencing inequality. During this time racially aggravated crimes jumped, people were on edge and black and ethnic minorities were taking the brunt of it. There was a glimmer of light by the voluntary and community sector groups that rose up collectively to attend to those in need, but the deep-rooted discrimination in British society overshadowed that good work. It is quite clear that the UK needs to do more to eliminate racial discrimination and because of Covid-19 it was more prevalent and exposed than ever before.  
Saturday 6th June 2020 – The day I took part in my first protest! 
I travelled to Parliament Square in London with my younger sister to protest the ongoing police 
brutality that continues to rock the black community. Unfortunately, another Black life was inhumanly taken from us at the hands of a US police officer. This story is not new to us, we have heard it many times before where an unarmed man, woman or child has been mistreated by law enforcement and it has ended up costing them their lives. For too long this has been the narrative. That day and days previous the world stood united in saying "ENOUGH IS ENOUGH". Standing side by side with my brothers, sisters, and allies, we made sure our voices were heard. We made sure that our presence was felt because for too long we have been denied a voice, for too long we have been losing our fathers, mothers, brothers and sisters at the hands of those who are supposed to be protecting us. As a Black woman one can only be reflective of my own life, especially when thoughts of Breonna Taylor come to mind. The story of a key worker who was shot dead in her sleep due to the mistaken identity of a male perpetrator. When these heinous crimes are committed there is no justice being served and that is not right. 
Racism is a disease that is unfortunately woven in the fabric of many institutions around the world and for decades we have been made to feel that this type of treatment is normal, that it should just be tolerated and that it will never change. What am I showing my younger sister and her peers? As we marched peacefully, I felt a great deal of responsibility to play my part and be a part of the change that is very much needed. 
It's finally time to decide what side of history you want to be on! 
I have always been proud to be Black and stand unapologetically in my blackness and as a woman!