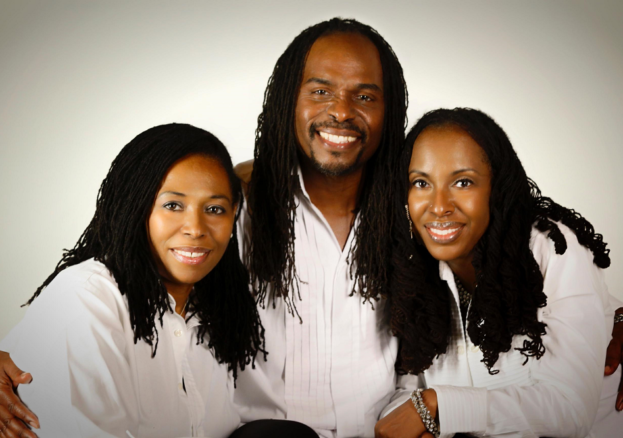 For Black History Month, the trio take their tour nationwide, showcasing their talents on a number of topics, from falling in lover, to being fashionable in what has been dubbed 'a revival for the genre'.
What can you tell us about the Lovers Rock Monologues?
The Lovers Rock Monologues is a Lovers Rock musical. There are a series of short stories with the music in the background. The two together tell that story.
So does the show's timeline reflect any of your lives in particular, or is this a story a creative one?
It is a mixture. There are aspects which are true to all of us. The first monologue charts the journey of our parents. How they found the country and the reaction to them. A lot of things are charted in the monologues, such as falling in Love for the first time, high fashion, dealing with cheating; we have monologues that deal with a lot of different aspects and dealing with life in the 60's, 70's and 80's. So really, the stories are both creative as well as true.
Speaking of your lives, the three of you, have made your names as singers, having charted well individually, but what made you decide that you should move from the studio to the stage in a completely different format?
Speaking for myself, I grew up singing, acting and dancing and in fact I've been on the stage professionally since 1979, so making the switch was not a new thing. I've known Janet a long time and in fact, we have worked together in the past when I worked with her group the Black Theatre Co-operative in a show called Mother Dragon. So Janet is very familiar with the stage as well. But for Carroll, I believe this is her first 'show'. (The Lovers Rock Monologues has been performing since 2013)
But even with Carroll being new to this, the show has grown enormously over the years and I expect it will grow again once we hit the road because we are always looking to improve the show.
This year's tour takes place during Black History Month, the first show being Friday 21st. Can you tell us why you made that decision?
Well October is the perfect month because it is the time we have set aside to learn about our community and Lovers Rock is part of, at least my generations history.
Lovers Rock was an integral part of growing up in the late 1960's through to the 1980's, and it was very much a part of our lives.
So really it was a perfect month to do the show.
You also work alongside Janet Kay and Carroll Thompson, two people who have been dubbed 'Queens of Lovers Rock'.  What is it like working alongside two people who are so talented?
A Joy for me, working with two artists who I rate very highly. In fact, they were a part of my upbringing. Their music would be played at every party I went to during my late teens.
But (Janet and Carroll are) two Quality, quality artists that whenever you see them perform it is always of the highest quality so it is great to work with them, to work with them as a fan.
We had spoken for a long time about making a Reggae musical, but a reggae musical would have been too expensive. But we spoke some more and the idea came from the book 'The Vagina monologues'. I read it and from there, the idea came for a monologue based musical and that's how the show was born.
Lover Rock is largely seen as the genre that allowed Black Caribbean's to carve their own piece of distinctive culture here in the UK. How would the three of you describe Lovers Rock as a genre and what it has meant to you?
If you see our audience, you would be surprised how many different people love and have bought into Lovers Rock. People telling their stories, loving the music
Lovers Rock to me, defined a what it meant to me. I came here as 9 years old. Lovers Rock tuned you into every different type of music.
Even if you came from a calypso based island or a Salsa based island, growing up in this country you were exposed to every different type of music. It's why you see so many different types of people joining in to sing Lovers rocks songs. It was never exclusive to any one culture, any one island. It grew here in London like many of us did.
For me, Lovers Rock is romantic. It helped many of us relate to the girls of our age. It brought young boys and girls together in a dance, romantically.
With the three of you having very strong sole vocal careers, Carroll having been a session singer with Michael Jackson, Janet being a number 1 Reggae chart topping singer and yourself as well; what benefits have you found by working alongside Janet and Carroll?
Iron sharpens iron. That is the case with us. We all have qualities that help each of us. Janet is very technical, she is our creative designer and engineer- so things like the posters are all one by her. Carroll is a great communicator, fantastic with people, so we all have qualities that we can borrow and can help each of us grow.
Are there any projects the three of you hope to do in the future together?
Well every year the three of us get together and do gigs. For instance, we do a Valentines show where the three of us sing our songs. Next year's gig is at the Clapham Grand.
Lover's Rock Monologues will be appearing at the below venues as part of Black History Month 2016.
Friday 21st October – Lawrence Batley Theatre, Huddersfield
Saturday 22nd October – The Rep Theatre, Birmingham
Friday 28th October – 2 Funky Music Café, Leicester
Sunday 30th October – Band On The Wall, Manchester
Monday 31st October – Millfield Theatre, London
Wednesday 2nd November – Norwich Arts Centre, Norwich