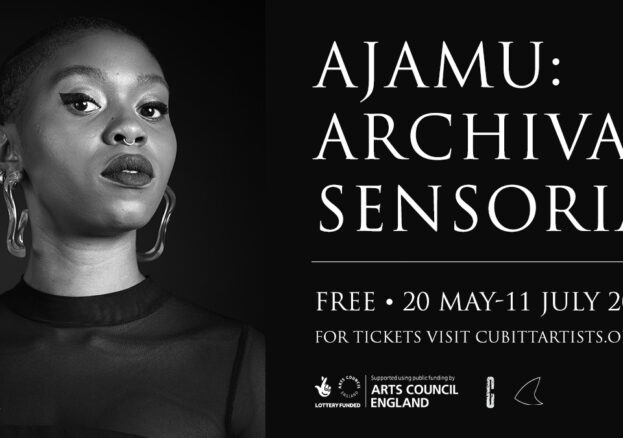 Drawing on Ajamu's personal archive, collected over the artist's 30-year career, as well as previously unexhibited contact sheets, personal photos, and community documentation, Ajamu: Archival Sensoria is a celebration of Black queer life and a visual tribute to the generative creativity of LGBTQ+ and gender non-conforming lives.
Throughout his practice and in an ongoing capacity, Ajamu has chosen to document key figures in Black British queer life through portraiture to resist erasure and ensure they are visible in the archive. In this newly commissioned body of work, a series of 22 portraits, taken with the theme of reverence in mind, Ajamu documents an intergenerational group of people who have each contributed to a robust and vibrant Black queer linage in contemporary Britain; artists, photographers, DJ's, activists, campaigners, writers, thinkers and more.
'Far too often our work is framed within the context of a deficit paradigm and an oppression based narrative. While we should not lose sight of social justice inequalities, of racism, homophobia, transphobia… It is important that we also celebrate the work of younger artists, welcome new conversations and dialogues, and develop affirming spaces through our work. For 30 years my work has been driven by a desire to show Black Queer lives as we truly are: with passion, with intimacy, with sex, with desire, with love and with the community' – Ajamu X
Ajamu: Archival Sensoria highlights Ajamu's archive of photographs from events such as Black Pride, as well as self-portraits and images of fellow artists, lovers and friends between the 80's and 00's. It also celebrates Ajamu's incredible impact on the Black queer landscape of Britain as a photographer, documenter, archivist and radical sex activist and brings attention to the artists's process: in and among the community, Ajamu has documented our lives, cared for them, has done so with reverence and awe. The exhibition is both a study of black queer archival practice and an evergrowing archive in and of itself.
The exhibition will also be activated by a public programme of events which will be announced in the coming weeks.
Ajamu: Archival Sensoria is the second exhibition in Languid Hands' curatorial programme; No Real Closure, which will see Languid Hands curate five major new commissions from UK-based Black artists of Caribbean descent: R.I.P. Germain, Ajamu, Camara Taylor, Zinzi Minott and Shenece Oretha.
Ajamu: Archival Sensoria is supported by Arts Council England, with additional support from Photofusion.
URL
https://www.cubittartists.org.uk/ajamu-archival-sensoria
20 MAY – 11 JULY 2021
Booking essential. Tickets available HERE: https://www.eventbrite.co.uk/e/ajamu-archival-sensoria-tickets-152706038873
Location name & address
OPEN Wed-Sun Cubitt 8 Angel Mews London N1 9HH +44 (0)20 7278 8226