Zita Holbourne is an award winning human rights campaigner,  community and trade union activist, public speaker, visual artist,  performance poet, writer, curator and vocalist. 
She avidly campaigns for equality, freedom, justice and human rights and will delve into these topics as part of her keynote speech, discussing reparations for past atrocities, healing our collective trauma and equal rights for the future generations.
From Windrush to the disproportionate impacts of Covid-19, systemic discrimination and state brutality to everyday racism and micro aggressions, we are living with the legacies of enslavement and colonialism. Zita will explore this difficult but much needed narrative in her lecture.
This lecture is part of the Dorothy Kuya Slavery Remembrance Memorial Lecture Series.
Biography
Zita Holbourne is the co-founder and National Chair of BARAC UK, which celebrated its ten year anniversary in June 2020, campaigning against racism, injustice and the i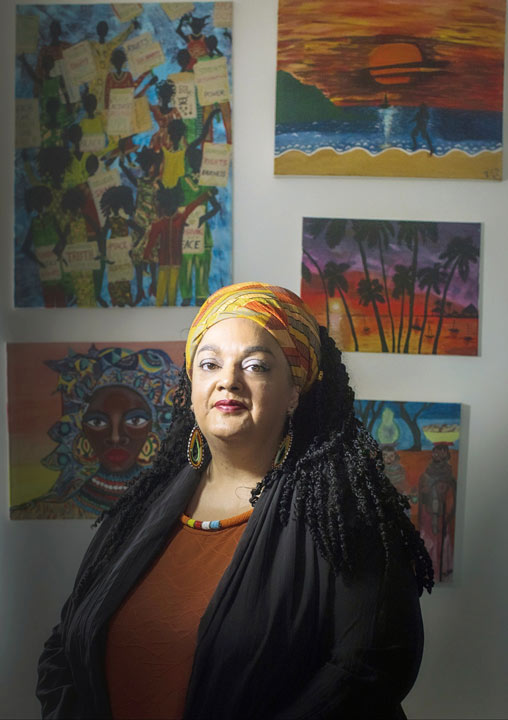 mpact of austerity on Black communities
s Union Congress Race Relations Committee and the Women's Committee and on the General Federation of Trade Unions National Executive Committee. She is the National Vice President of the Public and Commercial Services Union, Joint National Chair of Artists' Union England and sits on the Trade
She is part of the UNESCO Coalition of Artists for the General History of Africa, the author  of Striving for Equality Freedom and Justice, a book fusin
g the poetical with the political. She is one of 13 British women featured in the award winning book, Here We Stand, Women Changing the World.
Zita is the curator of the Roots Culture Identity art exhibition established to showcase young black artists in memory of Stephen Lawrence.
She is the winner of the National Diversity Awards, Positive Role Model for Race 2012 and the Legacy Awards Equality Champion Award and has been nominated in 2020 by the BLAC Awards for an  Honour of Distinction for community campaigning and for theTällberg /Eluasson Global Leadership Prize.
Dorothy Kuya Slavery Remembrance Lecture
This annual event has been named in honour of Dorothy Kuya. She was one of the country's leading figures in combating inequality and a tireless anti-racism campaigner who fought all her life for truth and justice.
Dorothy lived in Liverpool and was part of the steering group instrumental in transforming and developing National Museums Liverpool's Transatlantic Slavery Gallery into the International Slavery Museum.
It is fitting that her name should live on to educate and inspire future generations.
To keep visitors safe during the ongoing pandemic of Covid19, the International Slavery Museum have decided to move Slavery Remembrance Day online and to make a weekend of it. Slavery Remembrance Weekend is hopeful to bring communities, friends, visitors and families together in a digital realm – from near and far. You can expect to see a plethora of activities, which will be announced in due course, but included will be; talks, debates and discussions, creative family activities and a virtual tour of Liverpool's connections to the transatlantic slave trade.
This year will mark the museum's 21st Slavery Remembrance Day, and with so much unrest and uncertainty currently in the world, never before has it been so important to come together to remember and reflect on the past, and work together for the future. This is a defining moment of change, and we are all a part of it. We hope you will join us.
#SRDAtHome https://www.liverpoolmuseums.org.uk/ism