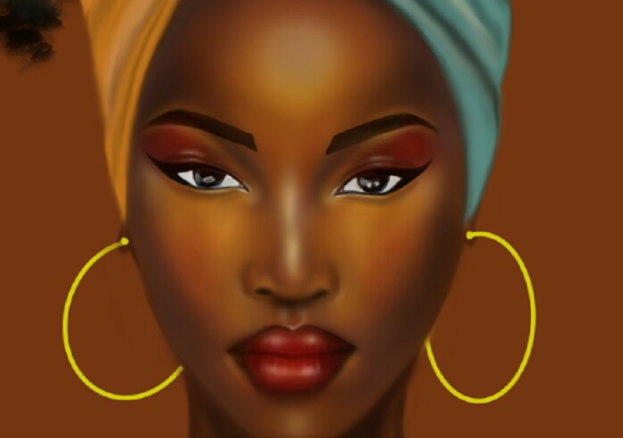 Artist Latifat Obanigba originally met The Hug Support Group's founders when she attended one of their weekly sessions for new parents in Barking. Now, the organisation is working with the British-Nigerian artist to present an exhibition titled: Herstory – celebrating black women breaking barriers and making history, which launches online at 5pm on Sunday 4th October, and which will then be available to view for 30 days.  Through the exhibition, Obanigba will take the viewer on a journey celebrating and paying tribute to black women breaking the mode and creating history despite all barriers, telling their story of strength, resilience, and growth through adversity, and reclaiming their queendom in modern society.
The free online exhibition takes place in October, Black History Month in the UK, and will display hand and digitally painted pieces centred around positive black culture and women creating history in modern times. The exhibition responds to the fact that BAME communities have been underrepresented for decades. By celebrating black culture and including the whole community into a significant event the artist and The Hug Support Group aim to promote a positive image of the black community, and women in particular. They aim to raise awareness around invisible and silenced topics that have affected black women. Artist Latifat Obanigba said "Art is a universal language that is interpreted in many ways but understood by all visually, so is a powerful tool to convey a beautiful message. My art aims to capture the beauty, resilience and strength of women. Every piece I have created has a story and is dedicated to those who have inspired and motivated me to rise above the negativity, and I hope I can inspire others too."
Funding for the exhibition was successfully awarded to The Hug from Barking and Dagenham Council's Equality and Diversity Community Fund. Dr. Valeria Giannuzzi and Almudena Segura, founders and directors of The Hug Support Group said: "We know Latifat as a mother and bonded on that level. Organising this exhibition together means so much to us, as she represents with art a very similar message to our social work: we both believe in empowering women, give voice to minorities and underrepresented people in society, and we believe in building a more fair and happy place for ourselves and our children by starting from our own community. Barking and Dagenham is lucky to have this amazing artist around!"
The Hug Support Group is a small organisation based in Barking and Dagenham aimed at helping families and new parents find the help they need, providing emotional and practical support, and groups of local supportive parents to share the parenthood journey.
Latifat Obanigba is a British-Nigerian self-taught visual artist from London. She creates art using multiple different mediums. As a black artist she has identified the underrepresentation of people of colour in the art industry. Her art aims to elevate, motivate and appreciate the richness of her heritage, upbringing and culture, enabling her to showcase the beauty of life through her love of art. Each piece was created to provide a sense of empowerment, self-love, representation, community and culture.
Join artist Latifat Obanigba for the launch of 'Herstory: celebrating black women breaking barriers and making history' at 5pm on Sunday 4th October online by registering through eventbrite: https://www.eventbrite.co.uk/e/her-story-tickets-120834337757. Alternatively, the exhibition will be able to view from 6pm 4th October to 6pm on the 4th November and can be accessed through the artist's website here: https://www.artbylatifat.com/online-exhibition.