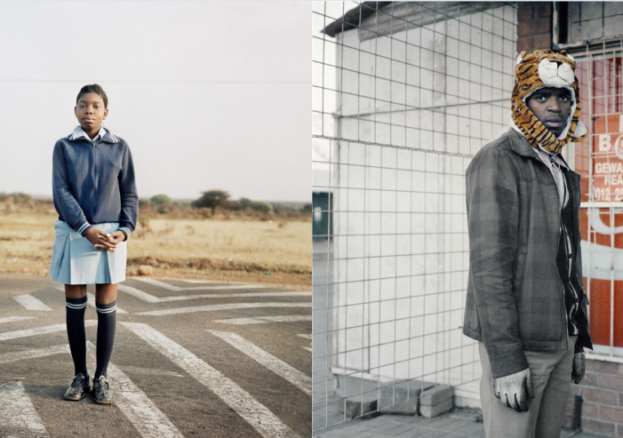 From 28 August to 6 October 2019, Hayward Gallery's HENI Project Space presents Here Is Elsewhere, a free exhibition bringing together around 50 works by the late South African photographer Thabiso Sekgala. Here Is Elsewhere is the artist's first solo exhibition in the UK.
Central to this exhibition is the artist's career-defining series Homeland (2009–2011), which consists of images taken in the former homelands of Bophuthatswana and KwaNdebele, territories established by the apartheid government to house black South Africans forced to leave urban areas.
This important early series explores the notion of home, place and belonging, and touches on both the artist's personal history and the political history of South Africa (Sekgala was born in the township of Soweto but grew up in KwaNdebele).
Along with striking portraits of young people living in these areas – the 'born-free generation' who grew up after the first democratic elections in 1994 – the series features elegiac photographs of landscapes, buildings and everyday objects. Through these indirect, subtle and nuanced photographs, Sekgala illustrates the lasting geopolitical effect of apartheid.
Sekgala first exhibited Homeland in 2011 at Johannesburg's influential Market Photo Workshop, where he was a student between 2007 and 2008. In 2012, Homeland featured in Okwui Enwezor's touring exhibition Rise and Fall of Apartheid: Photography and the Bureaucracy of Everyday Life, which opened at the International Center of Photography (New York) and toured to Haus der Kunst (Munich) and Museum Africa (Johannesburg).
Running through all of Sekgala's work is a fascination with the idea of home, and the personal, political or economic conditions that determine our relationship to it.
Thabiso Sekgala (2013): "I am inspired by looking at human experience whether lived or imagined. Images capture our history, who we are, our presence and absence. My work is influenced by growing up in both rural and urban South Africa. The dualities of these both environments inform the stories I am telling through my photographs, by engaging issues around land, peoples' movement, identity and the notion of home. My focus is on landscape and portraiture, looking on how young people relate to their landscape and also finding their own identities. My work is the culmination of the exploration of memory, place and interrelated self-imagining."
Here Is Elsewhere brings together images from Homeland with photographs from Sekgala's later projects, including Domestic (2012), an intimate meditation on everyday life, and Second Transition (2014), a series that addresses South Africa's vast economic inequality through photographs of the platinum-producing mining town of Rustenburg.
The exhibition also includes images from the quietly arresting series Running Bulawayo, Running Amman and Paradise (all 2013) – taken during periods spent in Bulawayo, Amman and Berlin, respectively – which speak to the experiences of displacement, migration and the pursuit of unattainable ideals.
The title of the exhibition, Here Is Elsewhere, draws on Sekgala's own writing about his work, and speaks of his ability to create images that are at once intimate and elusive, and that capture a specific time and place while remaining decidedly universal.
Thabiso Sekgala (b. 1981, Johannesburg, South Africa; d. 2014, Johannesburg, South Africa) held solo exhibitions in South Africa and Europe and has exhibited in group shows internationally, including LagosPhoto Festival (2015), Bamako Biennale (2015) and Les Rencontres D'Arles (2013). In 2013, he was an artist in residence at both the Kunstlerhaus Bethanien, Berlin, and at HIWAR/Durant Al Funun, Jordan. He studied at Johannesburg's Market Photo Workshop in 2007 to 2008 and was awarded the Tierney Fellowship in 2010.
Here Is Elsewhere is a free exhibition at Hayward Gallery's HENI Project Space, sponsored by The African Arts Trust.