How did British systems of slavery shape the lives of Africans and their descendants? What tactics did Africans use for survival, and for the health of their minds, bodies and souls? What new systems of domination did the period of Imperialism introduce when British slavery was legally abolished? And what new tactics did Africans embrace for their health, healing and empowerment?
This talk begins with British slavery, continues with consideration of the distinctive and highly consequential features of imperialism – in Liverpool, Britain and the British Empire – and explores the collective strategies passed down over generations by African men, women and their children, in the living legacy of slavery and imperialism that we confront in the time of Covid-19.
This lecture is part of the Dorothy Kuya Slavery Remembrance Memorial Lecture Series.
Biography
Stephen Small, PhD, is a Liverpool-born Black, raised in Liverpool 8, and a Professor of African Diaspora Studies at the University of California, Berkeley (since 1995).
He has taught at universities in England, The United States, and the Netherlands, and directed international programmes in Zimbabwe, Brazil, France and Spain.
He has mentored and advised students and community researchers from Black community organisations across several nations. His most recent book is 20 Questions and Answers on Black Europe, 2018. 
He is currently researching legacies of imperialism in Black Europe, with an emphasis on England in general and Liverpool in particular.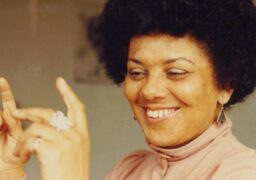 Dorothy Kuya Slavery Remembrance Lecture
This annual event has been named in honour of Dorothy Kuya. She was one of the country's leading figures in combating inequality and a tireless anti-racism campaigner who fought all her life for truth and justice.
Dorothy lived in Liverpool and was part of the steering group instrumental in transforming and developing National Museums Liverpool's Transatlantic Slavery Gallery into the International Slavery Museum.
It is fitting that her name should live on to educate and inspire future generations.
To keep visitors safe during the ongoing pandemic of Covid19, the International Slavery Museum have decided to move Slavery Remembrance Day online and to make a weekend of it. Slavery Remembrance Weekend is hopeful to bring communities, friends, visitors and families together in a digital realm – from near and far. You can expect to see a plethora of activities, which will be announced in due course, but included will be; talks, debates and discussions, creative family activities and a virtual tour of Liverpool's connections to the transatlantic slave trade.
This year will mark the museum's 21st Slavery Remembrance Day, and with so much unrest and uncertainty currently in the world, never before has it been so important to come together to remember and reflect on the past, and work together for the future. This is a defining moment of change, and we are all a part of it. We hope you will join us.
#SRDAtHome https://www.liverpoolmuseums.org.uk/ism