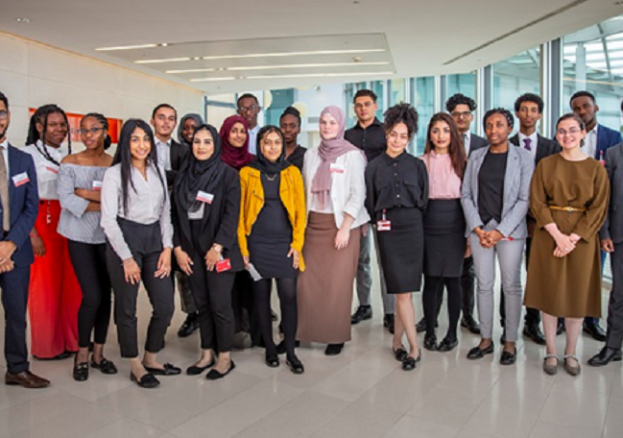 Supported by the Law Societies of England and Wales, Northern Ireland, and Scotland, and The Sutton Trust, PRIME commits its member firms to providing high-quality work experience to successful applicants as a way of giving them an insight into the range of careers available in the legal profession, as well as potential routes into those careers.
In July 2019, our London office hosted 27 PRIME students as part of our annual work experience programme and since 2011 over 100 students have participated in our programme.
Building a diverse pipeline
With 7000 people in offices all over the globe, we benefit from the diversity of perspective derived from the full spectrum of gender, national origin, sexual orientation, religion, culture and socio-economic backgrounds.
Our global diversity & inclusion priority is to foster a culture where people can be themselves at work. We know that if people are able to bring their whole self to work they will be more engaged and more productive and only then can everyone bring a diversity of perspective to our practice and reach their full potential.
Our commitment to social mobility
We understand that success in securing a career in the legal services sector can be dependent on the opportunities parents are able to provide for their children and an understanding of the pathways which need to be pursued to access the profession. Interventions like our PRIME work experience programme are transformative in terms of the career trajectories and possibilities for diverse individuals from less privileged backgrounds. Programmes like PRIME are key to delivering the outcomes that the legal sector needs in terms of greater diversity in our future talent.
We launched our first PRIME work experience programme in September 2011 and committed to providing work experience placements for sixth form students which equated to half of our annual graduate intake.
Unlocking potential
The programme provides students with the opportunity to shadow one of our lawyers, visit a client and participate in a range of skills development workshops.
Additionally, students are given access to a mentor and they participate in a mix of skills development workshops, case studies and networking activities. Themes covered in the programme include team working, networking, confidence and resilience, and a CV surgery session. The last day of the programme focusses on planning and next steps: students are encouraged to write a development plan with some short-term objectives to complete over the summer.
Where aspirations meet opportunities
It is important to us to build long term relationships with the students and to nurture their career development. To facilitate this, Norton Rose Fulbright launched an Alumni programme for the PRIME participants. The students receive relevant news updates and in turn keep us updated on what they do. During their first year at university they are invited to an Alumni event where we work more intensively with them on making applications, securing places at open days and mock interviews.
Looking to the future, we're committed to diversity in many ways and have a number of employee networks such as WiN (the women's network), Pride (the LGBTA network), Origins (the BAME network) and Shine (the disability network). Our internal networks support their members in many ways, including fostering professional development, providing networking opportunities and increasing our interaction with diverse communities.
Could you be a lawyer?
There are certain things you need to be a lawyer. You've got to be determined and hard-working. You need to be commercially aware and want to have a real impact on society. If you want to work in law, you can come from any background, any culture, any social group. If you've got the right attitude, you can become a great lawyer.
You might also consider our other routes to entry which include:
The first step programme: You're still early in your university career, but it's never too early to plan ahead. Join our First Step programme – our taster week for first-year undergraduates – and you can make your first step towards a career to be proud of.
Vacation schemes :We offer three vacation schemes: the summer scheme for penultimate-year law and non-law students, and the spring and winter schemes for final-year and graduate applicants of all disciplines.
Training contracts: Start as a trainee; qualify as an associate. This is the biggest step in your graduate legal career; a fully-paid law qualification, then two years of training, split into four blocks of six month seats.
If you want to learn more about PRIME, please visit https://primecommitment.co.uk