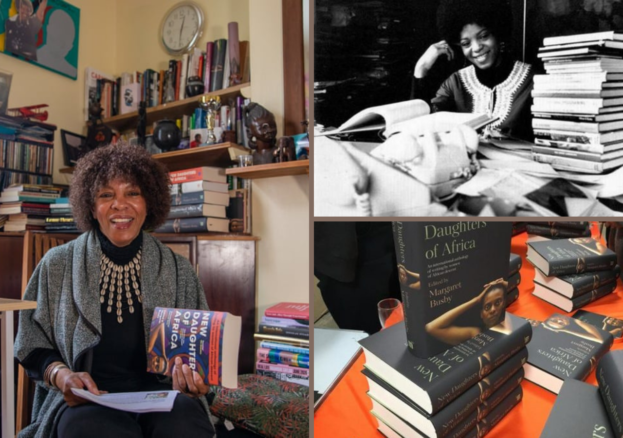 Margaret Busby OBE, Hon. FRSL (Nana Akua Ackon) is a major cultural figure in Britain and around the world.  Born in Ghana and educated in the UK, she graduated from Bedford College, London University, before becoming Britain's youngest and first black woman publisher when she co-founded Allison & Busby in the late 1960s. At Allison & Busby, she published notable authors including Buchi Emecheta, Nuruddin Farah, Rosa Guy, C. L. R. James, Michael Moorcock and Jill Murphy.
A writer, editor, broadcaster and literary critic, she has written drama for BBC radio and the stage, with radio abridgements and dramatisations encompassing work by Henry Louis Gates, Timothy Mo, Walter Mosley, Jean Rhys, Sam Selvon and Wole Soyinka. She has interviewed high-profile writers including Toni Morrison, Ngũgĩ wa Thiong'o and Ben Okri, judged the Booker Prize among others, and served on the boards of such organisations as the Royal Literary Fund, Wasafiri magazine, Tomorrow's Warriors, Nubian Jak Community Trust and the Africa Centre in London.
A long-time campaigner for diversity in publishing, she is an Honorary Fellow of the Royal Society of Literature and recipient of several honorary doctorates and awards, including the Bocas Henry Swanzy Award, the Royal Society of Literature's Benson Medal, and the Royal African Society's inaugural Africa Writes Lifetime Achievement Award.
On the news of the award;  Margaret Busby said: "It was such a pleasure to receive this news, the import of which is only gradually sinking in. To have been nominated and then chosen for such a prestigious award is an immense honour and very humbling. What a roll-call of predecessors! Sad to realise that some of those I interacted with over the decades – such as Sonny, Peter and Deborah – are no longer with us, but inspiring to know that so many others are still fighting the good fight. I am so grateful to remain connected to the industry's journey and I'd like to thank LBF for this special honour.  
"Thank you to all my colleagues and friends, and those who have walked with me over the decades on paths less trodden, helping to forge exciting international links and collaborations between authors, editors and booksellers. Throughout my career, I have published and worked with many incredibly fine writers, and I have been fortunate to be part of their ongoing success. My life in publishing was conceived while I was at university, not yet of age, and since that predates the venerable London Book Fair I can bear witness to how far that has come. Thank you, LBF, for all that you do, and thank you again for this amazing award."
The literary world have all come out to pay their respect and paise to Margaret including:
Ellah P. Wakatama, OBE, Editor, Critic and Broadcaster who commented: "Every single person of colour working in publishing today is standing on the shoulders of this amazing woman. Margaret Busby epitomises US Vice President Kamala Harris' advice: 'you may be the first to do many things, but make sure you are not the last'. Margaret blazed trails and brought down barriers. And with her gentle encouragement (fierce when it needs to be) and her capacity for bringing people together, she is my inspiration and so often my place of solace. I cannot think of anyone in my professional sphere who has made such a culture-defining difference."
Andy Ventris, Director at The London Book Fair, said: "I am absolutely delighted that Margaret Busby is the recipient of this year's Lifetime Achievement Award. Margaret is a savvy publisher, a truly inspiring cultural figure, and an incredibly important champion for diversity. As Britain's youngest and first black woman publisher she laid the ground for generations to come, and is still one of the most respected voices in publishing today. Margaret is such a worthy recipient and I am so pleased that we will be able to honour her achievements at LBF's first in-person event since the pandemic struck. This is truly a cause for celebration, and I look forward to welcoming our guests to the presentation ceremony."
David Roche, Non-Executive Chairman, The London Book Fair, commented: "The scope of Margaret Busby's contribution across publishing is vast – as a young co-founder of Allison & Busby and as a successful editor, writer, playwright, much in demand judge, and tireless cultural activist. Through her work, she has unstintingly promoted international authors, and the  Daughters of Africa  anthologies have promoted the writing of hundreds of women of African descent. No one has done more to promote diversity in publishing than her and we are delighted to award the 2021 LBF Lifetime Achievement Award to Margaret Busby."
Ben Okri, Poet and Author, said: "Margaret Busby is a legend of British publishing and richly deserves this award. She championed important writers from a wide range of communities at a time no one else was doing so. Her taste was impeccable and she helped widen the scope of literature available to the nation. She represents the fairness, good taste, and inclusivity that are qualities that ought to be part of the future of British publishing."
Candida Lacey, Publishing Director, Myriad Editions, said: "It is such a pleasure to congratulate Margaret on this richly deserved award. Margaret Busby is quite simply a living legend. Known to many as the youngest and first Black woman publisher, she has dedicated her life to championing the work of others, and especially the work of under-represented writers and artists.
I first met Margaret almost 30 years ago when we published Daughters of Africa (1992), a landmark anthology that celebrated the work of over 200 women writers of African descent. With this anthology and its sequel New Daughters of Africa (2019), Margaret charted a literary landscape as never before and inspired a new generation to write their own stories. 
Margaret has touched and enriched so many lives. She is one of the most generous, loyal and gracious friends one could wish for. She is exceptionally talented and a gifted writer herself. But she is also ridiculously modest and would far rather encourage others than call attention to her own achievements. Huge congratulations, Margaret – this one is for you!"
Isobel Dixon, m.d. of the Blake Friedmann Literary Agency and President of the Association of Authors' Agents, commented: "I am delighted that Margaret Busby is to receive The London Book Fair Lifetime Achievement Award, richly deserved recognition of her trail-blazing work in the industry and for writers, across many borders. I first met Margaret Busby at a publishing party in London around 25 years ago and was grateful then for her warmth and interest in a green agent's assistant. Her openness, curiosity, commitment to boundary-breaking writing and publishing, and her encouragement of others have remained an enduring beacon over many decades.
In her pioneering career Margaret Busby has rightly received many accolades, and I can think of few, if anyone else, in publishing who has been acknowledged by such a wide range of organisations in publishing and beyond. From The Society of Young Publishers Award in 1970 through the Pandora Award from Women in Publishing, accolades from the Pan African Writers Association, the Benson Medal from the Royal Society of Literature, the Bocas Lit Fest, several honorary doctorates and an OBE, and much, much more. Never one to blow her own trumpet, she has quietly got important things done, notably as Britain's first and youngest black woman publisher, co-founding Allison & Busby in the 1960s, heading a list which included Buchi Emecheta, Nuruddin Farah, Chester Himes and C.L.R James, to name only a few. She has been tireless in combining the support and publishing of others with her own writing, broadcasting and editing. I treasure my beautiful, bountiful copy of New Daughters of Africa: An International Anthology of Writing by Women of African Descent (Myriad, 2019), which she edited, and the original Daughters of Africa anthology was a landmark publication. So many writers and publishers acknowledge her inspiration. There is so much more to say, but not enough space to say it here, only to thank her for her astute and energetic example. Her modesty only makes her achievements more admirable and inspirational.'
Michèle Roberts (The Walworth Beauty, Paper Houses) said: "Margaret Busby is a courageous pioneer in the publishing world, a tireless champion of writers and literature, a wonderful scholar and critic, also a personage whose generous, graceful, humorous spirit warms all those who know her."
Lavinia Greenlaw (The Casual Perfect, A Double Sorrow) said: "Margaret has dedicated a lifetime to the achievements of others. She has been a trailblazer, an ally, a mentor, an advocate and an inspiration to countless people, myself included. Working for her taught me a great deal about books but those years were also a masterclass in determination, integrity and what you can achieve if you stop talking and set about making things happen."
Bill Swainson, Consultant Editor for Fiction at MacLehose Press and Editor at Large for Non-Fiction at Oneworld, said: "Margaret Busby is one of the most thoughtful editors working in Britain today, as she has been for the last fifty years. And, as if that were not enough, she has also been and continues to be an inspiration to several generations of writers and publishers, who admire and strive to emulate her recognition and championing of genuine talent. The authors she has published – C.L.R. James, Buchi Emecheta, Chester Himes, George Lamming, Roy A.K. Heath, Nuruddin Farah and John Edgar Wideman, among them – and, above all, her two ground-breaking anthologies, Daughters of Africa (1992) and New Daughters of Africa (2019), all attest to this."
The LBF Lifetime Achievement Award in International Publishing will be presented to Margaret Busby by authors Zadie Smith and Bernardine Evaristo, at an invitation-only event in London on Friday 2nd July, 12-3pm.
The Lifetime Achievement Award committee selected Margaret Busby from a shortlist of leading international publishing figures.
The Lifetime Achievement Award recognises an individual who has made a truly significant mark in the sphere of global publishing. It is open to publishers, agents, editors, scouts and anyone else involved in international publishing from any country in the world.
PREVIOUS LIFETIME ACHIEVEMENT AWARD WINNERS:
2020 – Nigel Newton, Bloomsbury Publishing, UK
2019 – Dorotea Bromberg, Brombergs Bokförlag, Sweden
2018 – Sara Miller McCune, Sage Publishing, US
2017 – Luiz Schwarcz, Companhia das Letras, Brazil
2016 – Gail, Baroness Rebuck DBE, Penguin Random House, UK
2015 – Peter Usborne, Usborne, UK
2014 – Deborah Rogers, Rogers, Coleridge & White, UK
2013 – Michael Krüger, Hanser Verlag, Germany
2012 – Jorge Herralde, Editions Anagrama, Spain
2011 – Sonny Mehta, Alfred A. Knopf, Inc., US
2010 – Antoine Gallimard, Éditions Gallimard, France
2009 – Drenka Willen, Harcourt, USA
2008 – Peter Mayer, Overlook Press and Duckworth, UK & USA
2007 – Lord Weidenfeld, Weidenfeld & Nicolson, UK
2006 – Christopher MacLehose, MacLehose Press, UK
2005 – Lynette Owen, Pearson Education, UK
2004 – John Lyons, Little,Brown, UK & USA