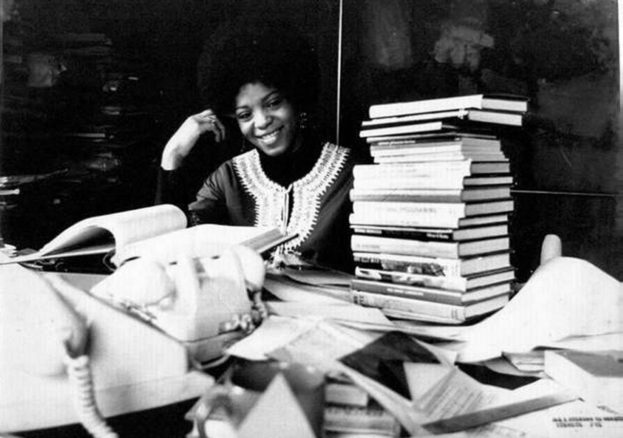 Born in Accra, Ghana to parents with roots in Barbados, Trinidad and Dominica, she became Britain's youngest and first Black woman book publisher, when in 1967 she co-founded Allison & Busby with Clive Allison (1944-2011).
Busy says "We started off with virtually no money and thought we would go into making volumes of poetry accessible and affordable to young people like ourselves. So we printed 15,000 paperback poetry books priced at 5 shillings. Our idea of distribution was stopping people on the street and asking them to buy our books".
Busby went on to become A&B's editorial director for 20 years, publishing a cluster of significant titles such as Sam Greenlee's The Spook Who Sat by the Door, Buchi Emecheta's Second-Class Citizen, C.L.R. James' The Black Jacobins, and George Lamming's The Pleasures of Exile.
Though A&B did not exclusively publish Black authors, it was nevertheless a major catalyst for bringing the work of several writers from the African Diaspora to critical public attention. Other authors included Val Wilmer, Miyamoto Musashi, Michele Roberts, Rosa Guy and Andrew Salkey.
Busby subsequently became the editorial director of Earthscan, before pursuing a freelance career as an editor and writer.
She is hopeful about the future of writing in the 21st century, which has been democratised by the web.
"Nowadays, technology permits you to be your own publisher and editor, which should encourage a lot of us, especially our young people, to write and express themselves."
As a frequent Wikipedia author, she believes that more people of colour need to document important figures in African and African-Caribbean communities – past and present. However, Busby cautions that writing is demanding, frequently unglamorous and financially unrewarding.
"Write because you really enjoy it and learn to be a good reader because the best writers read voraciously. Get to know the best books out there, and please, don't give up the day job."
Despite the challenges faced by young writers, especially young African writers, she is optimistic.
"I have been impressed with the energy and enthusiasm shown by new publishing outfits such as Cassava Republic Press, originally based in Nigeria's capital city, Abuja, which now operates out of London. Barbadian novelist Karen Lord's Redemption in Indigo is an example of some of the great work coming out of the Caribbean at the moment and let's not forget that Marlon James, a Jamaican, was the first Caribbean writer to win the Man Booker Prize in 2015".
Constantly in demand as a reviewer and obituarist, Busby is a frequent contributor to The Guardian, The Sunday Times and The Independent. She has worked regularly in radio and television, first presenting Break for Women on the BBC Africa Service and London Line for the Central Office of Information. She has also contributed to programmes such as Open Book, Front Row and Woman's Hour.
Her play based on C.L.R. James's Minty Alley (BBC Radio 4, 1998) won a Commission for Racial Equality Race in the Media Award in 1999. She has also penned lyrics for jazz standards such as Sergio Mihanovich's Some Time Ago.
Passionate about women's writing, in 1992 Busby edited Daughters of Africa: An International Anthology of Words and Writings by Women of African Descent. She has also served as a judge for the Wole Soyinka Prize, the Commonwealth Book Prize, the OCM Bocas Prize for Caribbean Literature, the Caine Prize for African Writing and the Independent Foreign Fiction Prize. She is currently the Prize Ambassador of the SI Leeds Literary Prize and a patron of the Etisalat Prize for Literature.