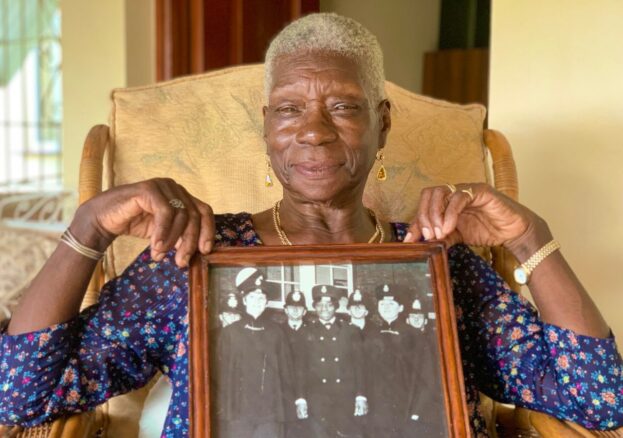 Sislin Fay Allen joined the Metropolitan Police in 1968, and became the first black policewoman in Britain, died this week aged 83 at her home in Ocho Rios, Jamaica.
She had been living in Jamaica at the time of her death.
A statement from her family said: "It is with deep sorrow that we announce the death of her beloved mother, Sislin."
"She passed away at her home in Jamaica, Ocho Rios. As the first black female police officer in the Metropolitan police force, she not only paved the way for so many other minority and female officers, but she also set the bar."
Last year, she was given a special award for her accomplishments by the National Black Police Association, after Sky News visited her in Jamaica in celebration of Black History Month.
"We thank everyone for all their support."
She was given a lifetime achievement award in October at a virtual event celebrating black, Asian and minority ethnic female officers.
She applied while she was working as a nurse at Queens Hospital in Croydon, south London.
"I was on my lunchbreak and during that time I was going through the paper. I saw this advert and they were recruiting police officers," she told Sky News last year.
"So, I looked at it and thought, 'why not?' I cut the advert out and put it in my pocket and said, 'when I have time, I'll fill it out'. After I finished work around seven, I went home filled it out and posted it off. I thought nothing of it."
Within weeks she was invited for an interview. At the time there were no black female officers, so the mum-of-two sat down and wrote an application.
"They posted some forms for me to fill out and return. I did that and at the end, I penned at the bottom of it that I was a black woman. I did not want that if I had succeeded and when they saw me, they did not know I was black.
"So, I specifically wrote there, that I was black."
Within a few weeks Sislin had made it to the interview stage, shocking her husband and family when she was accepted.
"On the selection day there were so many people there, the hall was filled with the young men. There were ten women and I was the only Black person."
After taking a set of exams and a stringent medical, Sislin Allen was told she had passed and would start work at Croydon's Fell Road Police Station.
"The first day on the beat in Croydon was daunting, but it wasn't too bad because I went out with an officer.
People were curious to see a Black woman there in uniform walking up and down, but I had no problem at all, not even from the public.
I remember on the day I joined; I nearly broke a leg trying to run away from reporters. I soon realised then that I was a history maker, but I didn't set out to make history; I just wanted a change of direction."
Policing in Jamaica
She resigned from the Met in 1972, before continuing her career in policing in Jamaica.
After receiving her award, Mrs. Allen said: "I wasn't expecting anything like this. I am really humbled by it all. I want to thank everyone in policing who has given me this.
"It has been such a long time, but it is better to be late than never. I remain happy that I did what I did."
Andy George, president of the National Black Police Association, said: "Her contribution to policing in the United Kingdom cannot be underestimated.
"The courage that trailblazers like her showed in joining the police service allowed others to follow a career in policing.
"We thought it was fitting to name an annual award in her honour to showcase her contribution to policing and to ensure a long-lasting legacy is created in her name to recognise fellow trailblazers in policing today."
Ironically the first prejudices Sislin encountered came from her own community, for joining the police force.
She says: "Many of us, as you well know, have some sort of perception of the police that isn't all that good. I was asked how I could leave nursing and join the police force. It was like joining something degrading."
Sislin worked in the Yard's missing persons bureau for a while before she was transferred to Norbury police station.
In 1972 Sislin left the Metropolitan Police because of family commitments, returning to her husband's birth country of Jamaica with their children.
She joined the Jamaican police force and received a welcoming letter from the then Prime Minister, Michael Manley.
On of Black History Month's heroes for sure. RIP.