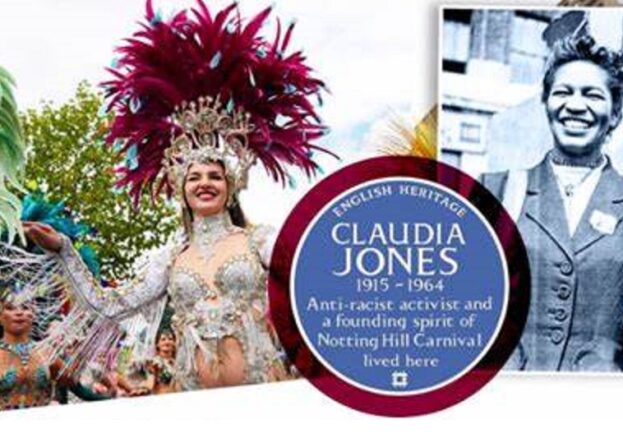 An imminent Claudia Jones blue plaque has recently been the subject of a news item on BBC Radio 4's Woman's Hour, and in articles in The Times and Guardian.
African identity and heritage advocacy strand TAOBQ (The African Or Black Question) is dismayed by the erroneous wording on the plaque to be unveiled by English Heritage, and request that it be amended with factual wording before being unveiled.
"It is unbelievable that the UK premier blue plaque scheme, run by English Heritage, a national, well-resourced organisation that has eminent scholars and historians, should want to make, what is at best, a tenuous connection between Claudia Jones and Notting Hill Carnival at all cost," says TAOBQ convenor Kwaku.
"We are not buying the choice of the supposedly clever use of the 'founding spirit of' phraseology in a bid to avoid stating that erroneous but often repeated ahistorical description of Claudia Jones being 'the founder' of Notting Hill Carnival.
"Claudia Jones did not found the Notting Hill Carnival, not materially or spiritually, nor was she the first to organise a Caribbean carnival in London. Although it's alright for her to be described as the 'Mother Of Caribbean Carnival', on account of the fact that she and her West Indian Gazette supporters organised an annual Caribbean carnival across London, but never in Notting Hill, between 1959 to 1964."
Indeed in 2011 Nubian Jak Community Trust, which is the world's leading plaque scheme for honouring African people, replaced an earlier plaque that stated that Jones was the founder of Notting Hill Carnival with a plaque in Tavistock Square in Notting Hill, which reads: "Mother Of Caribbean Carnival In Britain".
If the Nubian Jak Community Trust was humble enough to change what was erroneously put into the public space, we hope English Heritage will acknowledge the error being pointed out here, and avoid putting into the public space an ahistorical factoid.
"If institutions like English Heritage are really about heritage and history, then please put out indisputable facts. Claudia Jones has many worthy accolades, and doesn't need her legacy tarnished with tenuous links with Notting Hill Carnival," continues Kwaku.
"The Royal Mail got it right in 2008 when it described her as a 'Civil Rights Activist'. We go as far as describing her as the greatest British African activist ever. At last month's Repairing Histories 2: Commemorating Claudia Jones @ 58, Tionne Parris, who is studying for a History PhD hailed her a 'Radical', whilst Prof Carole Boyce Davies reminded us that she was a 'Communist', among other things. To which we can add an editor, publisher, and an indefatigable campaigner."
There are plans afoot for a plaque to be unveiled on the north London house where Jones died in 1964.
"In the announcement on Radio 4, it was a shame that the history was incorrect. In due course people will be reminded more accurately of Claudia's achievements," says Gerry Harrison, who served as a Camden councillor between 1994 – 2006, and has been campaigning for a plaque on the house which was in his ward.
For those who care to enrich their knowledge of Jones' history and legacy, TAOBQ is co-organising the by invitation-only Re-Evaluating Claudia Jones On Her 108th Birthday Zoom forum on Feb. 21 .