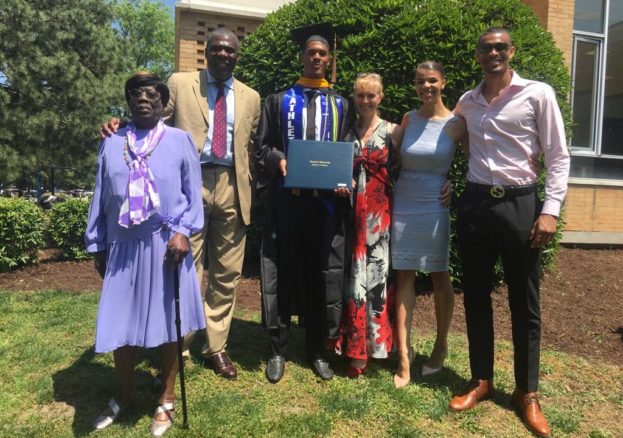 From a personal and professional standpoint, and within my incredible journey from the streets to the stadiums of world championship winning sporting success and the opportunity to give back to society reflective of my 30 years in public life, there has never been a greater need to acknowledge and celebrate those shoulders upon whom I stand and as a result have been inspired to continue to fight for a more equal, just and inclusive opportunity for all.
The Windrush scandal provided a continued reminder of the need to challenge and ensure that the contributions made are realised. I am celebrating our Sisterhood and their remarkable impact in the lives of the Diaspora community and society as a whole.
My Mum, Violet Adriana Thompson came to a post-war Britain to help re-build the Mother Country. She arrived at Liverpool Docks, centuries later, not as a slave as her forefathers had, but to improve her life chances and that of a family left behind in Guyana, South America. Born in a Village – Nabaclis Village, out of a slave rebellion, she developed from the age of 7 a hard work ethic instilled by the Baccus tribe and warrior instincts that characterised the resilience, conviction and God fearing nature that would help her survive her initial experiences of racial ignorance and intolerance.
Two examples of that remarkable strength of character were when she armed herself with a screwdriver at the Goodyear factory in Wolverhampton where she worked. To go to the toilet was not something you did no your own and if your accompanying protection was having to man the machines, you simply had a weapon of defence to protect you from near certain attack. The second example was whilst pushing me in my Silver cross pram as a baby in a local park, a group of Teddy boys threatened us both. She fought them off with the help of a fellow Windrush citizen and as a result continued to survive the indifference of the time.
Losing my Father and becoming a young widow, she lost our house and everything that a woman at the time had no rights to own. She relocated to inner city London to rebuild her life and that of myself and my sister, avoiding the officials from Barnardos who spent hours to convince her that we belonged in the system. She developed an entrepreneurial flair that saw her cater, clean the Jewish communities homes, sew, hem and finish hundreds of trousers, delivered on a Friday and collected on a Saturday and instilled that entrepreneurial spirit that saw her become a woman of independence and substance.
As she celebrated her 90th birthday this year, I heard her ask the question why she had come to this county with all the Windrush societal ignorance that had again reared its ugly head, similar to when she first arrived. I reminded her that her grandchildren and great grandchildren are the sum part of a remarkable life lived in a remarkable journey of spiritual conviction and commitment to God and the blessings that she now provides as a reminder of all those women of substance, fortitude and character that we must always remember, celebrate and acknowledge.
Geoff Thompson MBE FRSA DL
Chair, Youth Charter
Chair, Board of Governors, University of East London