"My mother's family are part of what was originally the Aksumite Empire, which became the Ethiopian Empire or, to some, Abyssinia. It's one of the longest running empires in the history of the world, and our family can easily be traced back to some Biblical figures, including King Solomon and the Queen of Sheba.
"I've heard wonderful stories about my great-great-grandfather, although I never got to meet him in person. There's a great occasion when Haile Selassie visited
Jamaica, where he is considered a godlike deity by the Rastafarian people. Thousands came to the runway on his arrival, which made for quite a famous image.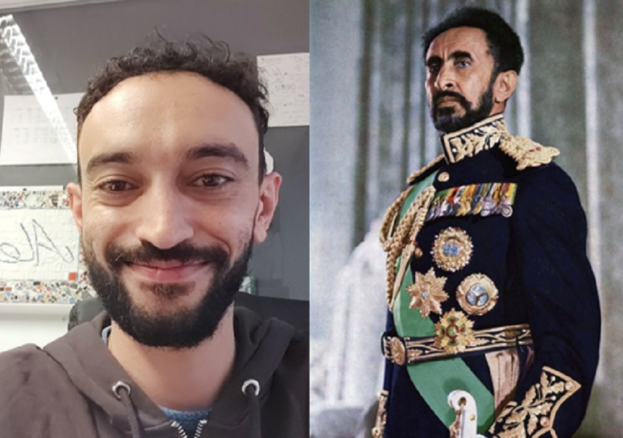 "What wasn't captured by video however, is that when the plane landed, a lot of the Rastafarians were bowing. Haile Selassie saw this through the plane's window, and refused to get off the plane. He spoke to the ambassador and told him that they needed to stand up. Haile Selassie was a strict Christian, and as such did not want to be seen as a deity. Also, he felt that our family, and our nation, wouldn't be where they were at the time if it wasn't for Rastafarians. He told my mother 'They look after us, and we should look after them'.
"I don't blame the Derg for the military revolution that overthrew Haile Selassie. My mother lost two sons before me. But if the revolution had never happened, my mother would not have moved to England in exile, she wouldn't have met my dad and I wouldn't exist. It is just history, but it made my family who we are.
"Occasionally, I've experienced the surreal nature of the different world that my family come from, far removed from my professional world of social housing. My mother went to school with the Duke of Westminster, for example, and to see them play-fighting with each other at the age of 55 outside of a Scottish bed and breakfast was different! Often when I'm with my family at events, everyone wants to start taking pictures of them.
"My grandmother was herself a resident in a sheltered accommodation property run by C&C, passed away last month. When she passed, it was quite amazing to see the impact on a number of Ethiopian and Rastafarian people in London.
"For me, black history is about far more than just looking at the past 500 years or so, which largely associates African history with slavery. That's what I think is so powerful about Black History Month – if you look past Martin Luther King, or Malcolm X, or marches…there's a rich history that's really interesting to see."
The full discussion with Alex about Haile Selassie and his broader family history can be viewed on C&C's Youtube channel. For more information about C&C's work to provide safe, affordable and innovative housing and care solutions for the over 55's in London, please visit our website.