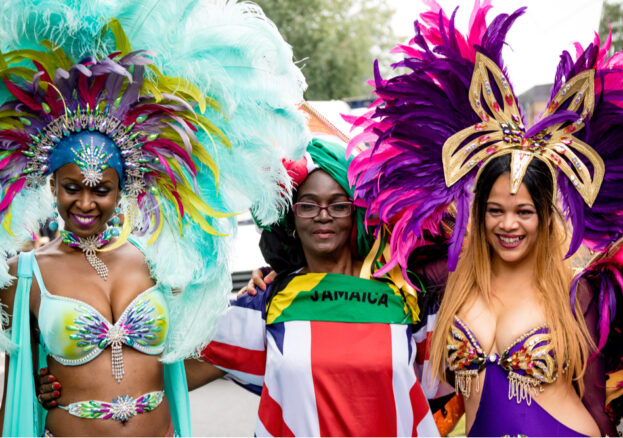 Some of the virtual carnivals were pre-recorded, others were live streamed, all were testament to the die-hards of Caribbean culture who took up the challenge presented by Covid-19 on how to keep a valued tradition going despite social distancing.
It was great to watch on-screen chefs at work as they passed on their secrets to viewers. These food artists and designers remind us that there is no one way to cook Caribbean favourites because each chef is not only influenced by their island of origin, but by family recipes handed down over generations.
I picked up a tip or two from them on how to make my next Caribbean meal a cultural masterpiece! There won't be a can of kidney beans in sight, promise! I didn't cook along with the chef, it's Carnival time, I wanted to take things easy, I wanted to help out the economy as encouraged by the Government so I ordered in a takeaway, one portion of almost everything on the menu. Well they did say "Eat out to help out!" Was I civic-minded or just plain lazy?
I lost count of the number of fried dumplings I "boxed off" or the plates of rice and peas I got through. My drinks trolley was laden with a cultural array of West Indian rums, Caribbean beers and homemade punches. There was something for everyone, and family and friends in my social bubble didn't hold back.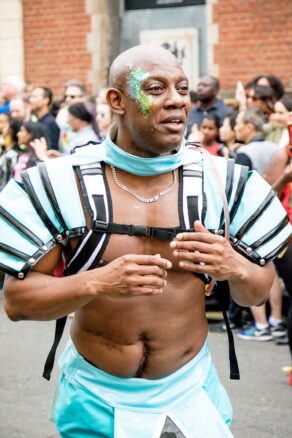 Other digital delights on the Carnival programme were masterclasses, including some How To's for making Carnival costumes and decorations for the home or garden to create a party atmosphere. It's always a visual treat seeing the glamorous and ornate masquerade costumes and when I see them I always experience costume envy, so I watched intently as the design and craft ideas were shared. I turned a humble t-shirt and a pair of shorts into an outfit that might not have won me a costume award in the normal scheme of things, but in a time of scarce materials, in a pandemic lockdown, it was a masterpiece. Anything is possible with a glue stick!
I particularly enjoyed the video clips that gave a glimpse of what goes on behind the scenes of a mas parade, confirming that preparing for Carnival is a 12 month affair. I got a ringside seat as I watched bands and masqueraders learn steps and dance moves. I learned about the many hours spent creating the elaborate costumes and then having to learn to walk and jam in them despite their weight. I learned some of the history and some of the traditions around Carnival. They blew me away.
This year without the actual Carnival event there'd be no slipping out of the Carnival parade to purchase my annual treats of T-shirts, caps and some cultural items. It's a shame really because this year, I had planned to buy an item made out of calabash, but you know what they say about the best laid plans of mice and men. My purchases aren't always just about my Caribbean culture though, I always make a point of buying a bag of candy floss as well. Every year I always intend to eat it when I get home from Carnival but invariably it gets eaten before the key is in the lock of my front door. I blame the traffic jams that make the journey home such a long trek – well I would never blame it on being weak-willed and having a sweet tooth would I?!
Lockdown Carnival had its good points. I was able to "go" to loads of them this year. I would never have been able to that if the Carnivals had taken place as usual. Work commitments, travel costs and just sheer exhaustion would not have allowed it, but in the comfort of my own home no-one could see I couldn't hack the pace or that I was stuffing myself with piles of jerk goodies and fried food.
Yes, virtual Carnival was brilliant. Different, but brilliant. If this little taste of Mas didn't happen, 2020 would be even more grim than Covid-19 has made it. Yes, I missed bumping into friends I hadn't seen for a while, I missed striking up conversations with total strangers who, like me, had come to line the streets, and jam as they enjoyed the amazing street event. But throughout my digital Carnival experience I waved my St Kitts flag and my Jamaican flag, symbols of my heritage, and blew my whistle with even more gusto than usual. My house had never experienced this kind of shrill noise before, but what the heck, it's Carnival time.
Notting Hill is my next virtual Carnival.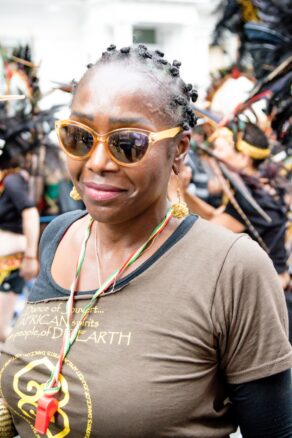 Notting Hill Caribbean Carnival's virtual offering from 29 – 31st August 2020, the UK's largest carnival, would normally attract people from all over the globe to watch and take part. This year there was a live countdown shown at Piccadilly Circus on mega screens.
This part carnival, part festival has a 54 year history. Still Caribbean at its core, it offers the usual music, steelpan bands, sound systems, food, mas dancers in pretty costumes, videos on culture and heritage with virtual performances, and playlist takeovers including Jamaican artist Koffee and Little Mix's Leigh-Anne Pinnock.
DJ's from BBC Radio 1xtra and Capital Xtra will be presenting on the main stage channel. Spotify the music platform will be streaming a dedicated microsite on the official Notting Hill Carnival website.  https://nhcarnival.org/
The online Carnivals of 2020 I have watched so far have been a pleasure, a great blend of traditional and contemporary elements. If you've missed the Virtual Carnival experience so far, I've listed below the ones that are still available to view so please check them out:
Leicester's Caribbean Carnival is 35 years old this year. The organisers have put together a seven-day digital spectacular with entertainment, competitions, history and heritage open discussions, and more.
This year, the carnival's theme was 'Eradicating Racism through One Love.'
From August 1, at 1pm for 7 days. If you missed it log onto………..
https://www.leicestercarnival35.co.uk/
Manchester Caribbean Carnival was held at 12pm – 8pm on 8th and 9th August 2020
The Carnival has been going for almost 50 years. This year its online programme offers a mix of live and pre-recorded attractions including performances and displays.
Acts included I-Octane reggae artist, Stylo G Dance Hall King, Patrice Roberts Soca Queen and Omar the soul singer. DJ performances, steel band displays, dancers, food demos, community talks and more ensure you won't be disappointed. Watch what happened at www.themanchestercarnival.com.
Preston Caribbean Carnival held on Sunday 9 August.
For more than 45 years Preston has had a Caribbean Carnival. This year it will be live streamed through social media. It will still include music, photographs and video from past carnivals and show what people can expect from the 2021 Carnival.
https://www.prestoncarnival.co.uk/
Nottingham Carnival – Sunday 23 August 2020 12noon – 8pm
It is available to watch now on YouTube and the Nottingham Carnival facebook page
http://www.nottinghamcarnival.com/
What did you do to celebrate the Caribbean Carnival 2020? What have you thought about the online, virtual, digital Carnival experience?
We look forward to hearing from you?