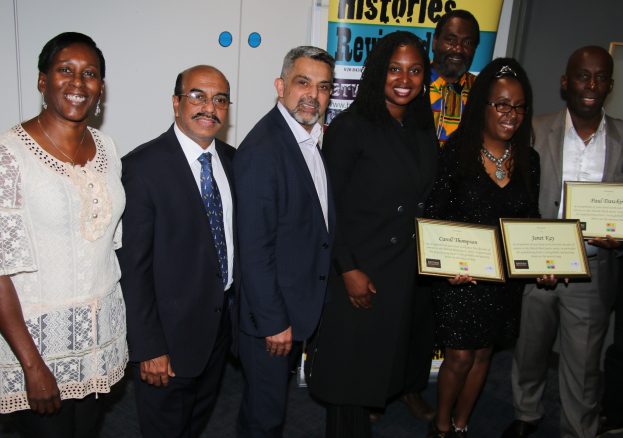 At the Brent Black Music History Quiz and BBM/BMC (BritishBlackMusic.com/Black Music Congress) Awards event which took place on July 28 at Brent Civic Centre, Brent Central MP Dawn Butler, who presented the awards and is also of Jamaican heritage, asserted "Brent is the centre of a lot of music, reggae music, lovers rock, all avenues to (black) music have flown through Brent."

That assertion is backed by details found in the 'Brent Black Music History Project' DVD and booklet produced in 2007 by Brent-based voluntary organisation BTWSC. For example, possibly the first African-owned recording studio and record label in Britain was Planetone, set up in Kilburn in 1962 by Sonny Roberts. The same property was also where his Jamaican compatriots Chris Blackwell set up Island Records UK, and with Lee Gopthal, Trojan Records UK. Pama Records, which ended up being called Jet Star and becoming one of the biggest distributors of black music, particularly reggae, operated from various locations within Harlesden.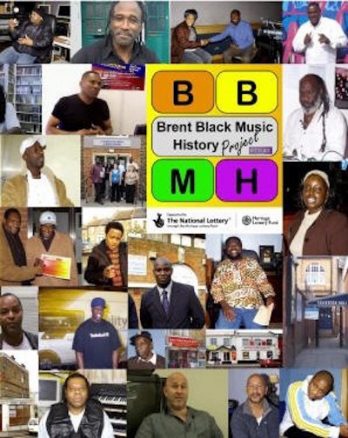 Although not a black music-focused company, Willesden-based Zomba Records, which at one time was the world's biggest independent music company, had the likes of Billy Ocean and Wee Papa Girls on its Jive record label.
With just two record shops, Starlight and Hawkeye, left in Harlesden, it's hard to believe that in the 1970s and 1980s there were literally dozens of record shops and record labels on the Church Road, Craven Park Road and High Street thoroughfare between Neasden (Trojan) and Harlesden (Creole and Champion).
Incidentally, the same area housed a number of pirate or community radio stations that supported the black music scene. Indeed, the first African–run pirate station in Britain was Dread Broadcasting Corporation (DBC), which started out in Neasden, and not Ladbroke Grove, as sometimes reported. Station founder Lepke's sister Rankin Miss P went on to present on BBC Radio 1, whilst Daddy Ernie, who came from the local sound system culture, went on to present the longest-running reggae programme on Choice FM.
Back to record shops and labels. The Arawak shop and label birthed 'Silly Games', which eventually delivered Janet Kay her 1979 no. 2 pop hit – a position no other British female reggae artist has reached or eclipsed. In the same year the All Ears shop's Elite Label scored a top 50 hit with its MCA-released Brit-funk instrumental 'Dancing In Outer Space'. The Creole shop and its labels had several pop hits, of which Judge Dread's salacious reggae records featured prominently.
Brent produced one of Britain's earliest reggae bands – The Cimarons. They were followed by the likes of Tradition, Ruff Cutt Band, and Aswad, whose 1988 hit 'Don't Turn Around' makes them the only London based reggae band to have topped the pop charts. We could claim further chart-toppers, such as 1978's biggest-selling record 'Rivers Of Babylon', on account of Boney M's mainstay Liz Mitchell hailing from Harlesden!
Hardly any Jamaican reggae artist or producer could have come to Britain without passing through Brent, particularly Harlesden, which was where many of the key reggae labels, distributors and wholesalers were based. So in addition to Butler's assertion, one can add that Harlesden is, or was, the capital of Britain's reggae scene.
For most Jamaican-based record producers, such as Bunny 'Striker' Lee, the port of call in London was Brent – doing business with either Pama, Jet Star or Trojan. Lee talks about taking back royalties from Pama to producers in Jamaica such as Lee 'Scratch' Perry. Jamaican reggae artists such as Alton Ellis, Dennis Brown, and Bob Marley lived for a time in Brent.
But the borough was also big in other forms of black music. I've been told that Carl Douglas has a Brent connection, which I'm yet to verify. But if that information is correct, we can claim one of the biggest mid-1970s hits – his 'Kung Fu Fighting' disco record did not only top the UK and US pop charts, but was also a chart topper in half a dozen or so countries.
In the 1990s, Phil Fearon not only had hits as a solo act or part of Galaxy, he formed the Kensal Rise-based Production House studio, production company and label, from which several dance music hits were generated. The biggest was undoubtedly Baby D's 1994 pop chart-topper 'Let Me Be Your Fantasy'. The group scored two further top 5 followup hits.
Before then, the likes of Hi Tension had blazed the Brit-funk trail with their eponymous hit single, and others such as 'British Hustle'. The Godfather of British contemporary jazz Courtney Pine came from Brent, as did jazz guitarist Ronny Jordan, and Osibisa, who were one of the biggest home-grown acts on the African and world music scenes of the 1970s-90s. Jordan's sister Fay Simpson was part of Nu Colours, who took gospel from the churc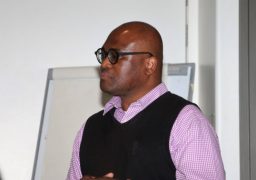 h circuit into the pop and dance charts in the 1990s.
On the other side of the High Street by the Job Centre is Champion Records. Though it is still going and has had several pop and dance music, its focus has always been on importing and licensing records from overseas. It gave Will Smith his first hit, 'Girls Ain't Nothing But Trouble', as part of the DJ Jazzy Jeff & The Fresh Prince duo, before scoring several more hits on the Jive label.
Further down the road, which becomes Harrow Road, was Lightning, a record distributor, wholesaler and owner of labels such as Laser and Scope – the latter is the label on which Kay made the pop charts with 'Silly Games', as did the Storm band with their cover of 'It's My House'. Incidentally, unusually for a Bri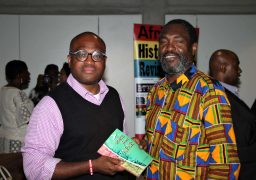 tish black music act, especially a reggae act, Kay's record was released in the US by Atlantic Records.
Further down Harrow Road was the Gangsterville record shop, where the likes of Aswad used to practise. The shop's label, Venture, released Eargasm's big reggae hit medley 'This Is Lovers Rock', whilst its albums by Tradition were released by RCA. Not too far off on Rucklidge Avenue was Carib Records, the company that released Carroll Thompson's big-selling early-1980s debut album 'Hopelessly In Love'.
So if you can't get hold of a copy of the 'Brent Black Music History Project' DVD or booklet, this rundown provides some of the potential answers to next year's Brent Black Music History Quiz!
At this year's Quiz, hosted by Cllr James Allie and led by BBM/BMC founder Kwaku, three reggae singers who started off in Brent – Janet Kay, Paul Dawkins and Carroll Thompson, were recognised with BBM/BMC Awards for five decades of promoting the British reggae genre known as lovers rock and for putting the borough of Brent on the musical map.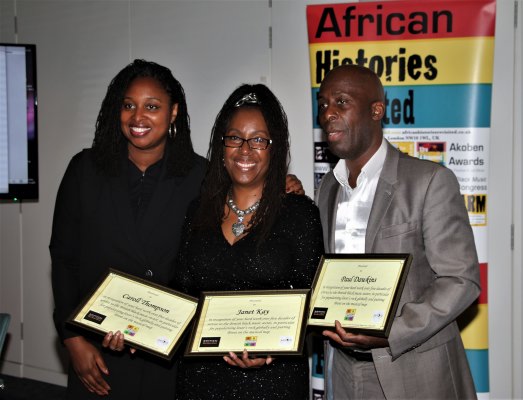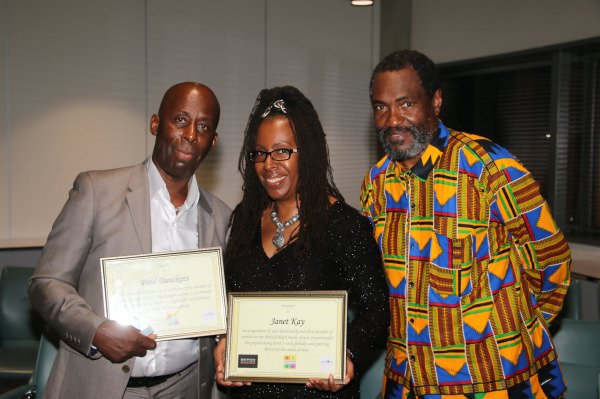 The BBM/BMC Awards are not regular events. The last Awards was over ten years ago, when Sonny Roberts, Lee Gopthal, Carl Palmer and Chris Blackwell were honoured as BBM/BMC Foundation Builders for their role in building the British black music industry infrastructure.

The quiz and awards attracted a cross-section of guests, including leader of Brent Council Muhammed Butt, Councillors Orleen Hylton and Parvez Ahmed, Reggae Fraternity representative Leroy Wilson, producer and manager Ronald Amanze, reggae artists Victor Romero Evans, Eddie Capone, Errol Shorter, and Tony Washington, whose song 'Something's Gotta Be Done', was the b-side to Millie's 1964 UK crossover hit 'My Boy Lollipop' licensed by Blackwell to Fontana. There was also representation by local radio stations Omega and I Love Chakhill, and Word Power Books.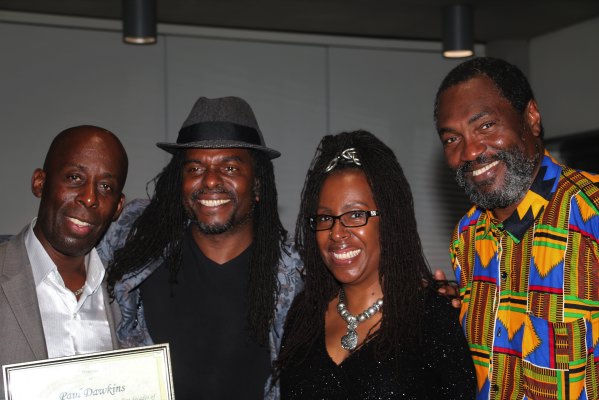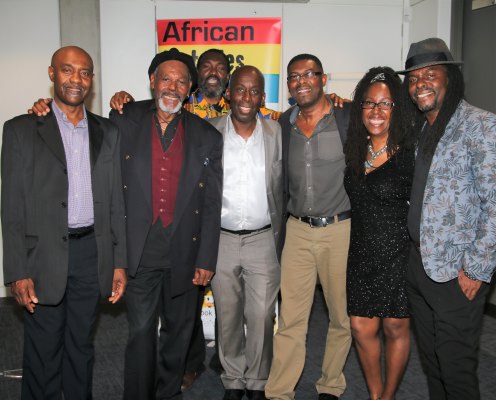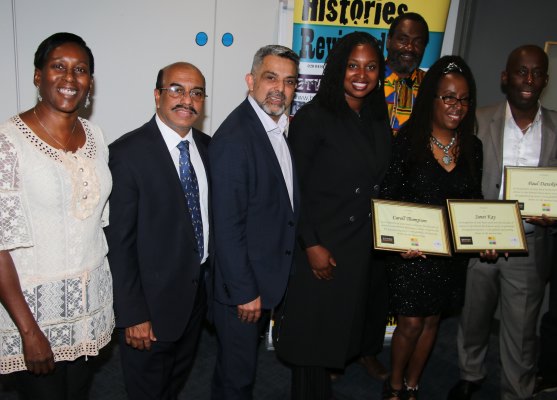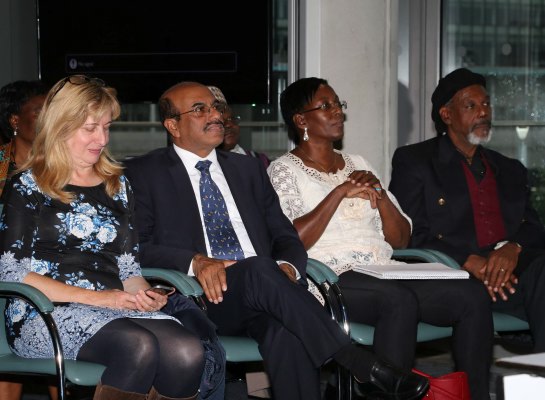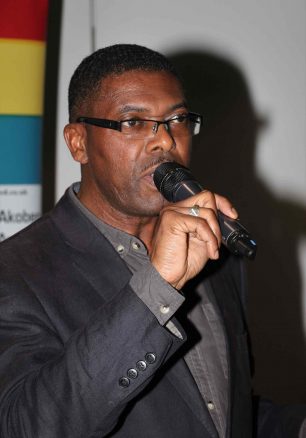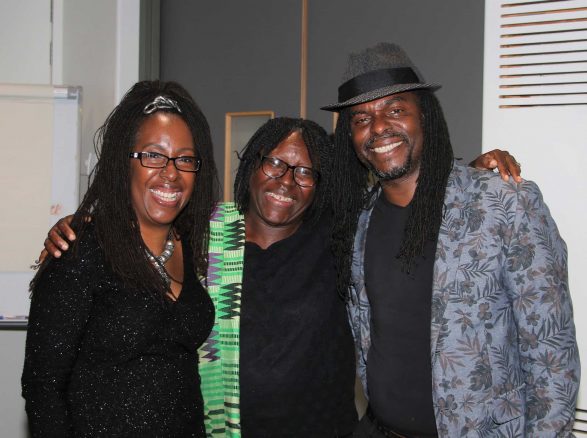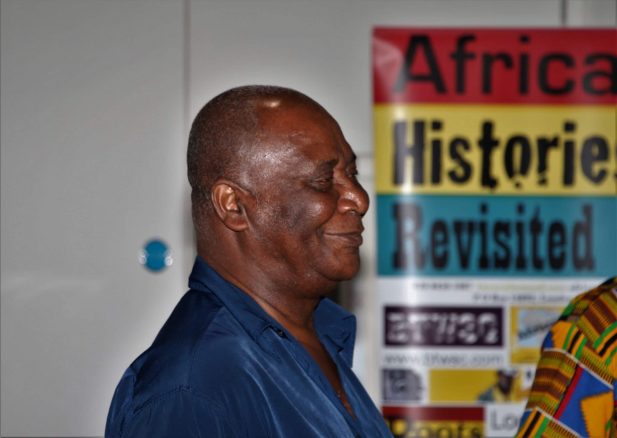 All the artists were generous with their time, and engaged with attendees. One fan came all the way from Bristol and had her vinyl copy of 'Silly Games' signed by Kay.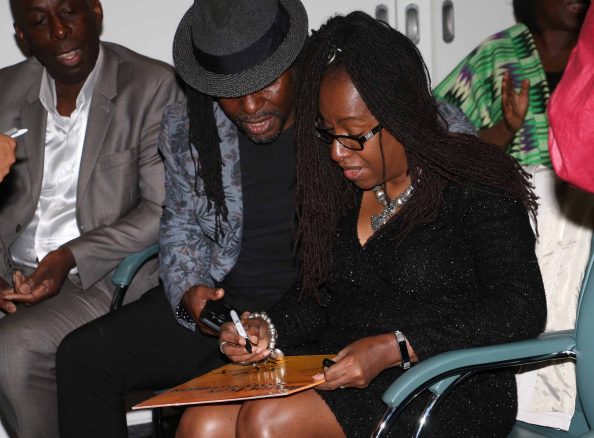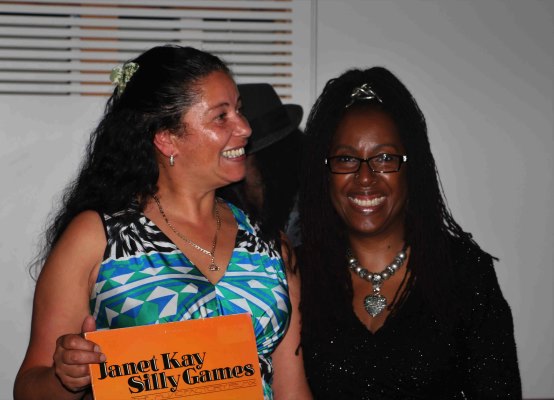 Thompson was away, so her award was received by her friend Kay, who read out Thompson's message: "Please accept my apologies for not being able to attend in person. I am honoured to accept this award, and may I take this opportunity to commend you for your tireless work and commitment your organisation has given over the years to highlight and generate interest in black music within the UK."
Fellow awardee Dawkins said: "I was very glad to receive the award for my contribution to the music industry for the last forty odd years, and hope to be contributing more in the coming years."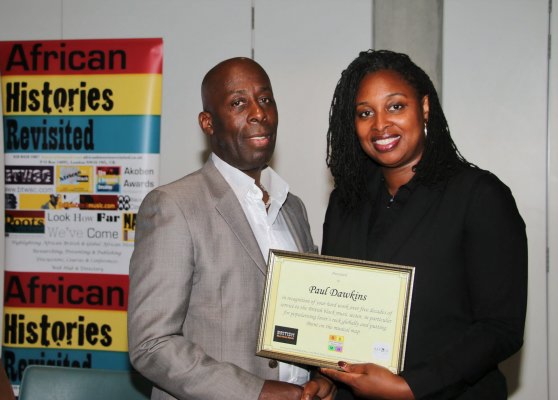 "I am honoured and thrilled to have been presented with this wonderful award in recognition of my contribution to lovers rock/reggae music," added Kay. "It was all the more special coming from the area of my upbringing at a time when I recorded many of my early hits, including 'Silly Games'. This award also beautifully coincides with my 40th anniversary in the music business, which is 1977 to 2017."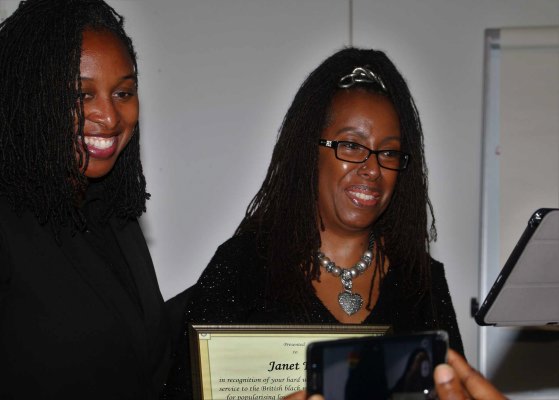 Jamaican High Commissioner to the UK His Excellency Seth Ramocan sent a message, which in part read: "I am therefore pleased that this evening's event, while highlighting the history of British black music, will also recognise some of the British Jamaican pioneers of reggae music such as Janet Kay, Carroll Thompson and Paul Dawkins."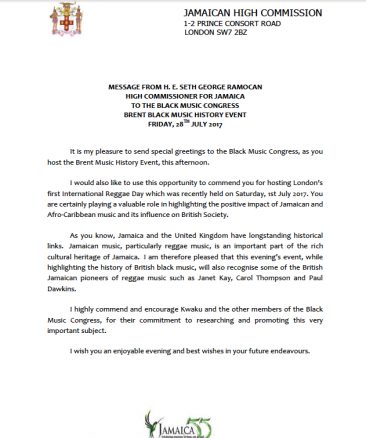 He also commended BBM/BMC for organising the first International Reggae Day (IRD) London event on July 1. An IRD London 2018 stakeholders meeting is set for Monday Aug. 7 at the Unite The Union HQ in Holborn, to which all reggae stakeholders are invited. For more information, please go to: www.bitly.com/IRDLDNStake.


BBM/BMC plans on embedding IRD London as an annual event, which conveniently falls within the organisation's British Black Music Month (BBMM). This annual initiative, which highlights domestic black music, provides opportunities for networking, and improving music industry knowledge, takes place in June and July, and has been marked since 2006.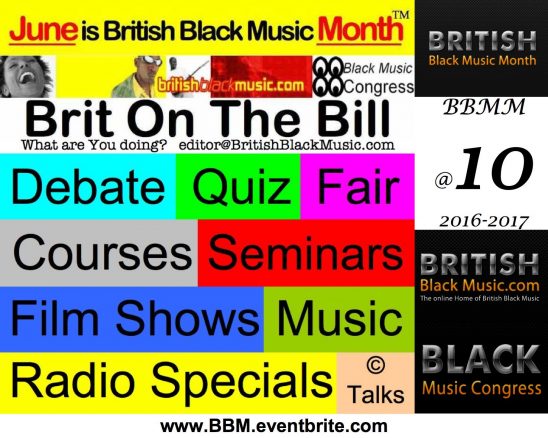 The event was a success because people enjoyed the quiz. It was a good social atmosphere with artists and special guests joining in. The two awardees and others have said they really enjoyed the relaxed and fun atmosphere.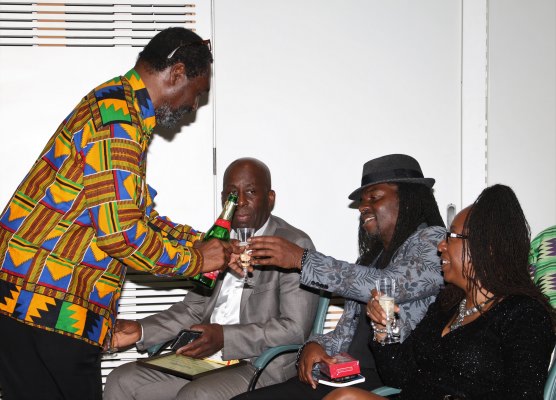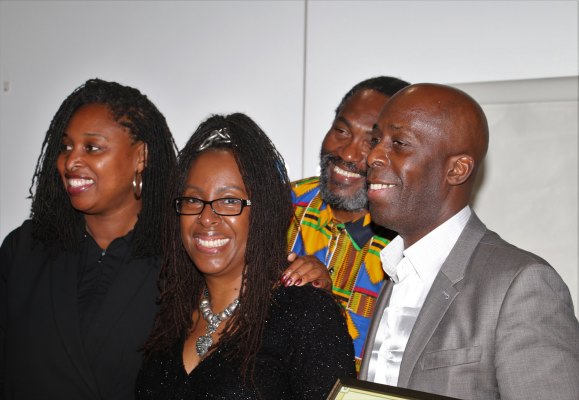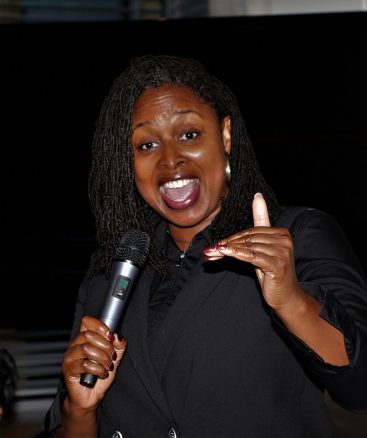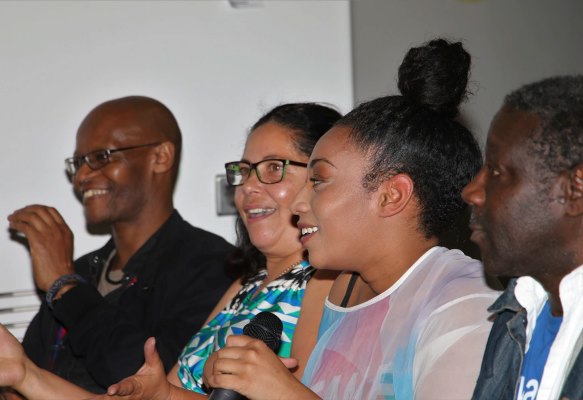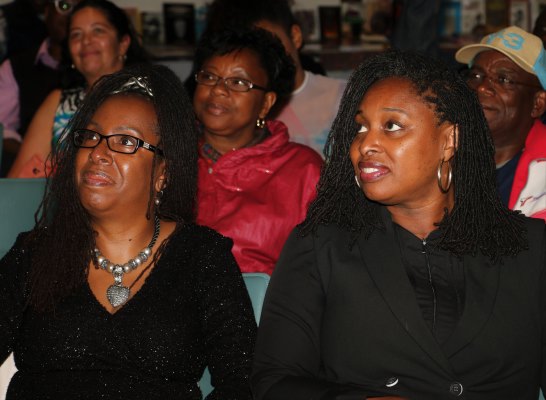 "Ten years after producing the 'Brent Black Music History Project' DVD and booklet, I'm glad we were able to recognise three of the contributors as a way of marking Jamaica at 55 and British Black Music Month 2017," added Kwaku.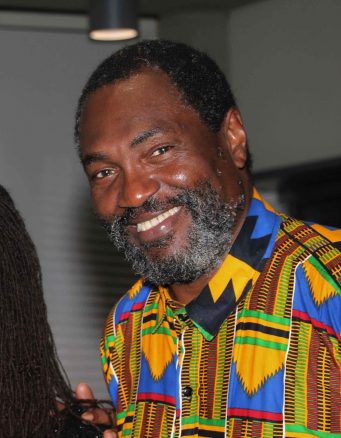 Butt and Butler have given their support for BBM/BMC to explore reviving the Brent Black Music History Live summer concert in Roundwood Park in Harlesden for 2018.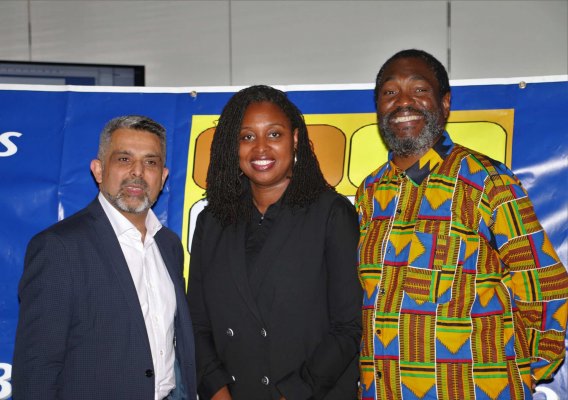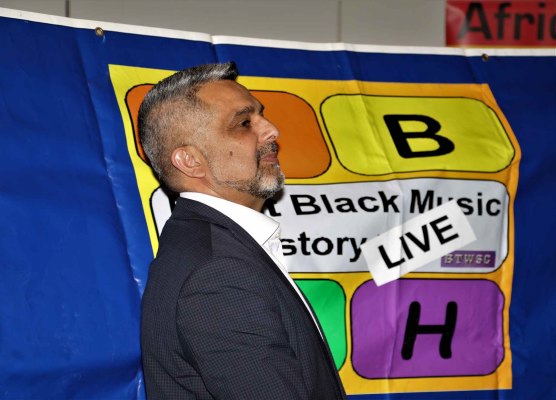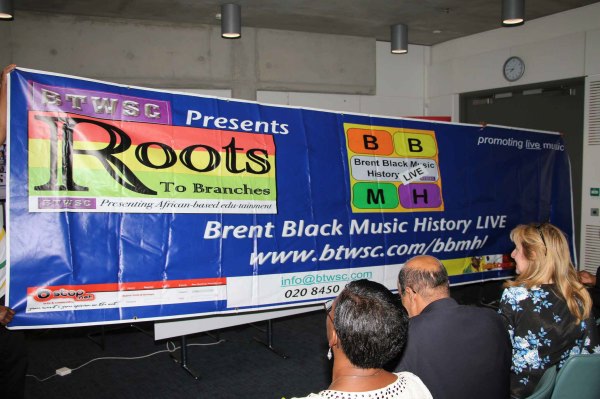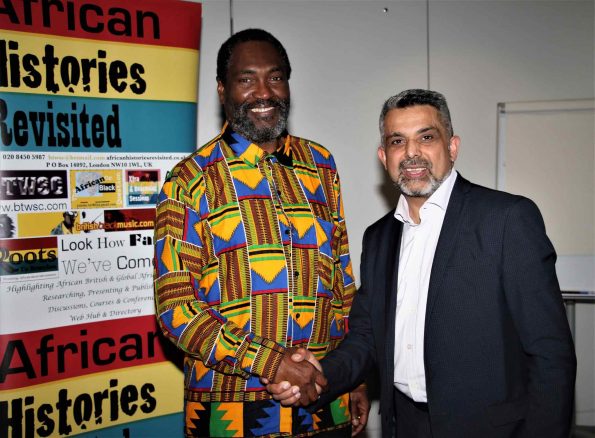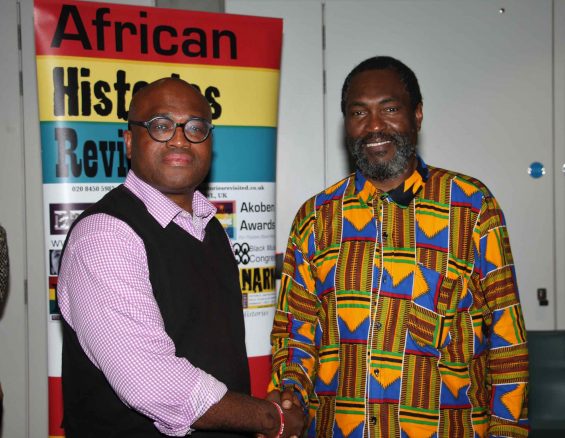 Additionally Butler has suggested a Brent Black Music History Walk through the borough, highlighting places such as the house where Bob Marley lived in Neasden, and Kay in Wembley.
In identifying Capone as a Garveyite and founder of the Marcus Garvey Legacy Trust, Butt pointed to Brent Museum having the bust of Jamaica's first national hero Marcus Garvey. It was pointed out that this only happened after I led a successful campaign last year as the co-ordinator of the Friends Of Marcus Garvey Bust collective to have the bust brought back to the Museum as a permanent exhibit.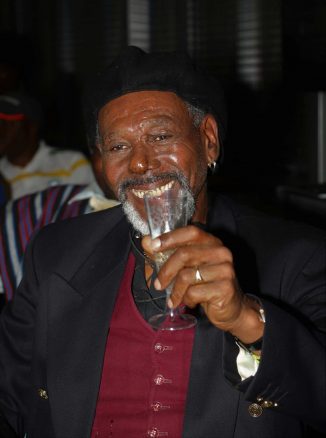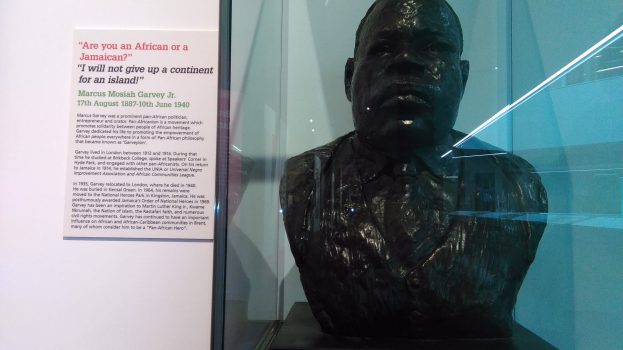 BTWSC/African Histories Revisited in association with Brent Museum are organising The Marcus Garvey Annual Pan-Africanism Presentation, the first annual programme around the bust and pan-Africanism at Willesden Green Library Centre on Garvey's birthday, which is Aug. 17. For more details: www.AfricanHistoryPlus.eventbrite.com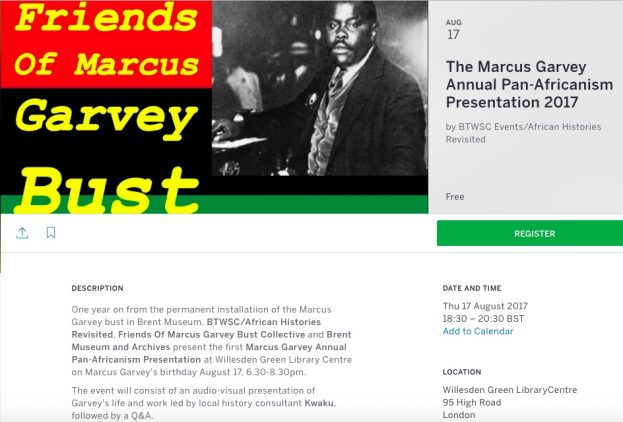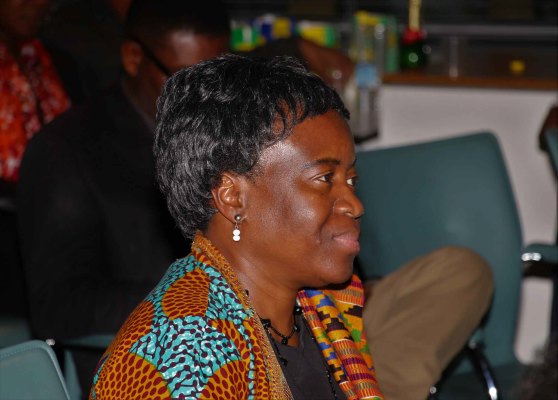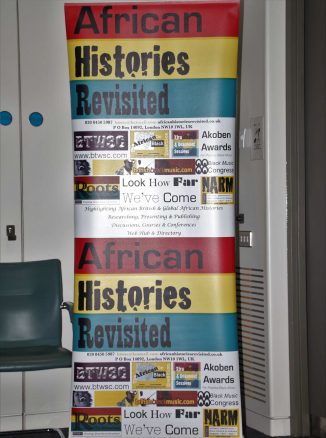 Having quoted from the 'African Voices: Quotations By People Of African Descent' co-edited by moi, former Harrow Mayor Nana Asante closed by thanking the awardees, saying: "More than everything, I just thank you, Paul, Carroll, who's not here, and Janet for being here, doing what you've done all these years. Please continue to do it, and giving us pleasure."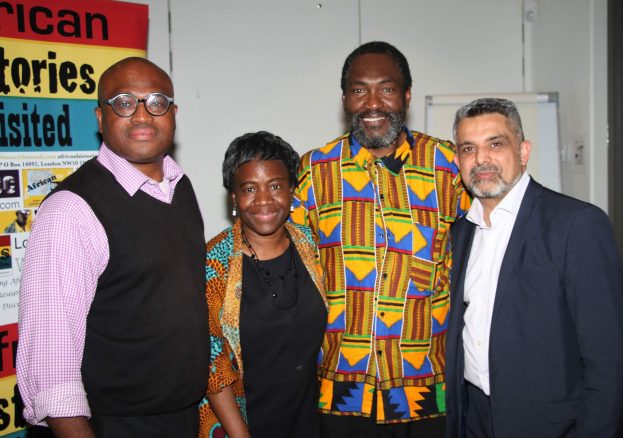 In wrapping up, Allie reminded the attendees of one thing that was missing – the dance moves, which he proceeded to demonstrate. Who said councillors are all stiff and don't have dance moves?
And the final Brent connection – it was following the demise of the then Brent-based BMIA (Black Music Industry Association) in the late 1990s that the BritishBlackMusic.com website was set up in 2002 as a means of providing information focused on domestic black music and music industry information. But quickly realising offline engagement was needed, in 2003 the Black Music Congress (BMC) was formed as a forum for discussing issues, networking and also providing pathways to music industry education. The early BMC events took place at City University London and various London venues, including Tavistock Hall in Harlesden.
© 2017 Kwaku
Kwaku is a Brent resident, music industry and history consultant. A former Billboard and DJ mag columnist, music industry lecturer at City University London and University of Westminster, he's the organiser of BBM/BMC events, and can be reached via bbmbmc@gmail.com.
Event photos by Des Chisholm, rest by Kwaku