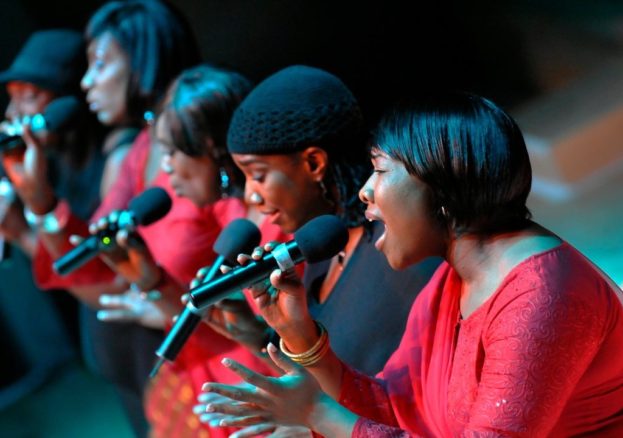 Formed in 1987 by its Music Director Carol Pemberton MBE, Black Voices has gained a reputation as Europe's finest female a cappella quintet.
For over 25 years the ensemble has captivated global audiences with their singing and performances in the black oral tradition – an early music form that is based on the ancient folklores and story telling of Africa and the Diaspora and which has impacted on the development of classical and more recent music genres such as blues and jazz.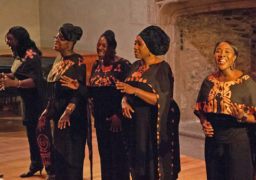 Drawing inspiration from that rich tradition, Black Voices have developed a unique repertoire and arrangement of spirituals, traditional African, Caribbean and English folk songs, jazz, gospel, pop and reggae as well as a fusion of contemporary and classical styles that has earned them world wide recognition as a performance and teaching company.
Black Voices have  performed before members of the British Royal Family both in the UK and overseas. In 1998, the ensemble performed at an open air concert for Pope John Paul 11 in Loreto, Italy and in 1996 they appeared before former President Nelson Mandela at the Two Nations Concert, Royal Albert Hall.
Travelling the world with their distinctive sound, harmonies and stunning stage presence, they have also appeared with music industry giants including Nina Simone, Miriam Makeba, Ray Charles, Hugh Masekela, and Take 6.
As professional musicians and scholars, Black Voices also undertakes education and outreach programmes from their studio base in Birmingham, West Midllands and throughout the UK.  Since 1989, the company has led highly popular music education workshops in performance and the history of the black oral tradition at the internationally renowned Dartington Summer School.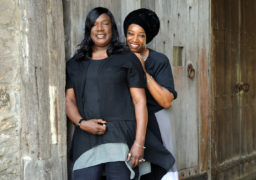 At Dartington Summer School & Festival 2019 Black Voices leaders Carol Pemberton and Celia Wickham-Anderson will lead uplifting, harmonious, soul-stirring, challenging and fun Gospel Choir sessions. The workshops will cover a range of black music traditions that influence and shape what today we call Black Gospel. Black Voices perform on 17 August, and there will be an informal performance for participants on the final Friday (23 August). Dartington Summer School and Festival runs from 27 July – 24 August 2019.
Courses are for all ages and abilities, accompanied by over 100 public concerts, set against the backdrop of the  medieval estate in the heart of Devon. Dartington offers a bursary scheme to help students, graduates and young musicians attend advanced courses.
More details can be found on Dartington's Summer School website: https://www.dartington.org/whats-on/programme/summer-school/.