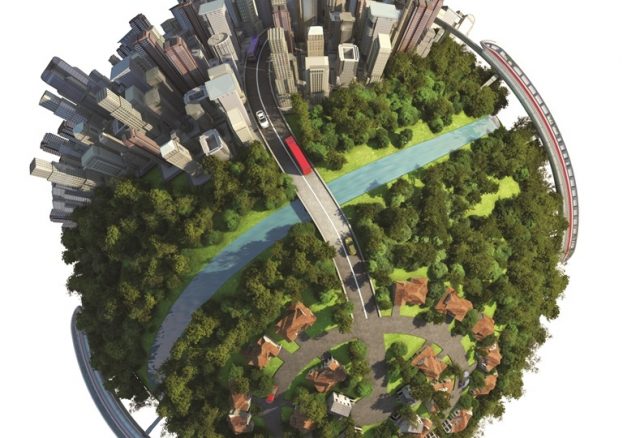 The RICS (Royal Institution of Chartered Surveyors) has launched a global competition in partnership with the UK National Commission (UNESCO) and the Association of Commonwealth Universities (ACU) – known as the Cities for our Future Challenge – calling on young people to come up with new ideas to tackle the most pressing problems affecting leading cities in the UK, and around the world.
Manchester, Glasgow and London are among 24 global cities chosen for the competition, which asks entrants to provide practical, innovative solutions to address specific challenges – around urbanisation, climate change and resource scarcity – in each of these cities*, to be in with a chance of winning the generous prize of £50,000.
Glasgow entrants have been tasked with finding solutions to tackle the city's high levels of homelessness, whilst Manchester entrants must submit ideas on how we can use data and technology to better improve resident's quality of life. Meanwhile, London entrants are to come up with solutions on how to improve the city's air quality and encourage investment in cleaner air initiatives.
The Cities for our Future Challenge is part of the RICS's 150th anniversary celebrations this year, and is open to all, but the organisation is particularly looking to attract entries from students and early career surveyors, as well as entrepreneurs and innovators such as prop-tech start-ups.
The best 12 entries from around the world will be shortlisted for the global prize and receive support and advice from RICS qualified professionals (mentors) to develop and refine their idea(s), before an overall winner is announced in November 2018.
Sean Tompkins, RICS CEO commented: "The world's cities are growing all the time, creating a range of challenges that will need to be addressed if they are to become safe, clean and attractive places to live. Throughout our 150 years, chartered surveyors have been crucial to urban development and improving communities all over the world.
"Therefore, we are proud to be running this competition in our anniversary year, and to be actively searching for practical ideas to advance not just UK cities, but also many other cities across the globe including Beijing, Mumbai and Lagos, With the help of our RICS mentors, we hope the overall winning solution can be developed and delivered to make a real, positive impact on its respective city's people, communities and local businesses."
Dr Beth Taylor, Chair of the UKNC for UNESCO, said: "As more and more of the world's population become city dwellers, finding ways to meet the United Nations' Sustainable Development Goal 11 – Sustainable Cities and Communities – has never been more important. I believe that the innovations generated by the Cities for our Future competition could help deliver essential solutions, and I am sure that engaging young minds will help provide the spark needed to improve the lives of urban dwellers around the globe."
Dr Joanna Newman, Chief Executive and Secretary General of the ACU, added: "Universities and their students have a pivotal role to play in finding solutions to these issues, and many of our member institutions have a wealth of expertise in this area.
"By partnering with RICS and the UK National Commission for UNESCO on Cities for our Future, the ACU is confident that we can galvanise the knowledge, experience, and enthusiasm of our diverse membership, and encourage the development of solutions to these pressing problems."
The closing to enter the Cities for our Future Challenge is 31 May 2018. Enter via:www.citiesforourfuture.com