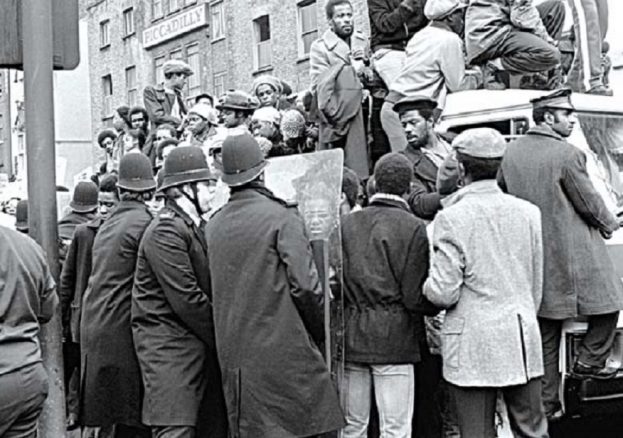 Exhibition pays homage to a seminal campaign by the black community in the face of press and public indifference to the tragic loss of 13 young lives in a fire.
"13 Dead, Nothing Said" at Goldsmith University in New Cross presents photographs by Vron Ware in which she captures the demonstrators at the Black People's Day of Action on Monday March 2 1981.
The event which was a turning point in the country's cultural history was in response to a tragedy on a massive scale on Sunday January 18 when a fire broke out on 439 New Cross Road. A total of 13 young black people perished in the fire including Yvonne Ruddock's whose birthday they were celebrating.
A survivor committed suicide nearly two years later, bringing the official death count to 14. Concerns about racism had been running high in the area due to the active presence of the National Front. In the face of perceived public indifference, negative media and police inaction hundreds of people met seven days later at the Moonshot Club in New Cross and marched in protest. The New Cross Massacre Action Committee was set up and plans were made for the Black People's Day of Action.
Thousands gathered to protest against racist violence and police inaction at the unprecedented demonstration which assembled in New Cross and made its way over to Hyde Park. It was decided to march on a Monday to maximise the impact. As the marchers passed through the streets of south London, workers walked out of their offices and youngsters scaled the fences of their schools to join in.
Leading members of the black community including Linton Kwesi Johnson, Sybil Phoenix, Darcus Howe, Alex Pascall, and Menelik Shabazz took part
The exhibition, with photographs which have never been shown publicly before, has been organised in partnership with Autograph ABP whose curator Renne Mussai, said: "Over 30 years later and hitherto unpublished, Vron Ware's defiant photographs offer insight into decisive moments of cultural resistance in post-war Britain's anti-fascist and community campaigning"
The exhibition at the university's Richard Hoggart Building is to run until Saturday May 27.
9 March – 27 May 2017. It is free to enter and open from 9am until 9pm.