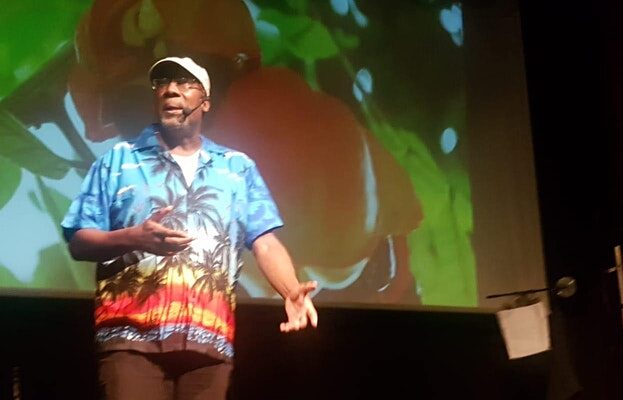 Join in to experience an immersive performance and engaging stories from the Caribbean and around the world.
Baden Prince shares "traditional" tales gathered from the Caribbean and all over the world, as well as original self-penned material. As a performer, Baden engages the audience with a style is warm, self assured and displays an entertaining blend of insight and humour.
Baden is a dynamic poet, performer and storyteller who has been a part of London's thriving Live Literature and Spoken Word scene "since the turn of the century." He has worked extensively in schools and community settings all over the country as a workshop facilitator for organisations such as Apples & Snakes, Hackney Learning Trust and Spread the Word, on projects as diverse as the London Schools Poetry Slam, Linklaters Reading and Writing Challenge and New London Orchestra's Music & Literacy Project. Over the past several years Baden has developed an impressive reputation as a storyteller, largely due to a series of appearances at the East Anglian Storytelling Festival where he has delighted and enthralled audiences young, old and young at heart.