The Lady Is A Tramp * Night and Day * Cheek to Cheek * September Song * Someone To Watch Over Me
Following her hugely successful run starring as Ella Fitzgerald in the Rat Pack Live at Las Vegas in the West End and across the UK, Nicola returns to Boisdale with her band to celebrate one of the greatest singers in jazz history.
The Lady Is A Tramp * Night and Day * Cheek to Cheek * September Song * Someone To Watch Over Me
"Her entrance is like a breath of fresh air. Nicola Emmanuelle gives a remarkable vocal impersonation and Lady is a Tramp is a highlight of the show." The Stage (review of The Rat Pack Live at Las Vegas)
"Her re-creation of the first lady of jazz was flawless: she looked like her and, crucially, sounded like her. That immaculate bell-like tone and unmistakable fast vibrato was there, and her scat singing was a thing of wonder. Her duet on 'The Lady is a Tramp' was blissful" Musical Theatre Review
"Emmanuelle has a very impressive range and brings an air of elegance and sophistication to the overall performance." The Sussex Newspaper
She can touch an audience with a torch song, before drawing them back to laughter with her endearing and graceful humour. Nicola has a way of sticking you to the spot, and always wanting more; you stay there until forced to leave.
Many acts have recently tried to encompass the enduring appeal of the great jazz singers and writers. Few if any, have the capacity or talent to do it with such authenticity or affection as Nicola Emmanuelle.
"…Nicola has star quality. She is an excellent singer with a strong, well-modulated voice, easy swing and a charming and natural stage presence." Jack Massarik
"…Nicola Emmanuelle is the real deal. A charismatic, charming performer with a richly expressive, show-stopper of a voice, she's a real throwback to the days of swing…" Time Out
"…the remarkable power of Nicola's voice finds a way of projecting these great melody lines with a laser-like intensity." Jazzwise
More Kensington and Chelsea Listings MORE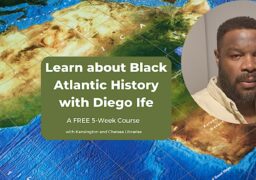 Kensington and Chelsea
Tuesday 7 November - Tuesday 5 December
Join this FREE 5-week learning programme to gain skills, knowledge, a certificate and prize giveaways with Diego Ife….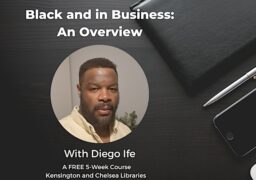 Kensington and Chelsea
Monday 13 November - Monday 11 December
Join this FREE 5-week course to learn about Black Global Finance and gain general business skills and knowledge…