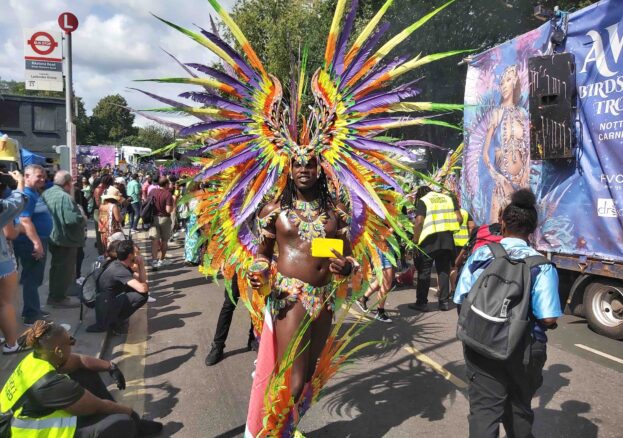 NottingHill Carnival 2023 Photo Reportage
What caught Kwaku's attention at Monday August 28's adult carnival…
I won't say I'm a carnival fan, but I recognise the importance of Notting Hill Carnival (NHC) within the context of British African history and British black music, two of my specialist areas. And I also think it needs to be kept on the streets within the boroughs of Kensington & Chelsea and Westminster, if it's to retain its name and flavour.
That. said, the last time I attended NHC was probably 2017, where of the photos which I took, only one is memorable – a scene of motorbikers revving their mean machines at the Ladbroke Grove/Harrow Road traffic lights, of which one of the bikers was covered with the flag of Ghana, my home country!
Toilets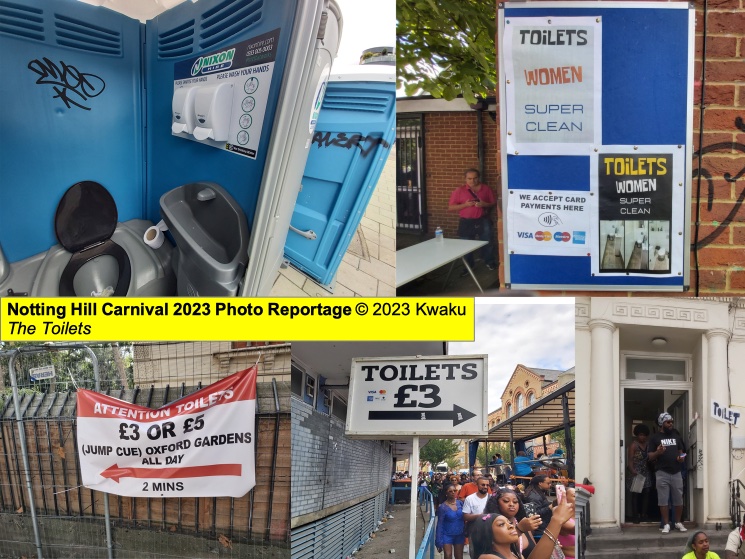 Indeed, Harrow Road was where I pretty much started this year's NHC journey. Firstly, I was surprised that the boroughs of Kensington & Chelsea and Westminster had free, portable loos stationed not too far from the Kensal Green train station, which is quite some distance from where the NHC takes place.
I was impressed with the cleanliness and facilities within. However, I was disappointed there was no water in the two sinks I tried. Come on Nixon Hire – you can do better – sort out the logistics to cover the two-three day water supply. On reflection, these loos could have been installed courtesy of the borough of Brent, as they were on the Brent side of the boundary that separates it from Kensington & Chelsea.
Residents Booklet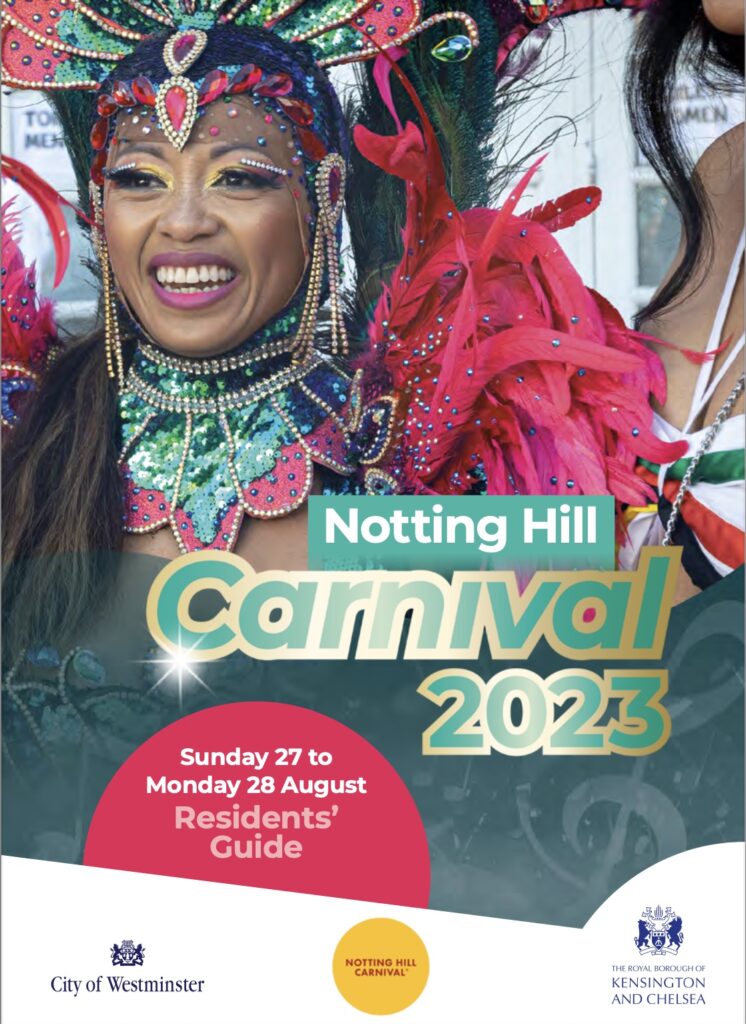 The boroughs of Kensington & Chelsea and Westminster produced a very useful booklet entitled 'Notting Hill Carnival 2023' for its residents. I'd suggest future editions are better publicised as an online resource to inform not just the residents, but also the NHC attendees.
The booklet shows some three dozen portable toilets dotted across the NHC catchment area. Either they are not enough for the often repeated 2 million footfall, or they aren't well located. Which is probably why local individuals and businesses opened their premises for the attendees to use their toilets, for a fee! This ranged from £2-£3.
Sadly, some who either couldn't afford this, could wait no longer, or were plainly antisocial, could be seen peeing on pavements or in discreet corners. That's certainly not fun for the residents. In a previous year, I observed people go down a basement flat staircaase to pee!
Perhaps more, and less spaced out toilets might mitigate this antisocial behaviour.
Entrepreneurs Or Opportunists?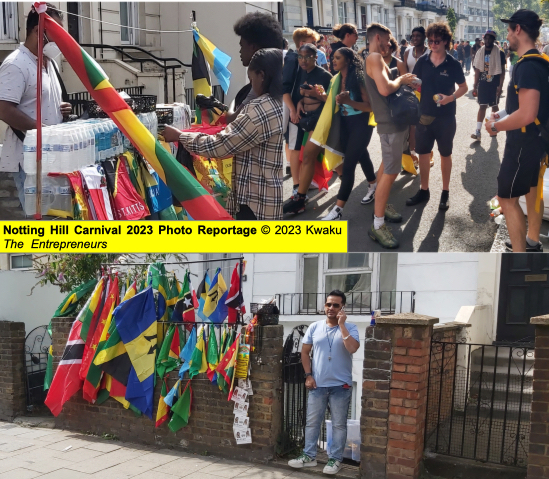 In and out of the catchment area, there were those I'd call entrepreneurs, who were mainly people without any cultural attachment to NHC, and were there simply to cash in, by selling an assortment of articles, such as flags, horns, drinks and food.
The Global African Quad Flag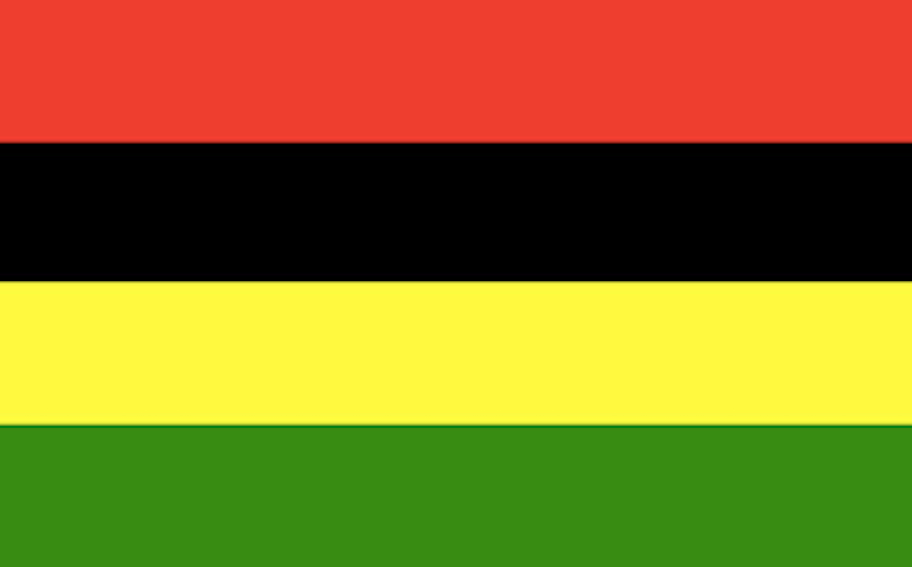 One shop got my money, as I bought two large Caribbean flags with pan-African colours. Sadly there were no Ghana flags! The combination of the four common colours make up the Global African Quad Flag, which will be one of the topics under discussion at this year's African History Reflection Day on August 31 via Zoom. This year's observance is merged with the Eco-Conscious Citizens Monthly Zoom Meeting.
The said booklet has a lot of information, which among other things cover noise, no selling on pavements or cooking in parks, or the selling of alcohol without a licence. But it would seem either the borough authorities were overwhelmed, or the regulations were suspended for NHC. I saw chancers selling beer and water on the pavement for £2 each.
Even the police seemed relaxed, as they talked to and let go a young man who caused damage by drilling into into some property. Not sure whether his intention was to mount his mobile sound system on the wall. Letting that young man go after having caused obvious criminal damage made me wonder whether the same would have applied to an African youth who had come prepared with a power drill and ladder?
The Floats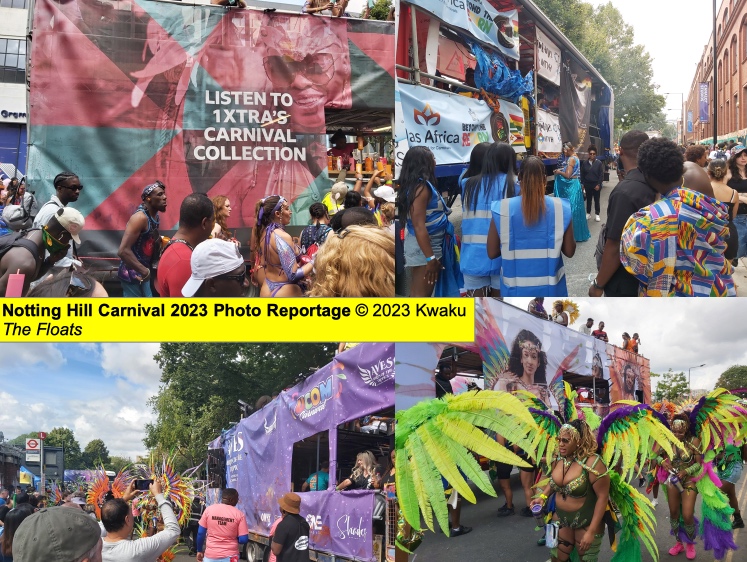 Whilst a certain level of common sense application of rules and regulations is needed in order not to adversely impact on the nice vibes, I would suggest the environmental officers see how they can both dialogue with, and monitor, the sound systems on the floats. Some were dangerously too looooouuuuud!!!
The Steelpans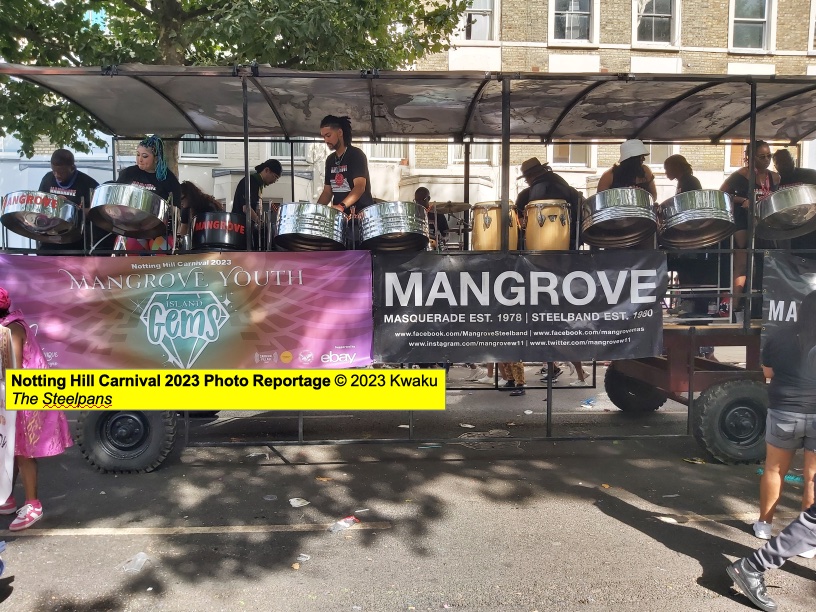 Talking about sound. It was nice to see one of the foundational elements of Caribbean carnival, the steelpans represented by one of the longest established steelbands – Mangrove, which was according to their banner established in 1980, though I was under the impression it was started in the 1970s.
The Sound Systems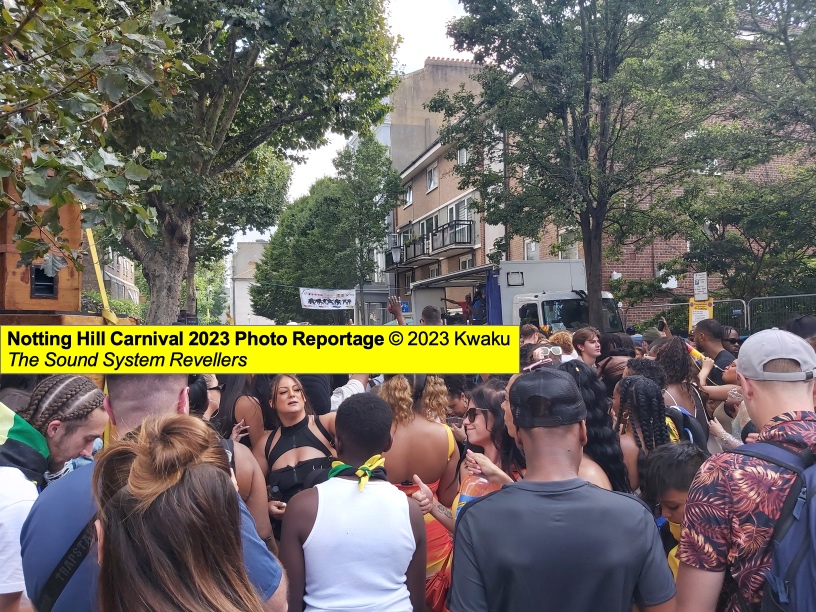 The sound systems not surprisingly had huge numbers, and it was not too easy to get close to some. Incidentally, this year marks the 50th anniversary of the introduction of sound systems to the NHC by the then newly hired organiser Leslie 'Teacher' Palmer.
Although the introduction of the sound systems saw reggae and later hip-hop, and other styles, like R&B supplanting the traditional calypso music, it was heartening to observe many of the floats were playing calypso and soca.
Ghana, Mauritius & Afrobeats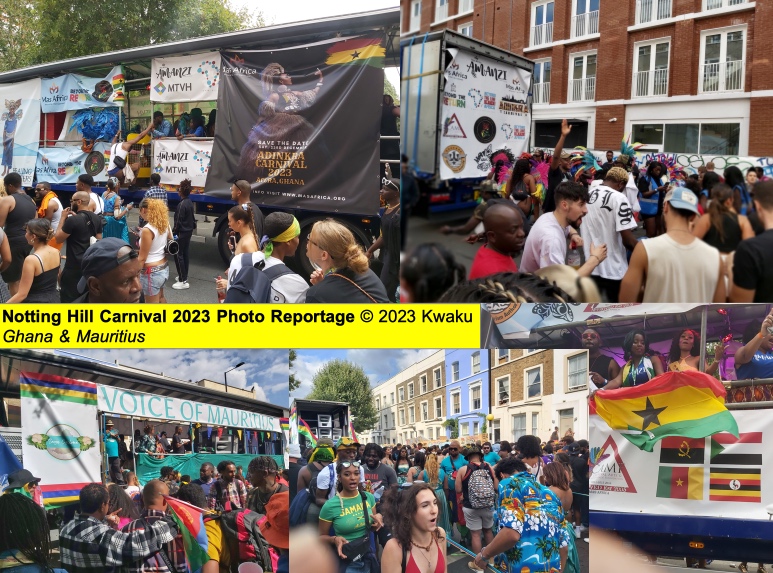 Of course I also noticed how Afrobeats has made such an impression beyond continental Africans – you should see African Caribbeans and Europeans dancing and singing along. It was the float promoting Ghana's Beyond The Return tourism initiative and the 2023 Adinkra Carnival in Accra on December 23, and the island of Mauritius that were pumping out Afrobeats and grime, which is dominated by Brits of continental African heritage.
Multiracial & Multicutural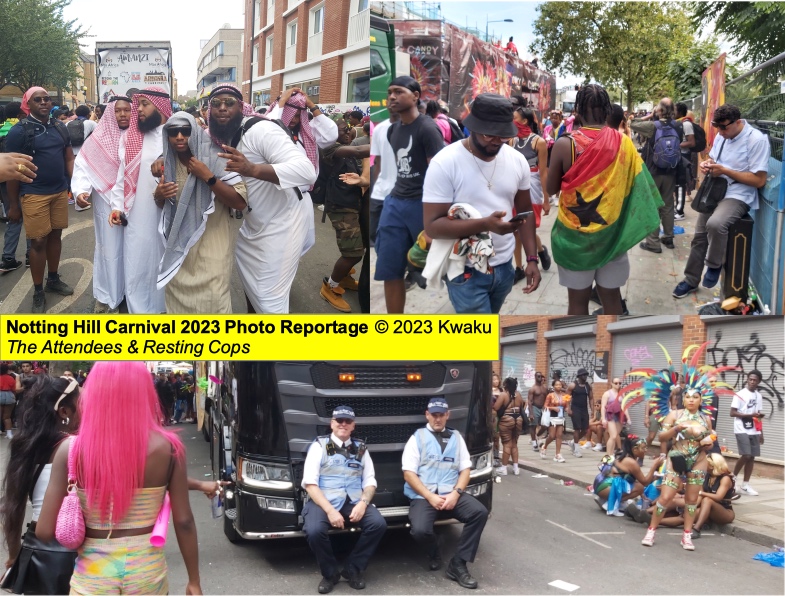 Actually, NHC, which for most of its history has had a Caribbean face, is now much more multicultural and multiracial, which was how it started. But you'd be excused for not knowing that because of the prevalent revisionist NHC history.
Before I touch on the history, I'd like to point out the "whitening" of NHC. There was a Twitter thread that pointed out the BBC website's coverage of NHC with just images of "white" masqueraders. Ditto Tuesday's Metro newspaper main NHC photo. The point worth making is that reporting or representation is never neutral.
Claudia Jones And Notting Hill Carnival?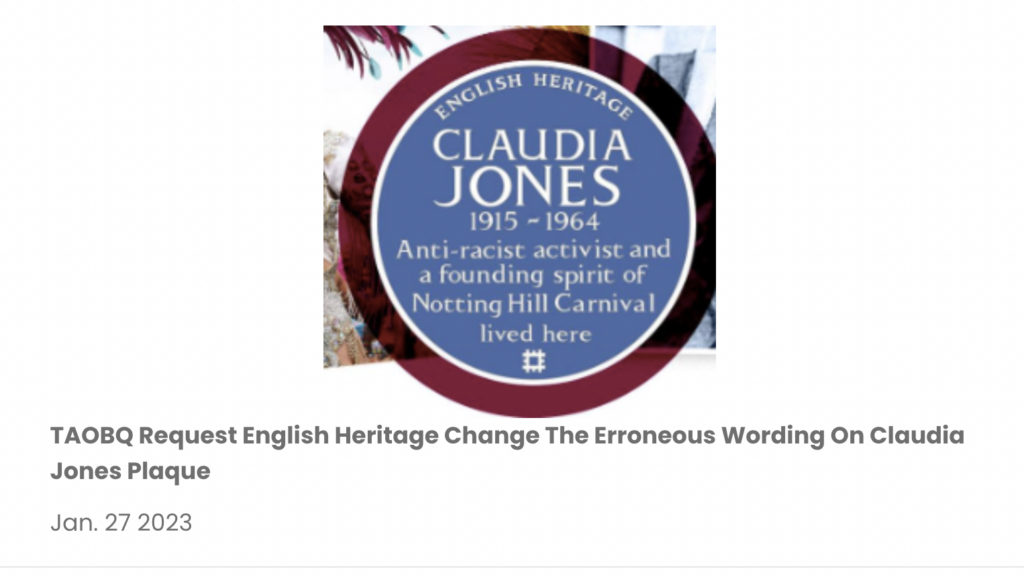 At the same time, there was a tweet by a veteran carnival practitioner who claimed that NHC was birthed in 1964 and that Claudia Jones got her friend Russ Henderson to play the steelpans in the streets for children in costume – it seems we're mixing Claudia Jones with Rhaune Laslett.
For the record, whilst Claudia Jones' activism saw her pound the streets of Notting Hill, she did not found NTC, and whilst she deserves the 'Mother of Caribbean Carnival' accolade, all her carnivals from 1959 to her death in 1964 were indoors and did not take place anywhere near the Notting Hill area.
For clarity, please read my articles – 'Claudia Jones: The Myth Buster' and 'Notting Hill Carnival: The Genesis Story'. Because whilst institutions such as English Heritage try to associate Claudia Jones with NHC by replacing the term "founder of" with "spirit of" NHC on its upcoming Claudia Jones plaque, even the NHC Ltd chief executive alludes to a Claudia Jones connection, as he's quoted as saying that NHC started in the late 1950s. But the history on NHC's website categorically states that it was started by local social worker Rhuane Laslett in 1966.
Then we have the Metro newspaper informing its readers that NHC has been around for 55 years.That would mean it started in 1968!
Let's sort out this NHC history, and stop the constant repetition of these ahistorical narratives. Those who have the evidence for how Claudia Jones started NHC, or that it started in 1964 or 1965 should present some contemporary evidence, and not just repetitions of myths and ahistorical narratives.
Organisational Support & Windrush 75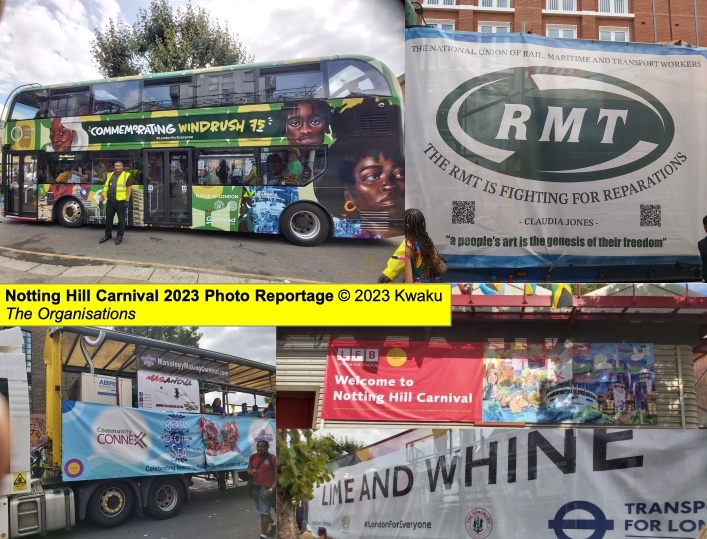 Apart from the carnivalists reminding us that it's 50 years since the introduction of sound systems, Transport for London and the London Mayor used a double decker bus to make sure we remembered it's 75 years since the arrival of the Empire Windrush from the Caribbean – again, the Windrush history has some ubiquitous myths and misinformation – we'll be delivering a Disrupting Session fact-checking Zoom meeting on the Windrush history on October 2 and in early November we'll be at a central London venue, where we'll deep dive into that "more than 800 passengers gave their last country of residence as somewhere in the Caribbean" trope used to buttress the "they came to rebuild Britain" assertion!
It was nice to see The London Mayor and Transport for London's float also carried the logo of a community organisation – Windrush Generation Legacy Association, who have a Windrush exhibition at the Whitgift shopping centre in Croydon.
I noticed two other organisations with floats – Community Connex, formerly Harrow Mencap, with whom we worked for many years delivering African History Season and music industry programmes in Harrow. They were there "celebrating learning disability and autism".
The RMT (Rail, Maritime and Transport workers union) banner had the "A people's art is the genesis of their freedom" quote attributed to Claudia Jones, which was in reference to the 1959 West Indian Gazette Caribbean Carnival brochure. The banner also proclaimed "The RMT Is Fighting For Reparations". This union also supports its African members with their annual Reparations Conference on August 23, which is also the International Day Of African Resistance Against Enslavement.
The local London Fire Brigade on Ladbroke Grove had banners marking Windrush 75.
The Female Mas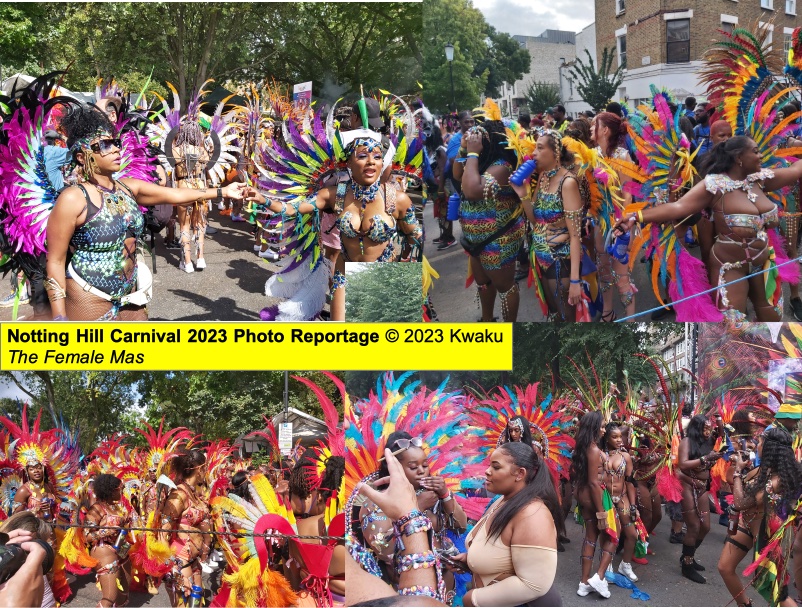 For as long as I can remember, the female masqueraders have usually been the visual representation of NHC. Guess as eye candy, it helps sell papers and carnival related stuff. So no wonder many of the photographers I saw made a special effort to get their scantily-dressed female shots.
The Male Mas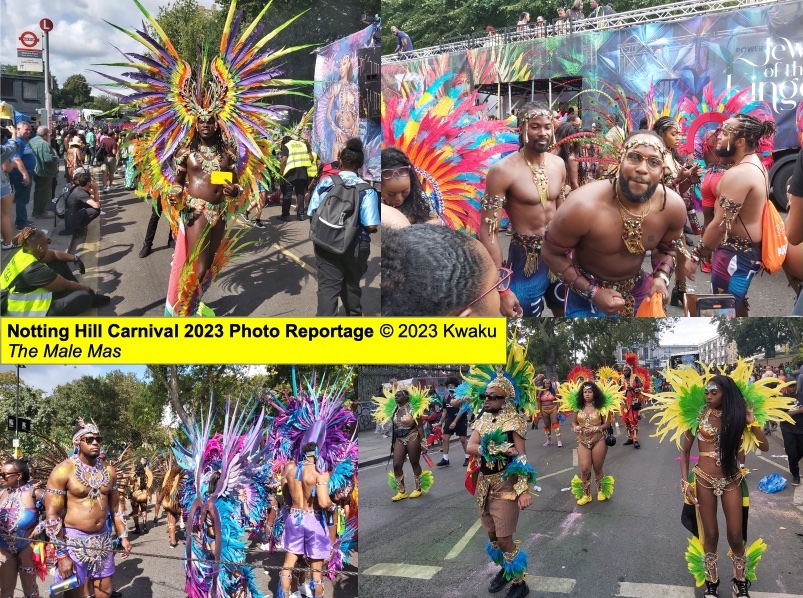 Actually, I noticed the growing number of male masqueraders, and decided to focus on photographing them.
Caribbean Street Food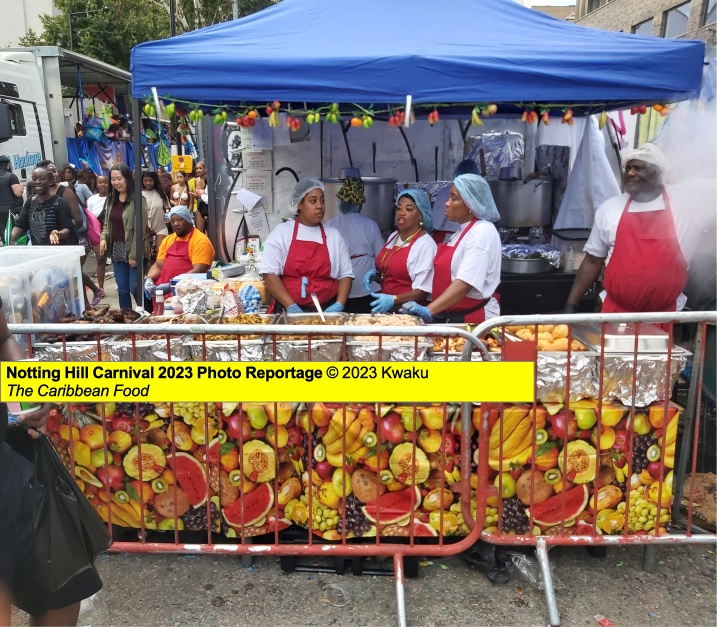 NHC can't function without food and drink. However, in addition to the local groceries, and street food vendors, some enterprising locals used their house fronts to sell souvenirs, food and drink. One
House Runnings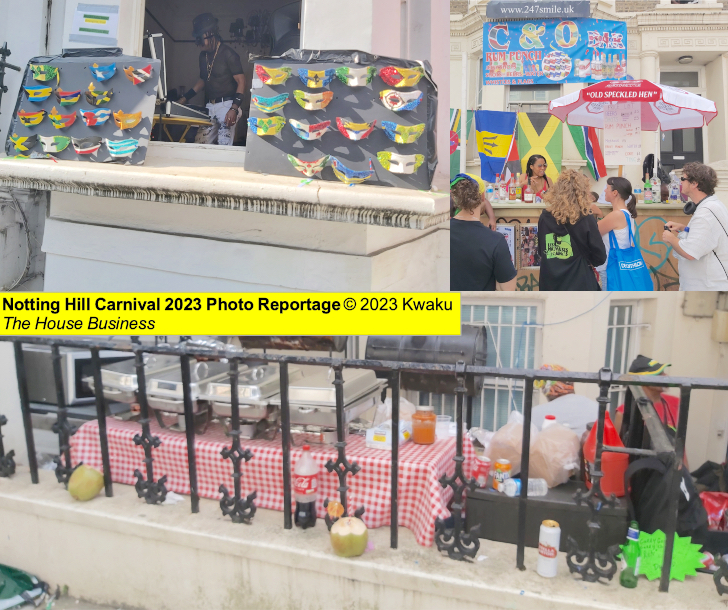 man could also be seen from the open window DJing in his front room!
The Wailers Plaque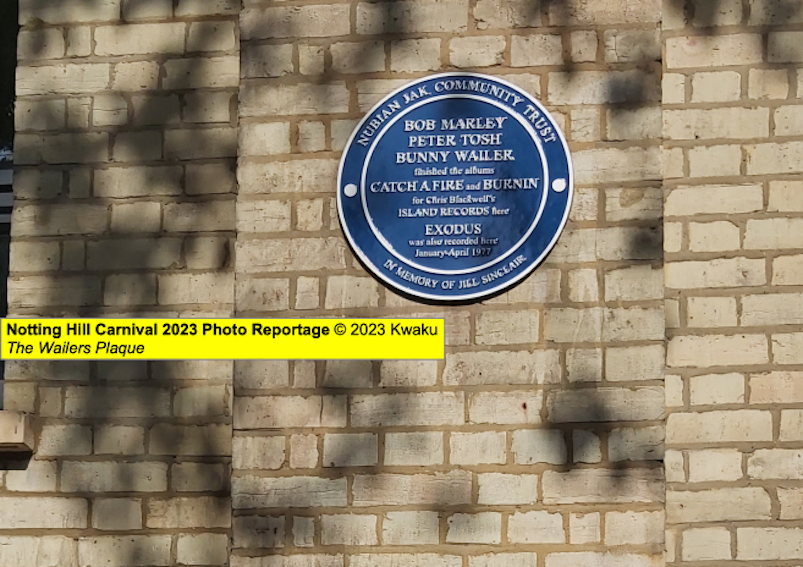 In a quiet part of the catchment area, I was able to revisit The Wailers plaque on the former Island recording studios on Basing Street, which I helped Nubian Jak with when it was unveiled in 2019 – see 'Hail The Wailers! Plaque For Reggae Legends'.
Although there were several police officers in attendance, the only ones I purposely photographed were the two officers sitting on the bumper of a lorry. What it reminded me of was that, apart from the overtime pay that the officers receive for NHC duties, they are human, and that it can be tiring standing on your feet for hours.
The public engagement continues with a Post-Carnival Residents' Meeting on Wednesday September 6, 6.30-8.00pm at The Tabernacle in Ladbroke Grove.
Kwaku is an independent history researcher and historical musicologist. He posts his events at AfricanHistoryPlus.eventbrite.com.