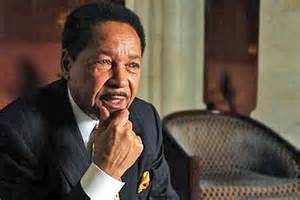 So it's even more remarkable when someone from humble beginnings achieves this while also creating a major milestone in the annals of African American history.
But then Don Hamilton Barden was a very remarkable man. Born in Detroit, Michigan, on December 20, 1943, he proved himself to be a very hard worker from an early age. Over time, Barden became an accomplished sportsman too captaining both his high school football and basketball teams. After school he gained a place at Central State University but, finding that he couldn't afford to continue with his studies beyond the first year, he left to set himself up in business.
Early successes
After a series of jobs, ranging from plumber to kitchen assistant, Barden realised that the only way to make real money was to work for yourself. So that's exactly what he did by taking $500 that he had carefully saved and using it to open a record store in Lorain, Ohio. As well as selling records, Barden soon also expanded into booking and promoting bands and this soon led to him also setting up his own record label too.
As his network of contacts in Lorain grew he used his connections to open a public relations company but, despite all his efforts, he was still not earning the riches that he'd dreamed about.
Needing to find another sector that offered greater potential rewards, Barden homed in on real estate. He discovered that the US Government was looking for a new recruitment centre in the town so Barden searched till he found a building that would be suitable and arranged to lease it to the military. On the strength of this agreement he borrowed $25,000 to buy the building and sold it for double that amount two years later.
He was on his way.
Moving into cable TV
Soon afterwards Barden also had the realisation that a key moment in the history of cable television was on its way and, while still mainly concentrating on real estate, he kept his eyes on the industry to see how he could exploit this fact.
He didn't have to wait long until the opportunity arose for him to do a deal in which 4% of the cable television franchises in the area were set aside by the licensing authorities to invest on behalf of the African American community. He also bought 2% of each franchise for $2,000 which he was then able to re-sell for $200,000 two years later.
Spurred on by this success in the world of cable TV, Barden decided to commit to bringing the medium to African American communities in the West and Mid-West. His first opportunity to do this was in Inkster, Michigan, where he wired 10,000 of its homes. Soon after he gained the contract to wire 375,000 households in Detroit, the city of his birth.
The first casino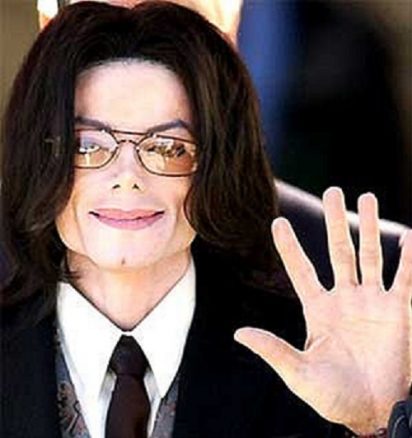 By now Barden was a very wealthy man and was seeking new ways to make money. So he alighted on a sector that he believed was going to be very important to Detroit in the future, casino gambling.
In 1995, he won a contract to build a riverboat casino gambling enterprise in Gary, Indiana, and his aim was to use the experience he gained doing this to be involved in casino gambling in Detroit when the possibility opened up in 1998.
When the city mayor rejected his bid to open a casino in the city, Barden used his influence to recruit Michael Jackson and Stevie Wonder to help him campaign in the hopes that Detroit voters would overturn the mayor's decision in a referendum. His casino proposal was to called "Majestic Kingdom" and included plans for a hotel, gardens, nightclubs, restaurants, and a Michael Jackson Thriller Theme Park. However, even with these high profile supporters Detroit voters still rejected his proposal.

Don Barden's campaign, featuring Michael Jackson
Unsuccessful but undeterred, he then tried to buy the Greektown Casino in Detroit and in 2002 joined forces with a group of Chippewa Indians to claim that the 1997 Detroit Casino bidding process was unconstitutional. Even so, this claim was rejected and he was still unable to open a casino in Detroit.
Barden decided that, if he couldn't open his own casino, then he would buy one that already existed. He focused on three Fitzgeralds casinos that had recently filed for bankruptcy and set about trying to raise funds to buy them. After a great deal of time and effort, Barden managed to borrow $135 million and also put up $14 million of his own cash.
Viva Las Vegas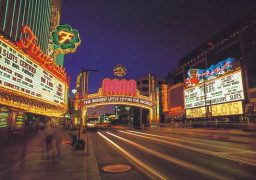 In 2002 he took over the Fitzgeralds casinos. Based in Tunica, Mississippi, Black Hawk, Colorado and downtown Las Vegas, Barden was proud to make history as the first ever African American owner of a Las Vegas casino.
By 2002 his various companies employed over 4,000 people and had a turnover of $347 million, with 90% of this money coming from his casino interests. Seeing the profitability of the sector, Barden then put a bid together to take over Trump Casinos' riverboat casino in Gary, Indiana. He was also planning to open a luxury hotel-casino on the Turks and Caicos Islands in the West Indies, as well as to take over another bankrupt casino in Black Hawk, Colorado.
However, these deals never materialised and, over subsequent years, the profits began to slide and in November 2009 the holding company for the casinos, Majestic Star, filed for bankruptcy. The company claimed that it was a victim of the recession, excessive competition and even the recently introduced ban on smoking in public places. It's probably also no coincidence that this was also around the time that online gambling was growing in popularity. 888casino were quick to take advantage of this, since their establishment in 1997 they have offered a huge amount of brilliant online games, as technology has improved, so too have the games, making it a great place to experience online roulette. In 2009, many people were opting to gamble online due to them being able to do so from the comfort of their own home, and this is still the case to this day.
It was a sad end to a great man's dreams and effectively ended Barden's business career.
Tragically, he died just two years later in 2011 at the age of 67.
However he left behind a great legacy which had not only done a great deal to improve the lives and dreams of countless African Americans, it had also shown that with hard work and determination success was still possible for anyone in the USA. And so Barden has certainly joined the ranks of the many entrepreneurs from the past who act as an inspiration for budding business leaders today.
Summary
Don H. Barden is a very important figure in African American history – he was the first black man to own a Las Vegas casino. This came as a culmination of a long and successful career that had started as a record shop owner and music promoter in Ohio before moving into real estate and cable television. At their height, Barden's companies had a turnover of almost $350 million every year and employed over 4,000 people.