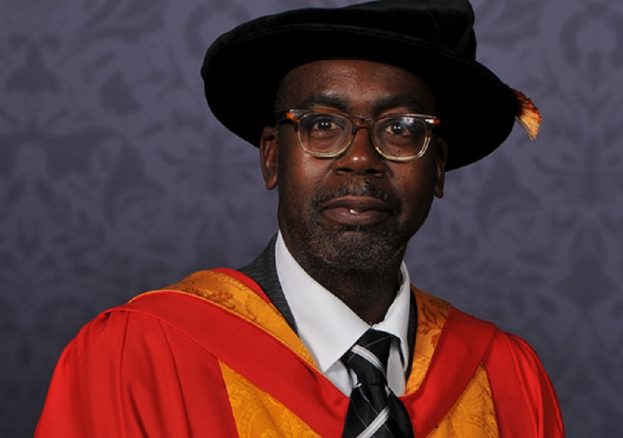 On Thursday 20th September 2018, the University of Wolverhampton presented Patrick Vernon with an Honorary Doctor of Letters. The award was made in recognition of Patrick's contribution to the voluntary and public sector over a number of years and in particular his historical work around family genealogy and identity of migrant communities particularly African and Caribbean communities. Speaking at the presentation of his award, Professor Laura Caulfield praised Patrick as an "inspirational individual" who shared the University's "commitment to reducing inequalities, improving mental health and wellbeing, and increasing the visibility of migrant communities".
Patrick said: "As a child of the Windrush Generation born in Wolverhampton along now with three generations of the Vernon family It is great to be honoured by the University of Wolverhampton to receive an honorary doctorate for my work over the years for advocating, campaigning and developing content and learning on the heritage of African and Caribbean community from family history, 100 Great Black Britons, Windrush Generation. Also, the recognition reflects my wider work on migration histories, race equality, mental health and wellbeing".
Patrick Vernon OBE was born in Wolverhampton and went to Grove Junior School, Colton Hills and Wulfrun College. He is Patron of ACCI mental health charity based in Wolverhampton and in 2017 guest edited this magazine. He is a Clore and Winston Churchill Fellow, Fellow at Imperial War Museum, and former Associate Fellow for the Department of History of Medicine at Warwick University.
He was the first Director of Black Thrive, a mental health multi agency tackling mental health in Lambeth, former Non-Executive Director of Camden and Islington Mental Health Foundation Trust, Health Partnership Coordinator for National Housing Federation, committee member of Healthwatch England, NHS England Equality Diversity Council, and Director of Brent Health Action Zone. He is a former member of the Labour and the Coalition Government Ministerial Advisory for Mental Health.  Patrick was a Former Councillor in Hackney between 2006- 2014. He was awarded an OBE in 2012 for his work in tackling health inequalities for ethnic minority communities in Britain.
Patrick has a 25-year track record working in health and care, and anti-racism campaigning. This year he worked with the University of Wolverhampton and other community groups on the Many Rivers to Cross project, which marked the fiftieth anniversary of Enoch Powell's Rivers of Blood speech, by raising awareness of both the positive progress made in the city and the challenges that still need to be overcome. This year he campaigned against the illegal denial of residency to members of the Windrush Generation, and has long argued for Windrush Day to become a Bank Holiday, to ensure greater official celebration of the contribution that Black Britons have made to the country. He will be speaking about that, and the problematic history of the Black Country Flag, at the University of Wolverhampton's Black History Month Conference on Thursday 18th October 20EditorI18.Editor
Will Cooling, Head of Equality and Diversity at the University of Wolverhampton, said, "I am delighted that the University has chosen to honour Patrick in this way. He shares with the University a commitment to celebrate Black History, to ensure that the contribution made by Black people in Britain and the wider world is not ignored. We are proud sponsor of Wolverhampton Black History Month, and look forward to welcoming Patrick on the 18th October".
The University of Wolverhampton recently received Silver in the Teaching Excellence Framework. It offers courses across over 70 different subjects, with over 4,000 students graduating from Wolverhampton each year. It invests heavily in our students, staff and alumni and in the local and international community. Our next Open Days are on the 13th October (Undergraduate) and 22nd November (Postgraduate). For more information about the University, please visit www.wlv.ac.uk or email w.cooling@wlv.ac.uk.