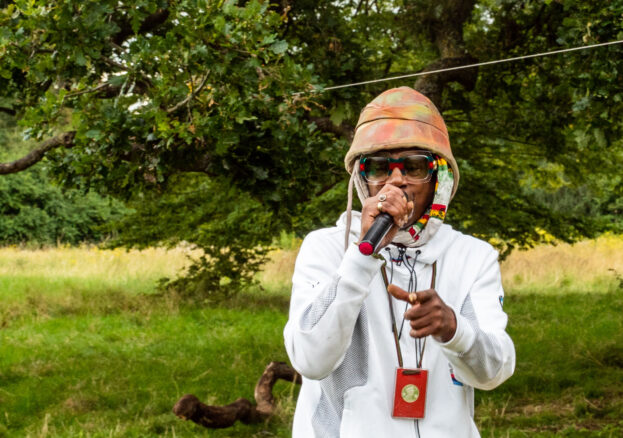 We caught up with Scratchylus to talk about this year's theme for Black History Month 2022; 'Time For Change Action Not Words #ResetTheMindset' and hear what he has to say about how real change can be achieved by Resetting our Mindsets
What does  ' Reset The Mindset' mean to you?
First of all I would love to extend my love and gratitude to all those who have a healing spirit, mood and attitude in these very challenging times, more Love Comfort and Guidance always.
In order to Reset The Mindset we have to have the capacity to heal which takes empathy, overstanding and most importantly not being in denial. We have to rid ourselves of false perceptions, harmful agendas, ignorance and arrogance and replace it with kindness for one another, encouragement, grace, gratitude and respect for your fellow human beings.
The aspiration for change of mindset and understanding injustices seems to be gathering pace in recent years. This has been highlighted by the death of George Floyd, The Windrush Scandal and the negligence that led to Grenfell. From my personal experience although society seems to have become more politically divided it has come together more spiritually. Naturally this is largely to do with the increased interaction between our communities which has laid the ground for tolerance empathy and ultimately healing.
Can you tell expand on why society over the last 2000 years has been taught largely about slavery, and why there is a lack of understanding regarding Black people's heritage?
Society over the last 2000 years has been deliberately Institutionalised by the slave masters and their colleagues in order to maintain their wealth and privilege. In order to get everyone on board they had to create negative narratives, negative stereotypes along with racist laws and practices to keep the status quo. For example, The Colour Bar, it was a crime for Black people to learn to read and write, restriction of movement, work without pay.
Thank goodness for people of colour that came along like Marcus Mosiah Garvey, Malcolm X, John Hendrich Clarke, Rastafari, Emperor Haile Selassie among others who came along and reminded these people of their great Ancestry, History, and the greatness they have achieved and can carry on achieving.
Many organisations were born from this new awakening.
Can you explain how allies are important and their role?
Just like any other organisation representing Justice, the people who are at the forefront of the oppression must be at the forefront of the strive for justice, always with the attitude that if someone proposes to help with and facilitate their cause they shouldn't dismiss with ego and arrogance they should always exercise grace and due diligence in order to achieve the aims and objectives.
What message do you have for our readers?
As a person that has many reasons to be optimistic about mankind and womankind despite all the suffering and woes of the world Resetting The Mindset' is key to real change. Big up the people working for others despite the constraints.
As I say The Healing:
'' It will be sunny again, it was cloudy then but soon we will be ready to rise,
Looking good feeling good focused on the prize,
After all the pain there's been the pain we've seen and after all that's said and done,
It's time to put a smile on their face. It's time to have some fun.
Scratchylus is an Award Winning International Artist whose mission is to Reset The Mindset , educate , uplift, enlighten and empower through Word Sound and Power. The messages in his music provoke thought and inspire us to do our best work and be our best self.