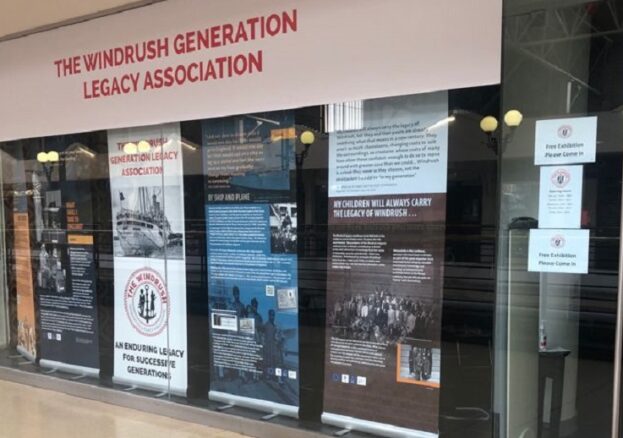 Black History Month, a time to reflect upon the contributions that people of colour have made within their communities and the country as a whole. But more importantly Black History Month Is a time to examine the legacy that the footprints of history left by generations of people of colour have made on the landscape.
A good place to start is at the Windrush Generation Legacy Association (WGLA) exhibition – "Gaan a Farin", currently located within the Whitgift Shopping Centre Croydon.  The creators have transformed a disused shop into an exhibit of true stories set within a backdrop reminiscent of a 1960s West Indian home.  Whether you arrived in Britain from Jamaica, Grenada, Barbados, Trinidad and Tobago or any of the Caribbean countries, your home in Britain looked the same and this has been captured so beautifully within the exhibition.
The stories told, displayed upon the walls give a true indication of early life in Britain during that Windrush generation.  They also bring the lives of the depicted to life, right up to current time.  By reading these stories the younger generation will get a real sense of appreciation of the sacrifices their elders have made in their bid to build a brighter future for themselves and for generations to come.
Those who have visited the exhibition have commented on the authenticity of the displays and have marvelled in the stories, bringing some to tears with memories of loved ones who had made those journeys to Britain, 'the land of milk and honey'.
When you know and appreciate where you are coming from, it is easier to navigate where you are heading. A visit to "Gaan a Farin" is definitely a good starting point for the younger West Indian generation to understand their heritage.
Whether you choose to visit to immerse yourself in nostalgia or whether your visit is of an educational nature, you will not be disappointed with "Gann a Farin"
The exhibition is open now and can be found at Unit 1036-1037 Whitgift Centre Croydon (upper level).  To find out more about WGLA, the exhibition and some of the work WGLA will be undertaking during Black History Month and beyond contact info@thewindrushgla.co.uk or 0203 772 4545.