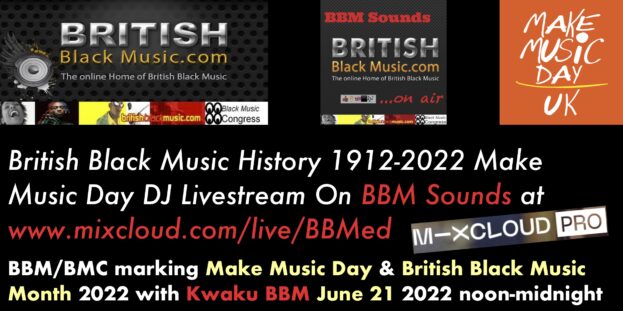 For the third year running, BritishBlackMusic.com/Black Music Congress (BBM/BMC) will be supporting the annual Make Music Day (MMD) with a DJ set by Kwaku BBM, livestreamed on the BBM Sounds channel on Mixcloud Live or Mixcloud.com/live/BBMed.
Music fans are encouraged to join the 'British Black Music History 1912-2022' – a century-plus journey through an eclectic mix of British black music, irrespective of genre or vintage, on Tuesday June 21, noon-midnight.
You can show your support by joining the livestream on Mixcloud at https://www.mixcloud.com/live/BBMed, where they can interact with the show through the chat facility, including making their musical requests.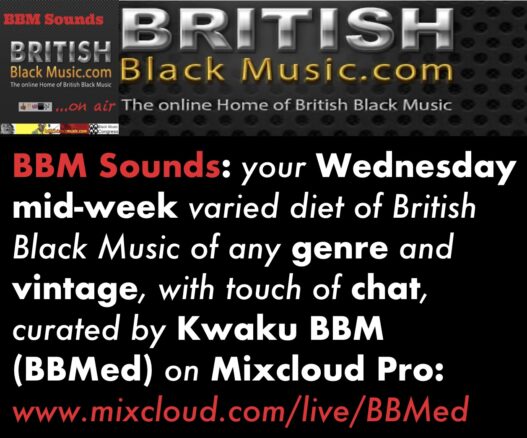 Going forward, our British Black Music Month 2022(click here) plan includes curating a BBM Sounds webcast channel on Mixcloud and a regular Mid-Week Special webcast on Wednesdays 6-9pm BST, starting from Wednesday June 29.
We are looking for DJs and presenters to host their British black music-focused purely music or music and talk shows. This can be either 1, 2 or 3 hours shows presented live or pre-recorded within:
a) the Mid-Week Special Wednesday 6-9pm slot or
b) another day/time slot of your choice.
We want those with passion for, or knowledge of, British black music, what ever the genre or vintage.
For those interested or do not have any experience of the Mixcloud platform, don't worry –
1. we will we have some technical workshops online
2. Those who come on the workshop(s) and commit to present on BBM Sounds will receive a free 6-month Mixcloud Pro subscription, worth $90, which allows you to play copyright material without any fear of take-down notices
3. Will offer some free 6-month Mixcloud Pro subscriptions as prizes in our July competition for those who want to migrate to Pro.
For further information or to express your interest in either the workshop or presenting on BBM Sounds: bbmbmc@gmail.com.