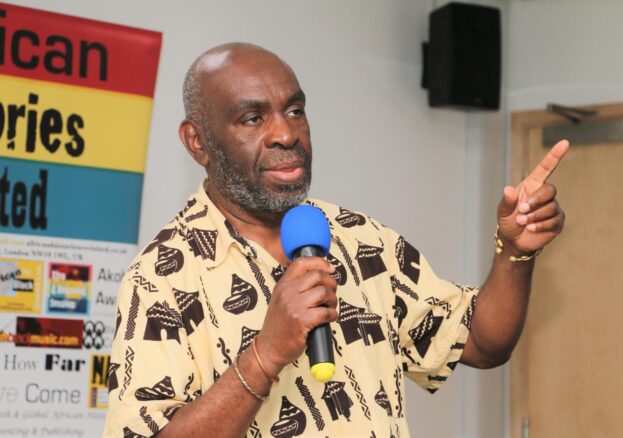 Celebrating UK Reggae Runnings Tinged With Sadness And Disappointment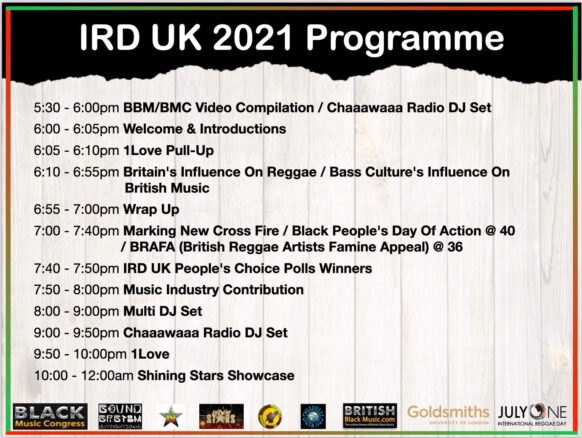 Today is International Reggae Day (IRD). It's a global celebration of reggae music and culture that takes place every July 1. Although tonight's event is only the fifth official IRD UK event, it was originated in Jamaica, where it's been going since 1994 – check ireggaeday.com for more details. If you don't know about it, then I'll point the finger particularly at those that reap the financial benefits of reggae.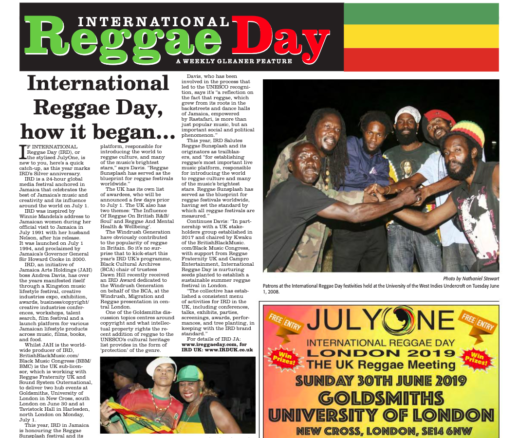 This year's event is certainly the longest – 5.30pm-12midnight. But whilst we celebrate this year's 1Love theme, particularly through the use of the Bob Marley Family-sanctioned UNICEF reimagined remake of Bob Marley's 'One Love' song and pan-Africanist icon Marcus Garvey's sign-off battle cry in the Pull-Up section, and there's also an acoustic version by Cedella Marley and Skip Marley which will lead a sing-along by the attendees plus a 2-hour Shining Stars concert featuring the likes of General Saint, Sylvia Tella, Andrew Sloley and Chucky Banton – it's not all "one love", as far as British reggae is concerned.
But first, let me foreground Menelik Shabazz, the pan-Africanist Barbadian-born film maker who died in Zimbabwe on Monday. Although we take cognisance of some of the recently departed via DJ and reggae music industry veteran Hawkeye's musical tribute, the shock of Menelik's sudden passing and being a supporter of IRD – 'The Story Of Lover's Rock' director was a supporter of IRD UK. He was one of our special guests at IRD UK 2018, and was supposed to join us today, to speak to his 'Blood Ah Go Run' film, excerpts of which will be used in the Marking New Cross Fire/Black People's Day Of Action @ 40 discussion session.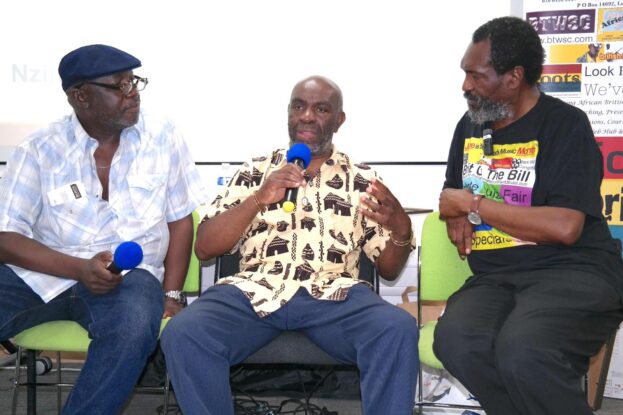 What follows is a quote I provided for a release put out by our IRD partner Reggae Fraternity UK, as a friend of Menelik and the IRD UK co-ordinator:
"I'm a bit numb after finally accepting that Menelik has indeed passed. I got to know hm a bit better after I provided a little help with 'The Story Of Lovers Rock' documentary. He was a warm and deep fellow. I loved his pan-Africanist take on life and the idea that he had relocated to Zimbabwe.
"I only spoke to him a few weeks ago, when he confirmed that he would be a special guest at this week's International Reggae Day (IRD) London UK conference, which deals with the Black People's Day Of Action at 40. He was to speak about his 'Blood Ah Go Run' film, which captured that seminal display of activism by the largest gathering of Africans in London. Those who attended IRD 2018 will remember those soft, but resolute tones of Menelik talking about reggae and other matters.
"The British independent film sector has lost a pioneer and a visionary, who was determined to harness the accessibility of digital technology in making his new African-centred films. On behalf of the IRD UK stakeholders, our condolences go out to Menelik's Empress and family."
As the UK co-ordinator of IRD, one of our best moments was our last physical event, which took place with the support of Sound System Outernational at Goldsmiths, University Of London in south London in 2019. It was the quarter of a century anniversary of IRD, and The Weekly Gleaner run an IRD @ 25 supplement within which some the organisations we work with, such as Trojan Records and the Musicians' Union advertised. In 2020, with the onset of the Covid-19 pandemic, we had to find our feet and we hesitantly migrated our London hub event unto the Zoomverse.
A year on, we are back on Zoom with an extended programme, and potential supporters were reminded well in advance of this annual event, so where is the support from the corporate stakeholders? Where are their ads to show their support for British black music generally and reggae specifically? Yes, we have a handful of music industry organisations repping tonight, and some record companies are supporting with retweets and prizes, but it's nowhere enough, especially when we look at organisations that benefit finally from reggae and black music!
Following the Afriphobic murder of George Floyd, wearing my hat as co-ordinator of RE:IMI (Race Equality: In Music Industry), we had conversations with most of the UK music industry representative organisations, and published a report detailing their response to the music industry's #BlackOutTuesday initiative. We also convened an online forum, Monday Xtra History Sessions: Racism, Afriphobia & The UK Music Industry, where many elaborated on their race/ethnicity-facing diversity plans.
Nearly a year on, a smattering of initiatives have since been implemented. Some AAME (African, Asian, Minority Ethnic) groups, in and outside the music industry, have received funding under a broad racial justice mandate. Which is all very nice and useful. However commitment to a cause goes beyond financial donations. As I write this, several organisations have adapted their social media profile images to reflect the LGBTI+ colours. But when have we seen corporate bodies who either benefit from the human or creative resources of Africans do something similar using either of the pan-African or global African quad colours to represent their allyship or solidarity with their African stakeholders, particularly their customers or members?
Some organisations showed allyship by displaying #BlackLivesMatter on their social media profiles. But we need to see a move from sloganising to practical demonstration of how they're handling their racial justice commitments. Which is why we created industry windows within tonight's IRD and British History, Black Music, Racism & The Music Industry 1507-2020, which closes British Black Music Month (BBMM) on July 31.
IRD and BBMM come by every year, July 1 and June-July, respectively. We'd hope that going forward, the management of organisations and businesses that benefit from black music would demonstrate their commitment and valuing of its African stakeholders. Our view is that the music industry stakeholder community is wider than just those who make a living from music. Conversations within various reggae and black music forums show that even those either in or on the periphery of the music industry have not seen any meaningful changes since George Floyd's death. Even where funding, board appointments career-enhancing opportunities are given to people from African heritage communities, the publicity does not seem to be geared towards either the black music or African communities.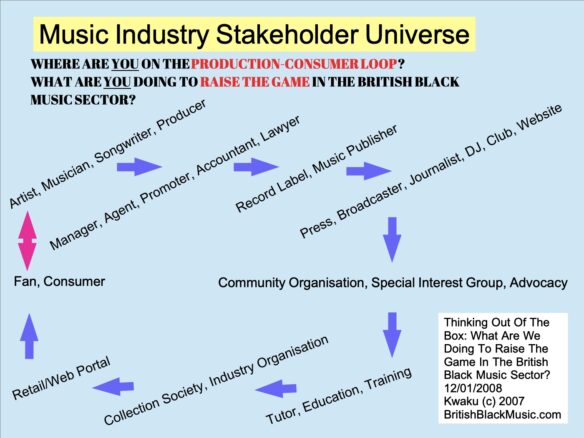 One way of demonstrating this could be by advertising in the Weekly Gleaner or similar African-focused media, to let us know what they have done or are doing in the quest for racial justice within the music industry. But to date, there's been hardly anything.
One particular exception, when it comes to recent music industry racial equity programmes, is the PRS Foundation's new Power Up programme. It provides grants and mentorship to African artists and industryites in order to get them up to the next level in their careers.
Also a number of Africans have been appointed to various music industry boards within the last few month. But whilst most of these people are not particularly from the reggae scene, how many within the reggae community are aware that the Queen Of Lovers Rock Carroll Thompson was earlier this year appointed a PRS Members' Fund patron? Yep. Anyway, those attending tonight's IRD event will hear a message from her.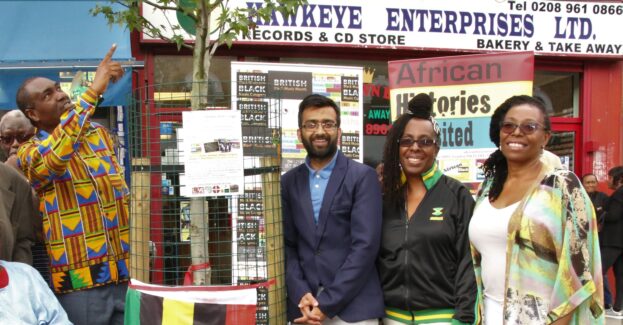 As this conversation will no doubt be continued at the British History, Black Music, Racism & The Music Industry 1507-2020 online event on July 31, I'll now focus on some of the good reggae stories.
Last Friday UB40 released 'Bigga Baggariddim'. High profile marketing, such as advertising on the billboard on the Nasdaq stock exchange in New York City, has helped make it one of the biggest-selling reggae albums of the year. In addition to UK tour dates in the autumn, one of the featured singers, Winston Francis, says there's a tour of far-flung outposts such as Australia and New Zealand in the offing.
Veteran musician, producer and songwriter Dennis Bovell's profile has risen outside of the usual reggae circles of late. Last month it was announced that he was one of the nine curators in charge of programming the Southbank Centre's Summer Reunion events across weekends from 4 July to 29. Later in the month, Barbadian-born Bovell was among those awarded an MBE in the Queen's Birthday Honours List.
Someone who continues to receive honours from the reggae community is Neil Fraser, better known as record producer Mad Professor. He's celebrating the 40th anniversary of the founding of his Ariwa recording studio and subsequent label. The recently released '40 Years Of Dub Part 2′ is just one of the quadragenary evidence of an African owned business that continues to thrive, in spite of the vagaries of the music industry over the last few decades.
Someone else who's reached the quadragenary mark in business is Roy Allen-Forbes, better known as record producer, DJ and record store owner Hawkeye. At a time when record stores are a rare sight, the Hawkeye store in Harlesden, north-west London may have down-sized, but nevertheless continues to be only one of two such stores operating in the reggae capital of Britain, which boosted dozens of record shops within the immediate vicinity in the 1970s.
Jeffery Peart has a longer music industry history. Instead of thinking of slowing down, the record producer and veteran retailer, who started his string of Londisc record stores in 1974, is embracing the online opportunities by developing a major black music online retail store.
Former artist manager, label and community radio owner Ronald Amanze, who retreated from the music industry partly because of dementia, is using music to engage with dementia sufferers and advocates for sufferers. Last month he co-produced and presented Reggae Memory Radio, which had music interspersed with Amanze speaking about the role reggae music played in his challenging life. It's available on the BBC website.
In the autumn a building in Tooting Broadway, south-west London, which operates as a Caribbean bakery will be affixed with a plaque acknowledging "some of the greatest names in reggae music" who recorded at the former site of the TMC recording studio. Contact local history organisation Summerstown182 for updates.
Actually, had it not been for the Covid-19 pandemic, which put paid to the Brent, London Borough of Culture 2020 physical events, there was a possibility of a plaque being unveiled in the north-west London borough to bolster its reputation as the centre of reggae history in Britain. There are already four plaques there, two represent Jamaican artists – Bob Marley & The Wailers and Dennis Brown, and the others recognise domestic talents – Liz Mitchell of Boney M and The Cimarons.
Sadly, The Cimarons' drummer Maurice Ellis died last month. His friend Hawkeye (shhhh – Hawkeye had the opportunity to be a replacement singer for The Cimarons, but he admits he "bottled out") will present a musical tribute at tonight's IRD Zoom event to Ellis and other artists and music industry practitioners that have passed within the last year. Special mention will be made of the late Sonny Roberts, whose role in the reggae industry in Britain is little known.
In addition to exploring the UK-Jamaica musical and business interactions and influences, marking the 40th anniversary of the New Cross Fire and reggae's role in the subsequent Black People's Day Of Action, and the naming of a square in the east London borough of Hackney after the 1985 BRAFA (British Reggae Artists Famine Appeal) project, the evening will end with a two-hour live performance by artists such as General Saint, Sylvia Tella, Andrew Sloley, Sensi, Nubian Queenz and Chucky Bantan.
The IRD London UK hub event will be simulcast on FreshFMRadioLondon.com. The station also kicked off IRD 2021 with a ReggaeGlobal & Culture programme at 8am (it's available on the OneLink Youtube channel). The show's host, Rudi Page, will also be co-hosting the Under The Reggae Tree talks and music programme tonight, 6.30-8.00pm on Rudi's Facebook page. On Friday July 2, from 6pm DJ Freestyle will helm the Afro-Reggae programme on FeferityRadio.com, which will highlight the works of Continental reggae artists in Africa and the Diaspora.
Other community stations and presenters are supporting IRD by playing the singles and tracks from the albums featured in the Reggae Fraternity UK-compiled People's Choice Reggae Music Polls. Set to receive awards are Momo-Watts and Gary Dixon, for topping the Singles and Albums polls respectively with the George Floyd-inspired 'A Change Is Gonna Come' and TTM Collective Orchestra's 'Inspirational Love Songs (Masterpiece)'double-CD.
International Reggae Day London UK takes pace Thursday July 1 2021, 5.30pm-12am via Zoom. It's free. To book: https://BBM.eventbrite.com. For more details: http://IRDUK.co.uk. It's organised by BritishBlackMusic.com/Black Music Congress in association with partners including Reggae Fraternity UK, Sound System Outernational, Goldsmiths, University Of London, Chaaawaaa Radio, Shining Stars and BTWSC/African Histories Revisited,
Kwaku is a history consultant and historical musicologist. He's the organiser of International Reggae Day London UK and British Black Music Month.