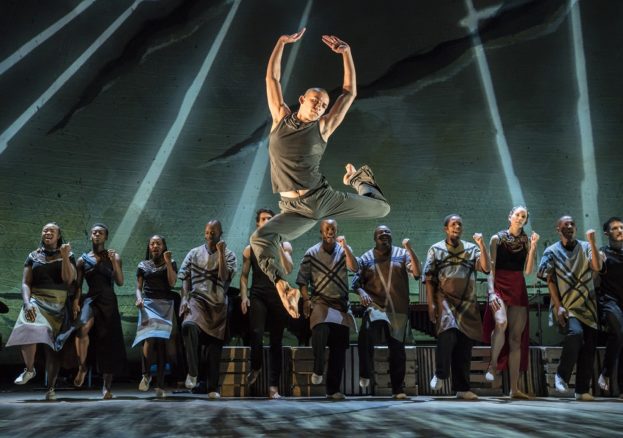 INALA, the critically acclaimed South African Dance-Musical sensation, will celebrate World Ballet Day on Wednesday 23 October with a concert spectacular at the Royal Albert Hall, bringing together the three-time Grammy® Award-winning Soweto Gospel Choir with multi-award-winning choreographer Mark Baldwin OBE in this unique artistic collaboration.
Featuring Grammy nominated music by the legendary Ladysmith Black Mambazo and Londoner Ella Spira, the show marks Black History Month with a celebration of South Africa today.
INALA delivers all it promises; an uplifting cultural experience, powered by an explosion of live music, song and dance. Soweto Gospel Choir return to London with a company of 16 singers, joining the nine-strong band and 13 international dance stars on stage.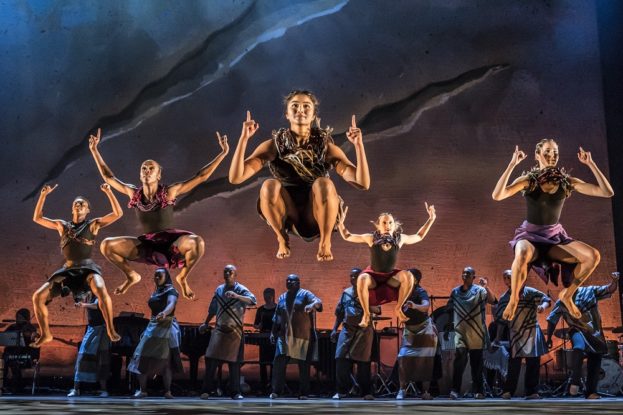 INALA, meaning 'abundance of goodwill' in Zulu, was originally conceived and developed to mark 20 years of South African democracy.
Blending the intricate rhythms and infectious harmonies of Soweto Gospel Choir with live percussion, piano and strings, Mark Baldwin's choreography unites Zulu traditions with classical ballet and contemporary dance.
The production embraces an exhilarating fusion of South African and Western cultures live on stage, to create a unique and vibrant immersive experience.
"We did always have plans to take over the world," laughs Ella Spira, one half of production duo Sisters Grimm, along with Pietra Mello-Pittman. "But we never could have possibly imagined the amount we've done, and the Grammy nomination – that was completely unexpected."
INALA, the show Sisters Grimm premiered in 2014, marking 20 years of democracy in South Africa, has indeed turned out to be a huge success. Three tours, playing to sold-out audiences across the UK, a Royal Variety Performance, an international debut in Moscow, a West End debut at the Peacock Theatre and a performance at HRH Prince Harry's Sentable concert at Hampton Court, followed by shows in Singapore and now the Royal Albert Hall. Marking World Ballet Day and Black History Month, the show will play for one spectacular night only at the Royal Albert Hall on Wednesday 23 October 2019.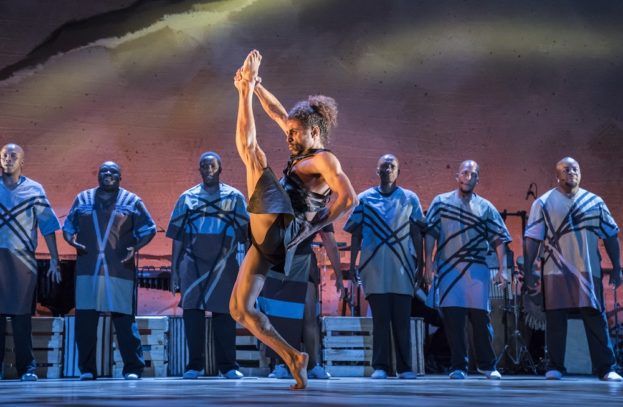 Spira and Mello-Pittman are two smart, ambitious women who from the off were determined to do things their own way. Back in the late 2000s, Mello-Pittman was a dancer with the Royal Ballet who had begun creating her own choreography; Spira, a composer who started out writing production music at the BBC. And they bonded over their interest in collaborating with arts beyond their own particular worlds, in club culture, film and world music.
Having begun to share ideas, the genesis of INALA came when Spira took Mello-Pittman to see South African vocal group Ladysmith Black Mambazo at London's Cadogan Hall. "I actually had a rare night off from the ballet, so already the stars were aligned!" remembers Mello-Pittman. Spira had long wanted to work with the group and the pair were introduced backstage after the show. Some people would be shy about approaching such a famous group as relative unknowns, but "I've never had that filter that says: You can't," says Spira. "I've always been: Of course we can do that!"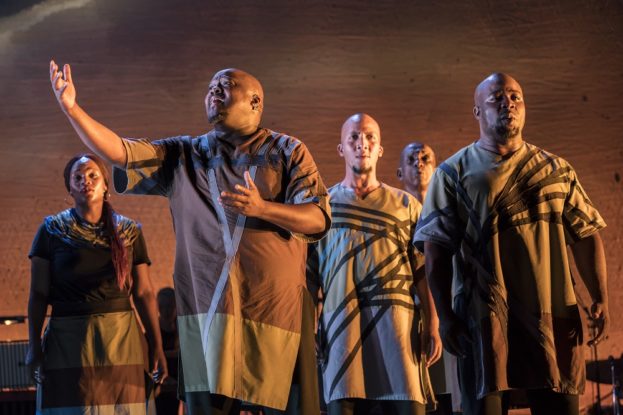 Originally they envisaged INALA as a one-act work for the Royal Ballet and development began with a trip to South Africa, sitting around the piano sharing music and then experiments with choreography. But things didn't immediately go to plan. "There was quite a lot of heartbreak along the way," says Spira. "Raising the funding and finding the right collaborators was hard and then the Royal Ballet didn't want to take it… So, we said we'll do a production ourselves, we'll do a whole big show, which was massively ambitious in a whole new way."
Everything fell into place when Mark Baldwin, then director of Rambert dance company, came on board as choreographer. "I remember sitting in a car park," says Mello-Pittman, "and Ella showing me the videos of the solos Mark had worked on with two South African dancers from Rambert, Dane Hurst and Mbulelo Ndabeni. And from that moment I knew there was something special in it. Those dancers lived and breathed the music."
The show they created brings together ballet and contemporary dance, a fusion of Spira's and Ladysmith Black Mambazo's music, imagery of African landscapes and fauna, and songs sung in Zulu about the value of community and the passage of life.
Even without an understanding of Zulu, the songs can communicate. "Ella had sent me the music and as I was listening to it I was imagining things," says Baldwin. "Then when I asked Ella she said, 'Yeah, that's right.' It was something to do with homesickness, leaving the village for the big city. I was thinking that before I knew what the lyrics were."
The idea of communicating across cultures has always been at the core of INALA, and Spira thinks the creators' own backgrounds play a part in this. "I'm a third generation Holocaust survivor, most of my family live in Israel," she says. "Pietra was born in Brazil and has a Brazilian mother and English father. Mark was born in Fiji to a Fijian mother and Irish dad and grew up largely in New Zealand. The three of us feel so strongly about wanting to give a voice to art forms from different cultures."
A more unlikely inspiration came from Spira's childhood love of Disney films, especially those with foreign settings, like Aladdin and Pocahontas. "I loved their way of taking indigenous things from those places but weaving them into a palette of songs, a big score that felt totally global," she says. But she never wanted that alliance to be superficial, or worse, exploitative. "We have always tried to be really careful to not do anything that could be deemed cultural appropriation," says Spira. "And I think that comes from how far we will go to make a connection to the culture that we're collaborating with. Rather than coming at it with an expectation of: 'You're going to do this'. It's much more of a: 'Let's find this ground in the middle'."
For dancer, and cast member, Nafisah Baba, "It's beautiful to discover new things and bring them together to create a new dance language," she says, describing the choreographic style as "very raw". "It's not about creating shapes or perfection," she says. "I remember Mark saying in rehearsal: 'Think like a bird!'"
For the West End premiere of INALA. the show evolved with Soweto Gospel Choir taking over from Ladysmith Black Mambazo on stage, and the young group brings with it a new dynamic. "There are so many reasons why working with Soweto Gospel Choir is amazing," says Spira. One key difference is the addition of female singers, which expands the vocal texture. "It's like there's a dialogue within the music," says Mello-Pittman. "They move so beautifully and rhythmically," adds Baldwin. "And they can tap dance like you wouldn't believe!"
"I've listened back to the recordings," says Spira, "and what gospel singing does is it pushes slightly ahead of the beat. Whereas Ladysmith Black Mambazo sat ever so slightly behind the beat. So it adds a whole different level of excitement. It's like a big, bright, massive sunrise." Baba agrees: "You can feel the music going through your body, it's an incredible experience," she says.
In addition to Baba, there are more new dancers for this incarnation including Brazilian Hicaro Nicolai ("He's gorgeous, just made for this show," says Mello-Pittman) and Manchester-born Nahum McLean, who comes with a background in hip hop and African dance and training at the Ailey School in New York ("He's dynamite," says Baldwin.). The cast are deliberately individual – there's no conformity of height, build or training – but what they have in common is a connection to the material. "We don't just audition them, we interview them," says Mello-Pittman. "We ask them why they want to be on the show, how they connect to it, how they feel about the music and the themes."
One performer from the original cast who returns is South African ballet dancer Ashleigh Wilson (now based in the US). She grew up with Ladysmith Black Mambazo's music. "It takes me back home, and the same thing happens when I perform INALA," she says. It's not only that music that whisks her back to Cape Town. "In the sound design they've integrated a lot of the sounds you hear in South Africa, whether it's crickets or drum beats," she says. "I remember people coming out of the theatre and crying: 'The crickets, the crickets!'. These sounds are really special."
But more than just homely nostalgia, the show has something to say for South Africa today. "For me it's also a show about humanity and how such a diverse cast can connect in one voice," says Wilson. "That feels really similar to the way I perceive South Africa as it heals from its past, trying to move forward with a new generation, uniting different colours and cultures and I think that touches people's hearts a lot."
This may not only be a message for South Africa, thinks Mello-Pittman. "INALA is a story about togetherness, home and community," she says. "Given what's happening with Brexit, I think there couldn't be a more poignant time for it. There's a sadness in some of the songs but it's an uplifting journey. It feels like everything's going to be ok if we all stick together. We're all in it together, we're all just people, we share the same space – that's the message."
Wednesday 23 October 2019 at 7.30pm
Royal Albert Hall, Kensington Gore, South Kensington, London SW7 2AP
Box Office: 020 7589 8212
Book online www.royalalberthall.com
Tickets priced from £20-£85 (£5 Gallery Standing Tickets available)
www.inala.co.uk