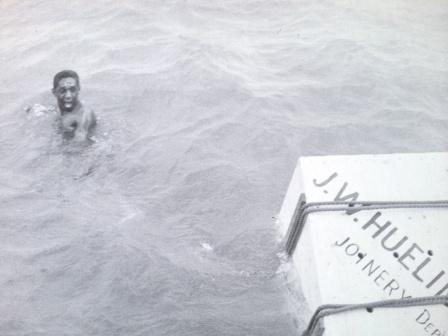 Bunny was born in Jamaica on 25 October 1933 and developed an interest in magic at an early age. He moved to Britain in 1959 to further his education but soon realised that his hobby and flair for performance could earn him a decent living on London's cabaret circuit. Despite the considerable pressures of being a black man at that time (he couldn't, for example, perform on cruise ships because of the colour of his skin) he concentrated his efforts and became a full time professional magician for over 40 years.
The gold star was awarded for Bunny's improvement of Ken Brooke's Nemo Jumbo Rising cards, which simplified the execution of the illusion, but Bunny was also an accomplished escapologist performing many daring escapes during his career. One of the most daring, which he was challenged to perform by the Jersey Sun in 1967 and very nearly went fatally wrong, was recently made into a short film tribute to him by his daughter.
In 1976 Bunny and his wife Nicky moved back to Jamaica where their two children were born. Bunny worked across the island's hotel circuit and continued to be a very popular and sought-after entertainer.
In 1991 the whole family returned once more to the UK and although Bunny was by then 58 he continued to work as a magician, most often as a children's entertainer known as 'The Magical Storyteller'
The late Alan Tipton, former President of the Nottingham Guild of Magicians, had this to say of Bunny:
"In 1996 he was resident in Nottingham and rang me to see how he could join The Nottingham Guild of Magicians, saying in his modest way, 'I don't suppose you know me.' I certainly did and to his surprise rattled off which tricks he performed, to great acclaim, in two Magic Circle shows in the mid 60's. I'd even remembered he didn't use the usual magician's table but carried all his props in a net bag affixed to the microphone stand…
"He joined the Guild in 1996 and delivered an exciting, quite deep lecture, with the accent on the psychology of performing, in lieu of an audition. He was made an Hon Life Member in 2004.
"Bunny worked all over the world. He played the London Palladium in 1968 with Sammy Davis Jnr. topping the Bill. His feature tricks were always: The Cut & Restored Rope, Torn & Restored Newspaper, The Nemo Rising Cards and the Razor Blades From The Mouth. The latter never failed to startle as having swallowed sharp blades at the beginning of his act, some 30 to 40 appeared all strung along a line of thread at the end of the act! During an underwater escape in St. Helier, Jersey he nearly drowned, banging his head badly inside the sealed box. However true to the spirit of Houdini, he escaped and the publicity was huge.
"All magicians, and the public, everywhere, loved Bunny. He died aged 72 on Sunday 7 May 2006 of pancreatic cancer. He was a kind, gentle, considerate man, with time for everyone and a vast knowledge of Magic."