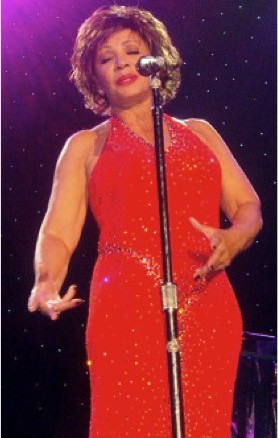 Born in January 1937 in Tiger Bay, Cardiff, Wales, Dame Shirley Bassey was the youngest of seven children. Her parents, a Nigerian sailor and an English woman, divorced before she was three years old, but they kept the family together for the most part, and Shirley was able to sing duets with her brother at family get-togethers.
After finishing school, she found a job at a local factory, and earned extra money singing at men's clubs after-hours. Bassey travelled around the country in revues during the early '50s, and made her big breakout in 1955 at a London Christmas show given by comedian Al Read (though it was promoted by bandleader Jack Hylton, who had caught Bassey's act at the nearby Albany Club).
Soon after, Shirley began appearing in Read's revue, Such Is Life. The show ran for over a year, and gained her a recording contract for Philips Records. Banana boat song hit the British Top Ten in early 1957, followed by her number one hits, 1959's As I love you and 1961's Reach for the stars/Climb every mountain.
A 1962 pairing with arranger Nelson Riddle increased her prestige in America, and a vaunted live show gained her headlining spots in both New York and Las Vegas during the early '60s. Popular recognition in the United States came in early 1965, when Goldfinger hit number eight in the American charts, instantly becoming her signature song across the Atlantic. (Strangely though, it missed even the Top 20 in Great Britain.)
Bassey's hits in the U.K. continued into the mid-'70s, led by Top Ten entries such as Something, For all we know and Never never never. After the crowning achievement of her career, a 1977 Britannia Award for Best Female Solo Singer in the Last 50 Years, Shirley Bassey gained her own highly rated BBC-TV show in the late '70s, but gradually slowed down her busy schedule during the next decade.
Semi-retired to Switzerland by 1981, she nevertheless emerged quite frequently, spurred by the recording of several television specials and LPs, including a 1987 date with the synth-pop group Yello. Bassey became much more visible during the '90s, opening a nightclub in Cardiff, and touring the world several times.
The woman they call Burly Chassis came back in customarily spectacular style in 1997 with History Repeating, a collaboration with Bath's Propellerheads. It introduced her to a new generation of dance fans, just as she was celebrating her 60th birthday.
History Repeating's success was consolidated in 2000 when EMI released Diamonds Are Forever – The Remix Album, which saw some of her biggest hits reworked by artists including Groove Armada, Nightmares On Wax and Mantronix. Apparently, the Queen was a big fan of the album – so much so that the very same year she decided to make Shirley a Dame.In 2001,
Bassey was principal artiste at the Duke of Edinburgh's 80th Birthday celebration. On 3 June 2002 Shirley Bassey was one of a prestigious line up of artists including Elton John, Paul McCartney, Queen, The Corrs, Annie Lennox, Eric Clapton, Tony Bennett, Cliff Richard, Joe Cocker, Rod Stewart, Ricky Martin, Phil Collins and Tom Jones who performed at the Queen's 50th Jubilee Party at Buckingham Palace.
Then, in 2003, Bassey celebrated 50 years in show business, releasing the CD Thank You for the Years, which was another Top 20 album. A gala charity auction of her stage costumes at Christie's, Dame Shirley Bassey: 50 Years of Glittering Gowns, raised £250,000 (US$500,000) for the Dame Shirley Bassey Scholarship at the Royal Welsh College of Music and Drama and the Noah's Ark Children's Hospital Appeal
A mother and grandmother with a self-confessed love of glamour, Dame Shirley still returns to Wales for occasional performances – It's a pretty safe bet that Wales – and the world – has yet to hear the last of that voice.