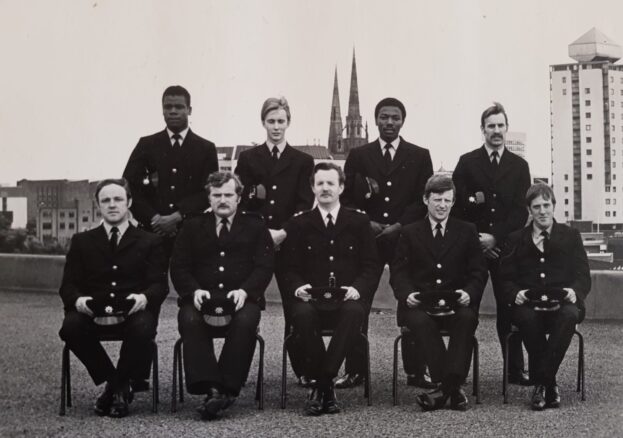 Former Assistant Chief Officer Wayne McCollin was born in Barbados before moving to the UK in 1960 and says the intolerance he had to endure was a cultural shock for him and his family.
But Wayne would be inspired by his own brother to embark on a remarkable 31-year career as a decorated firefighter, receiving a Queen's Fire Service Medal in 2006 for his contributions to protecting communities across the UK.
Having served for more than 25 years in Services across England, including London and West Midlands, Wayne became one of Scotland's highest ranking black firefighters in 2003 when he joined Lothian and Borders Fire Brigade as Assistant Chief Officer.
Wayne retired in 2009 after 31 years and is speaking of his own experiences in support of Black History Month. Launched on October 1, with the 2021 theme of 'Proud to Be' the campaign is calling on black and ethnic minority people across the world to share why they are proud to be who they are and celebrate their contributions to their communities and society.
He said: "That was a culture shock. People wanting to play with your hair and calling you nig-nog or coon. It was how things were in the 60s – there was nothing you could do. It was completely wrong, but it was what it was.
"You get tired of people saying how terrible it was. It was 40 years ago and there is nothing else to be gained by telling the stories. We have to work out what is happening now and why it is happening now."
Wayne's parents were in their late 20s when they arrived in the UK with four children aged eight, six, four and six months, when they came to Birmingham from Barbados in 1960 Wayne's mum become a nurse and his dad worked as a tool setter for a metal fabricator.
As a child Wayne wanted to become a doctor, then a dentist, and he received a provisional acceptance to study dentistry at Edinburgh. Having under-achieved at A Level he tried the dental technician's course with the RAF, but he eventually followed his older brother Louis who was already a firefighter.
Wayne said: "We were very young when we arrived in the UK, and when Louis saw a fire engine it captured him. He always wanted to be a firefighter. He tried four different Services before getting accepted by Walsall Fire Brigade, a small service in the West Midlands.
"When the West Midlands came together, he become one of 2,500 firefighters – and one of three BME firefighters. I started my career being told if you are half the firefighter of your brother – you will be alright."
Throughout his career and when he became a senior officer, Wayne continued to push for greater diversity within fire and rescue services. However, he says that one of the biggest issues is people not realising they are acting in a prejudicial manner.
He said: "I was the chair of the joint recruitment board for the three services – Lothian and Borders, Fife and Central. We introduced some initiatives to try and improve the diversity of the Services, and although we managed to get the numbers up of BME, they weren't as high as we would have liked.
"Culturally services are still evolving but it is going to take time. Trying to break it down has been the biggest challenge.
"There are feelings of 'we're really good at what we do – why change?' and individuals who saw nothing prejudicial in their actions or thoughts and couldn't understand why these issues were being raised.
"We all have a desire to make life for the next generation less traumatic than what we have gone through. Being the role model has always been part of everything I did. It's not saying if I can do it, you can do it – it's just to show that it's possible for people from all backgrounds to do this job."
After Wayne retired from Lothian and Borders Fire and Rescue Service, he become involved with a training consultancy has also been a National Officer and Secretary with the Asian Fire Service Association, where he's currently Vice Treasurer. He had been active within the Fire Brigades Union having been the first Chair for B&EMM (Black and Ethnic Minority Members).
Wayne, looking back on what has made him proud, he said: "I give a great deal of credit to my parents. They took a decision they believed was right for their family and leapt into the unknown. They worked hard – it must have been really tough for them, and I am really appreciative of what they did.
"I'm proud to be a Bajan, or Barbadian, and I hope for a better future for my three daughters and six grandchildren."
Assistant Chief Officer Stuart Stevens is the Scottish Fire and Rescue Service's Ethnic Minority Champion.
He said: "Serving Scotland's diverse communities is an honour, and I am fully committed to advocating for excellent public services that meet the unique needs of different community groups.
"Black History Month is an opportunity to not only celebrate but to celebrate the contribution and legacy of Scotland's BME communities. Stories such as Wayne's allow us to take stock through lived experience, both positive and negative, and learn from that to support our drive to be more inclusive as a Service and as a society."