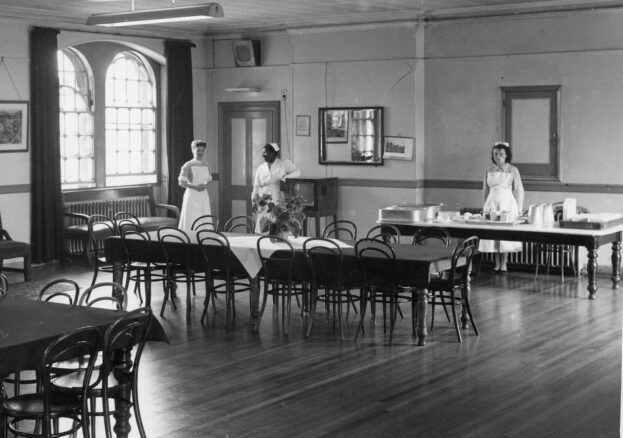 'Glenside Hospital Museum, Bristol are launching a Heritage England-funded project: Answering the Call: Our NHS Commonwealth Nurses. In the Museum archive we found a book that of trainee nurses; over ten years from 1956, 22% came from the Commonwealth, with 17% coming from the Caribbean islands. They were answering the call to tend a welfare state in its infancy.  We can now tell this extraordinary untold story.
The project over the next year will collect the individual stories of nurses from Commonwealth countries who came to support the newly formed NHS and worked at Bristol's psychiatric hospitals from 1948 – 1994. A team of ex-nurses, students and community members are joining forces to record oral histories and organise participatory events.
Glenside Hospital Museum (GHM)  houses a unique collection relating to the history of mental health care and aims to destigmatise mental illness. It is based in the Grade II listed Victorian asylum church within the grounds of Bristol's 1861 to 1994 psychiatric hospital on Blackberry Hill, BS16 1DD open Wednesday 10am – 1pm and Saturday 10am-4pm.
The museum is full of objects, photographs, drawings and information collected from the former hospitals. The exhibits are compelling and provide an opportunity to examine the care provided in the past for people with mental illness and learning disabilities, and to consider our own health needs.
The project will highlight the significant contribution of Commonwealth nurses to the NHS over the past 75 years and also remember the dedication and sacrifice provided by current NHS staff during the pandemic.
If you or a member of your family have 'Answered the Call' from Britain to come and support the new NHS, Glenside Hospital Museum would love to record your social history to share with future generations. For further information email Stella Man at: glenside_museum@hotmail.com
website: www.glensidemuseum.org.uk  '