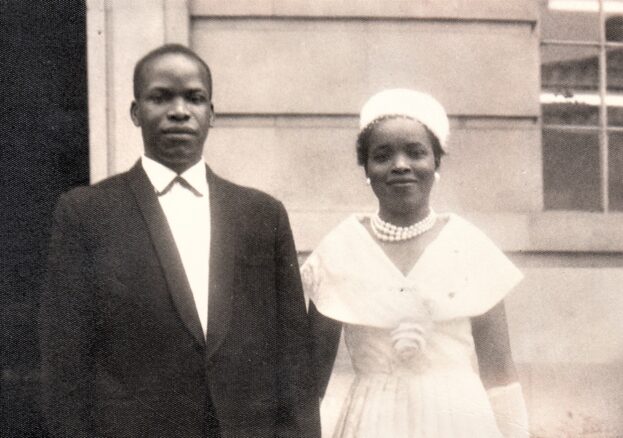 Elegantly dressed wearing a Christian Dior inspired skirt made by a Vincentian dressmaker. Plus, a blouse, cardigan and a pink hat; she was among immaculately dressed passengers on this historical journey to help fill the post-war UK labour shortage and, beginning a new life away from home. The men wore double or single-breasted jackets with sharp, pressed trousers, two-tone brogues, slim leather belts, flamboyant neckties and fedora hats, some suavely tilted to one side.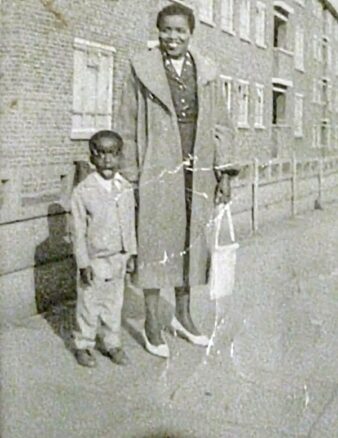 The women adorned dresses with full or pencilled skirts, fitted jackets, gloves, dipped pearl jewellery and eye-catching hats. Although it was summer, they carried coats, pullovers, cardigans, warm socks and scarves. Whether hand made by dressmakers, tailors or imported, their eclectic style evoked an impressionable presence in the UK. Which unintentionally challenged the status quo, pending the adversities in store on their arrival. 
Besides the prominent racial abuse, small Island taunts and extreme challenges, there were occasional joyous moments. One, in particular, was a wedding around 1961. My father bought a pink dress flocked with velvet roses for my mother. I wore a Prince of Wales checked suit, a white shirt and a dinky bow tie for this special occasion. Father wore a black tuxedo suit with a satin lapel and a starched, white shirt. 
Stylishly dressed in fashionable trends, the ladies danced, twisted and spun like carousels in a fairground. The men wore lightweight suits with trousers creases, sharp enough to cut the wedding cake. There was full circle, dainty dresses, which demanded space on the dance floor. We dance to Chubby Checkers' popular song: 'Let's twist again like we did last summer.' And I, mesmerized, as this was our first wedding, danced as if there was no tomorrow. 
But tomorrow came slowly, along with the snow, sleet and fog. We moved to a bigger house; my sister Kenlyn and brother Treldon joined us from St. Vincent, 1964. And our brother Jason was born, 1972. 
I remember an old Singer sewing machine, fabrics and dressmaking patterns in a spare room where our mother made dresses for herself and others. She knew how to knit, crochet and went to evening classes to learn to embroider. Our father adapted his skills too. He renovated houses, made bits and bobs, including picture frames. I was inspired by his energy, motivation, although he thought otherwise. But, to his dismay, I had this passion for fashion, made dolly clothes, and drew pictures on my school exercise books. 
I went to Hornsey College of Art, then studied fashion and textiles at Middlesex University afterwards. 
Graduating from Middlesex University in the middle of a recession was difficult. Facing similar discriminatory setbacks, like my parents, I struggled to find work as a fashion designer and wondered whether I chose the right profession. However, eventually, I found employment as a part-time pattern cutter.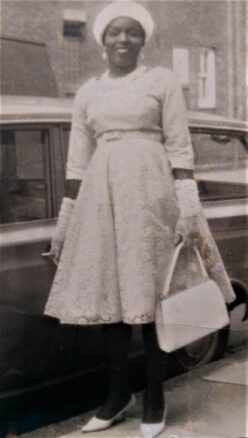 Dissatisfied with a sense of Deja vu, I decided to design clothes for 'Silk and Things', a shop in Stoke Newington and slowly grew a clientele. Inevitably, I became more confident, against all odds, fulfilling my dream. 
In 1982, there was a black designer showcase at The Royal Albert Hall in which I showed a capsule collection with other designers needing recognition. Loose Ends, the UK R&B performed to a packed house on the verge of their global success. Though apart from them, nothing major developed from this event. Except, my friend Sonia Brown suggested becoming a milliner. 
Incidentally, while running to catch a bus, I broke my foot and was homebound for weeks. Bored and bothered, I decided to learn millinery through experimentation, deliberately side-stepping the norm to establish my own style. 
Soon after, I rented a stall at Camden Town Market and eventually sold my first collection to 'The Hat Shop', Convent Garden, London, then to shops abroad. 
'The Hat Gallery,' opened in 1998 at Broadway Market. It became a creative hub for artists, designers alike who regularly exhibited in the shop. In partnership with the Hackney Council regeneration scheme, The Hat Gallery helped revive the street into the oasis it has become today. Furthermore, I needed a sense of balance between managing a shop and working within the community. Then, an opportunity to work with the Claudia Jones organization during the Hats off to Hackney festival. 
Within the group were women from all over the Caribbean who previously were machinists or nurses. Talented beyond belief, they quickly learned how to design hats, which won the first prize for the Hats off to Hackney competition. Afterwards, they made hats to wear at The Royal Ascot, which we visited twice. And one of the highlights of the workshop was being part of the Black Style exhibition at the V&A museum, assisting me with the hat-making workshops during this event. After working with them for several years, their energy, resilience and narratives still inspire me up to this day and hopefully beyond. 
On 13 October 2021, at Wardown Park Museum & Art Gallery, Luton, I will be a guest speaker for a Black History event titled;' Dressed up to the nines.' In which will discuss the Windrush generation style, fashion, aspirations and influences as the main topic. Including how my heritage inspired my career and the unforgettable, adversities we encountered.
For more information is:www.culturetrust.com/whats-on/dressed-nines