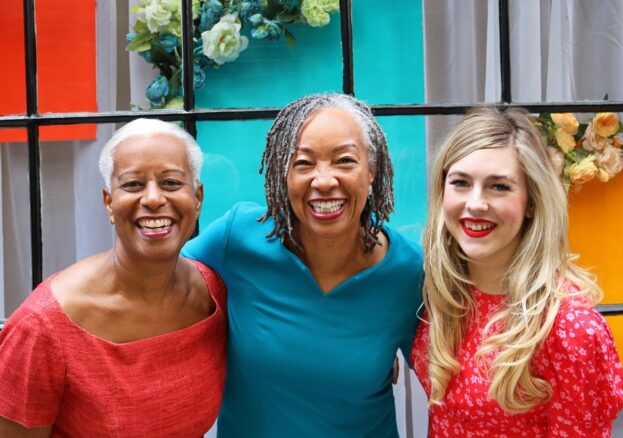 Our journey has led us to explore a range of definitions and this book contains a selection of these, together with our own interpretations that allows us to reflect on the differences that exist in contemporary society. (Extract from the foreword of My Little Black Book)
Deciding to write My Little Black Book – A Blacktionary: A glossary of terms and phrases, in 2021 was no accident. After the tragic event of George Floyd's death in May 2020, businesses felt they were in the spotlight and uncertain of the right steps to take. Our corporate clients asked us to help them navigate the language of race through the lens of Black people.
During our research, it became apparent that compiling a glossary would be a starting point to provide understanding and support to organisations and for anyone who needed it. It was also a way to remove the excuse 'I don't know how to'.
The workplace is where change can happen and fast. It's also a place where uncomfortable conversations need to be had and what better way than a pocket sized Blacktionary to get conversations going. It takes courage to admit that you need help and even more to have conversations that are difficult.
For instance, one of our phrases, Code Switching is defined as: adjusting one's style of speech, appearance, behaviour and expression in ways that will optimise the comfort of others in exchange for fair treatment.
We place the phrase in context:
Adjusting ourselves to different situations is something that most of us do consciously.  Think about a time when you were in a social setting and you felt that the topic of conversation was excluding you. Initially, you probably showed interest by nodding or making the odd comment in agreement. This is code-switching and we all do it.
However, for some people code-switching is a regular way of life. Many people of colour will be used to code-switching and do so by trying to 'fit-in', hoping that by making others feel comfortable, they will be treated more fairly.
While we all like to belong to groups be they social, familial or professional, fitting in takes many forms. We may feel the need to dial down our accent, alter the way we dress, change our hairstyle or hide tattoos. Much depends on the dominant culture which may be explicitly or implicitly stated.
Understanding what code-switching is and its impact, allows organisations to gain an insight into what behaviours Black employees are having to display in exchange for fair treatment.
When we think of the future, we like to imagine a world where the voice of women is truly heard and understood. Where there is equality and equity, hand-in-hand so that any outcome is equal. Think of how many more female owned businesses there would be that would go beyond a three-year start-up phase. Where investors and financial institutions encouraged women-owned businesses to innovate to stimulate new markets. And for women in corporate companies, their talents were honestly recognised and rewarded. Yes, things are changing but not fast enough.
We are reminded of the great singer Aretha Franklin's cover song of Sam Cooke's 1964 Civil Rights anthem 'A Change is Gonna Come'.
Jane Oremosu and Dr Maggie Semple, OBE – co-authors of My Little Black Book – A Blacktionary. Available from https://www.i-cubedgroup.co.uk and in independent bookshops.
Meet the Authors – Dr Maggie Semple OBE and Jane Oremosu
Maggie: there are a few things I know about myself. I'm curious, I have a high tolerance for ambiguity, I like storytelling and I view the world through multiple lenses. The combination of these attributes enables me to be action focussed with a strong desire to create change and not just one change. For example, in the mid-2000s I was a Civil Service Commissioner. I was appointed a member of the Queen's Counsel Panel in 2017, and in 2020 I initiated the Black British Voices Project.
Of course, creating change is not a solitary pursuit. Effective action requires an inner motivation and belief that things must change and for the better. But the art is how you inspire others to join you. For me, being seen for taking small and regular actions, being visible about belonging to a wider community of interest and being prepared to respectfully challenge others, are three ideas.
Jane: moving to the UK as a young woman, having lived most of my life in Lagos, Nigeria provided different cultural contexts and perspectives with which I viewed life through. I realised early on in my career that change is an inside job and begins first with ourselves. How we treat ourselves determines how we treat others. This has been my foundation for action, be the person that you want to see.
Working with corporate organisations to facilitate behavioural change can be daunting especially when it means challenging the status quo. However, creating that space for organisational introspection, though initially uncomfortable for those involved, is ultimately rewarding as it leads to a better understanding of how thoughts, words and actions can impact others negatively or otherwise. This for me is most fulfilling in my role as a change maker.