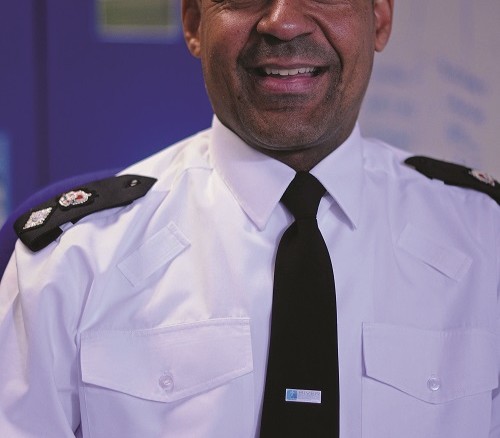 Can you tell us about Merseyside Police?
Merseyside is a metropolitan police force as Liverpool is our major city. We have 4,000 Police Officers on the force and 2,000 support staff. As an area we cover 5.5million people who live in five major areas; Liverpool, St Helens, Wirral, Knowsley, and Sefton and we deal with all sorts of crime from firearms offences to child exploitation and burglaries.
What made you want to become a police officer in the first place?

When I was younger, no more than 5 or so- I had a police car which you could pedal and a police bike as well. I don't know if it had any effect but as a BME (Black and Mixed Ethnic) officer, it might be a bit cliché to say but I wanted to make a difference in the communities in which I lived and worked. Some people call it 'Public Service Motivation' and for me, as a vocation- yes I get paid to do it, but it's the motivation of doing the public a service. The money is not what sets my boat alight and I've been doing it for 33 years, soon to retire.
Describe your best day on the job.
That's an impossible question because I've had so many good days. I suppose some of the best days, personally were when I got promoted. But on the job, there are times you catch a burglar in the act or arrest people who do terrible, terrible crimes and those feel really good too. But then there are sad days that have good moments in them. Comforting people who may have just heard the worst news in their life, for example or being there and helping a victim feels good too. It's not all about making arrests, but the humanitarian aspect to the job as well.
What advice would you give to someone considering a career in policing?

Do it. I didn't join till I was 23 you see, but some of my colleagues joined when they could at 18. Don't sit around and just think about it; do it. People will tell you things; you will read things and have your own experiences. People might say 'I'll never join the police. They're no good, they're this, and they're that.' But my argument has always been, 'don't sit and shout about it- change it from the inside'. Sometimes holding a demonstration makes change, but the biggest change usually comes when someone makes a change from the inside.
How important is to increase diversity in the force?
In Merseyside, we have just under 4,000 officers but only 20% is female and only 132 are BME. In our support staff, out of 2000 only 32 are BME- it's not proportional to the area. Merseyside has a 5.5% BME population, but only 3.3% are in Merseyside Police. And despite the good work our Officers do, it's difficult at times when you're going into communities and you don't have the Officers who understand the community the same way as someone from that area and Policing isn't about guesswork. As Merseyside's population increases, the Police Force needs to grow accordingly.
What recruitment opportunities are there currently available?
Sadly, because of the austerity measures we are not looking for regular Officers, but we are recruiting Special Constables. These people will have the same training, the same powers as a regular Officer but they don't get paid a salary. The expenses are covered, so things like food and travel they don't have to worry about. So when it's time to take the test, a lot of Special Constables get the position because there is a very high success rate. By then you will have had the training, you understand the policies, and you know the people, so volunteers are what Merseyside Police are looking for.
What type of person are you looking for?

People who understand that you don't call the police to bring them around and have a cup of tea. People call the police when they are in crisis. Merseyside police need people who are willing to save lives and put their own on the line. People who will run towards things when others are running away, people who can help, but who can also take control and have a constitution of steel. You don't need this in spades, even if you have a small amount of this within you; we will bring it out. You will be amazed at what you can do with a little bit of support. When I joined I didn't know I could do all that- but I could.
What major challenges do you see the Police having to tackle over the next 5 years?
The biggest issue Police Forces will have to deal with in the future are the austerity measures. Currently our cuts mean we now share a control room with the Fire Service and soon the Ambulance Service will be moving in too. Soon Police Forces all over the country will be reducing from 74 to much smaller numbers, grouping together with other Forces just to stay alive, so that will be the biggest problem we face.