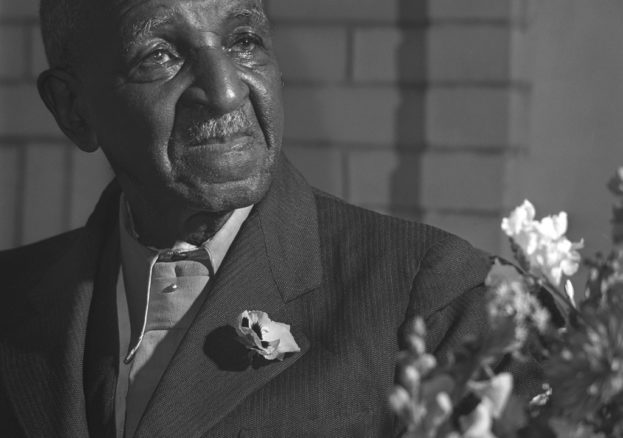 George Washington Carver was born into slavery in Diamond Grove, Newton County, now known as Diamond, Missouri, in possibly in 1864 or 1865.
His master, Moses Carver, was a German American immigrant who had purchased George's parents, Mary and Giles, from William P. McGinnis on October 9, 1855, for $700.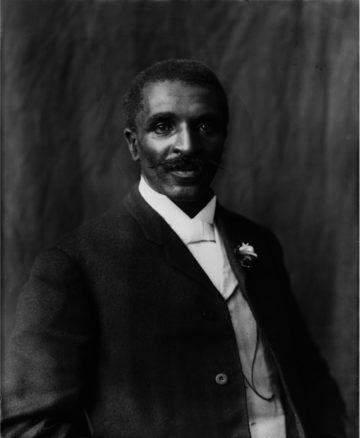 When George was only a week old, he, a sister, and his mother were kidnapped by night raiders from Arkansas, who would sell the family before Carver's owners would be able to rescue them all. Only George and his brother James would be spared by the kidnappers
After slavery was abolished, Moses Carver and his wife Susan raised George and his older brother James as their own children.They encouraged George to continue his intellectual pursuits, and "Aunt Susan" taught him the basics of reading and writing.
At the age of thirteen, due to his desire to attend the academy there, he relocated to the home of another foster family in Fort Scott, Kansas. After witnessing a black man killed by a group of whites, Carver left the city. He attended a series of schools before earning his diploma at Minneapolis High School in Minneapolis, Kansas.
College
Carver applied to several colleges before being accepted to Highland College in Highland, Kansas. However, upon his arrival, the College terminated his enrolment due to his race.
By August 1886, Carver traveled to Eden Township inNess County, Kansas where he would work as a ranch hand and experimental farmer. Maintaining a conservatory of plants, flowers and a geological collection, Carver would manually plough17 acres (69,000 m2) of the claim, planting rice, corn, Indian corn and garden produce, as well as various fruit trees, forest trees, and shrubbery.
Wanting to go back to his studies, Carver obtained a $300 loan at the Bank of Ness City for education, but by June he had left the area.  However, in 1890, Carver began studying Art and Piano at Simpson College in Indianola, Iowa; to which he gained a profiency in painting flowers and plants. This profeciency was regonised by his teacher Etta Budd, who helped Carver enroll into Botany at Iowa State Agricultural College in Ames in 1891, to which he was their first Black student.
After submitting his Bachelor's thesis; 'Plants as Modified by Man' in 1894, the Professors at Iowa State encouraged Carver to remain for his masters degree and to work at the Iowa Experiment Station for two years. His work at the experiment station in plant pathology and mycology first gained him national recognition and respect as a botanist.
Carver would go on to teach as the first Black faculty member at Iowa State.
In 1896, Booker T. Washington, the first principal and president of the Tuskegee Institute, invited Carver to head its Agriculture Department. Carver taught there for 47 years, developing the department into a strong research center and working with two additional college presidents during his tenure. He taught methods of crop rotation, introduced several alternative cash crops for farmers that would also improve the soil of areas heavily cultivated in cotton, initiated research into crop products (chemurgy), and taught farming techniques for self-sufficiency.
From 1915 to 1923, Carver concentrated on researching and experimenting with new uses for peanuts, sweet potatoes, soybeans, pecans, and other crops, as well as having his assistants research and compile existing uses. This work, and especially his speaking to a national conference of the Peanut Growers Association in 1920 and in testimony before Congress in 1921 to support passage of a tariff on imported peanuts, brought him wide publicity and increasing renown. In these years, he became one of the most well-known African Americans of his time.
Legacy
Carver developed techniques to improve soils depleted by repeated plantings of cotton. Together with other agricultural experts, he urged farmers to restore nitrogen to their soils by practicing systematic crop rotation: alternating cotton crops with plantings of sweet potatoes or legumes (such as peanuts, soybeans and cowpeas). These crops both restored nitrogen to the soil and were good for human consumption. Following the crop rotation practice resulted in improved cotton yields and gave farmers alternative cash crops. To train farmers to successfully rotate and cultivate the new crops, Carver developed an agricultural extension program for Alabama that was similar to the one at Iowa State. To encourage better nutrition in the South, he widely distributed recipes using the alternative crops.
In addition, he founded an industrial research laboratory, where he and assistants worked to popularize the new crops by developing hundreds of applications for them. They did original research as well as promoting applications and recipes which they collected from others. Carver distributed his information as agricultural bulletins.
In 1916 Carver was made a member of the Royal Society of Arts in England, one of only a handful of Americans at that time to receive this honour. Carver's promotion of peanuts gained him the most notice. In 1919, Carver wrote to a peanut company about the potential he saw for peanut milk. Both he and the peanut industry seemed unaware that in 1917 William Melhuish had secured US 1243855, issued 1917-10-23 for a milk substitute made from peanuts and soybeans.
The United Peanut Associations of America invited Carver to speak at their 1920 convention. He discussed "The Possibilities of the Peanut" and exhibited 145 peanut products. By 1920, the U.S. peanut farmers were being undercut by low prices on imported peanuts from the Republic of China.
In 1921 peanut farmers and industry representatives planned to appear at Congressional hearings to ask for a tariff. Based on the quality of Carver's presentation at their convention, they asked the African-American professor to testify on the tariff issue before the Ways and Means Committee of the United States House of Representatives. Due to segregation, it was highly unusual for an African American to appear as an expert witness at Congress representing European-American industry and farmers. Southern congressmen, reportedly shocked at Carver's arriving to testify, were said to have mocked him. As he talked about the importance of the peanut and its uses for American agriculture, the committee members repeatedly extended the time for his testimony. The Fordney-McCumber Tariff of 1922 was passed including one on imported peanuts. Carver's testifying to Congress made him widely known as a public figure.
Honours
1923, Spingarn Medal from the NAACP, awarded annually for outstanding achievement.
1928, honorary doctorate from Simpson College
1939, the Roosevelt Medal for Outstanding Contribution to Southern Agriculture
1940, Carver established the George Washington Carver Foundation at the Tuskegee Institute.
1941, The George Washington Carver Museum was dedicated at the Tuskegee Institute.
1942, Ford built a replica of Carver's birth cabin at the Henry Ford Museum and Greenfield Village in Dearborn as a tribute.
1942, Ford dedicated a laboratory in Dearborn named after Carver.
1943, Liberty shipSS George Washington Carver
1951-1954, U.S. Mint features Carver on a 50 cents silver commemorative coin.
1965, Ballistic missile submarine USS George Washington Carver (SSBN-656)
1969, Iowa State University constructs Carver Hall in honour of Carver– a graduate of the university.
1943 the US Congress designated January 5, the anniversary of his death, as George Washington Carver Recognition Day.
2007, the Missouri Botanical Gardens has a garden area named in his honour, with a commemorative statue and material about his work
Willowbrook Neighborhood Park in Willowbrook, California was renamed George Washington Carver Park in his honour.
Schools named for Carver include the George Washington Carver Elementary School of the Compton Unified School District in Los Angeles County, California and the George Washington Carver School of Arts and Science of the Sacramento City Unified School District in Sacramento, California.