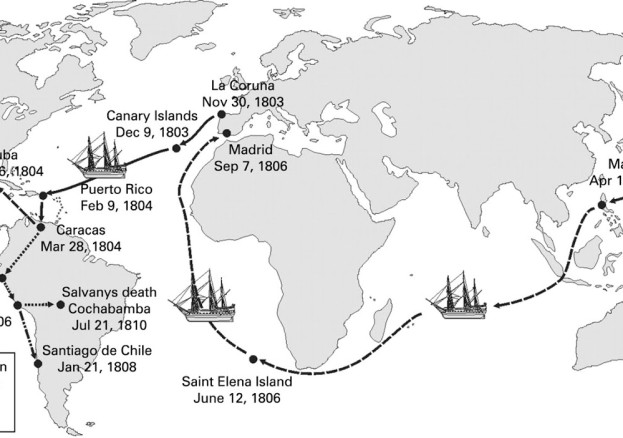 The Balmis Expedition was a three-year mission to the Americas between the 30th November 1803 and 1806. Led by Dr Francisco Javier De Balmis, the plan was to vaccinate thousands of South Americans against Smallpox. If the expedition was successful, it would change the previously British approach to inoculation introduced in 1798.
Writing about the Baltmis Expedition, Edward Jenner, the discoverer of the vaccine, wrote, "I don't imagine the annals of history furnish an example of philanthropy so noble, so extensive as this."
King Charles IV of Spain supported his royal doctor Balmis, ever since his daughter, María Luísahad began to suffer from Smallpox. The expedition sailed on Maria Pita and carried 22 orphan boys between the ages of eight and ten years old, as successive carriers of the disease, Balmis, a deputy surgeon, two assistants, two first-aid practitioners, three nurses, and Isabel López de Gandalia, the Rectoress of Casa de Expósitos, a A Coruña orphanage.
The mission took the vaccine to the Canary Islands, Colombia, Ecuador, Peru, Mexico, the Philippines and China.
The ship also carried scientific instruments and translations of the Historical and Practical Treatise on the Vaccine by Moreau de Sarthe to be distributed to the local vaccine commissions to be founded.
One of the places the Expedition did not travel to, was Puerto Rico, as the local population was already inoculated by the Danish colony of Saint Thomas.
In Venezuela, the expedition divided at La Guayra. José Salvany, the deputy surgeon, went on towards today's Colombia and the Viceroyalty of Peru (Venezuela, Panama, Colombia, Ecuador, Peru, Chile, and Bolivia). Whilst this expedition is still considered a part of the Balmis Expedition, the length of this secondary trip was much longer (seven years) and does not take part within the three years Balmis and his primary team were in South America.
Balmis went to Caracas and later to Havana in modern day Cuba. The local poet Andrés Bellowrote an ode to Balmis.
In Mexico, Balmis took 25 orphans to maintain the infection during the crossing of the Pacific and in the Philippines, the team received help from the Catholic Church. Balmis sent most of the expedition back to Mexico while he went on to China, where he visited Macau and Canton. On his way back to Spain, Balmis convinced the authorities of Saint Helena to be inoculated in 1806.