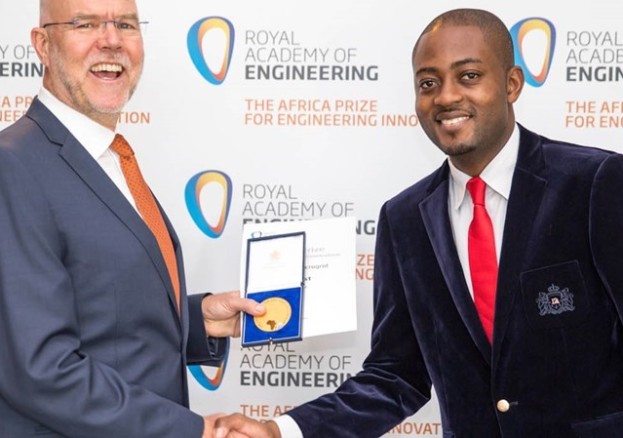 His invention could change the way that Africans access treatment for heart disease, a critical illness on the continent.
The Cardio-Pad is a small tablet device that allows any medical professional to perform heart diagnostics at any location. These diagnostics, sent to a cardiologist via a mobile phone network, are interpreted in under 20 minutes.
Nearly one in two Africans over the age of 25 has undiagnosed hypertension, and an estimated 20 million Africans suffer from a cardiovascular disease. A further 80 million Africans are estimated to have abnormally high blood pressure, which can lead to heart failure.
Cardio-Pad can help discover, monitor or rule out heart conditions as a source of pain without expensive trips to cities where cardiologists are based. As in Cameroon, cardiologists are often stationed in main cities, making heart diagnostics an expensive trip for millions of Africans living in rural areas.
Hundreds of Cardio-Pads have been built, and the device has already been sold in Cameroon, Gabon, India and Nepal. Arthur recently opened a medical assembly facility for the device in Yaoundé, creating local jobs. Cardio-Pad devices are distributed to hospitals and clinics free of charge, and subscriptions are charged to individual patients at a low yearly rate.
The Africa Prize for Engineering Innovation, founded by the Royal Academy of Engineering in the UK, encourages talented sub-Saharan African engineers, from all disciplines, to develop local solutions to challenges in their communities. The Prize selects a shortlist of innovators from across the continent and provides training and mentoring to help turn engineers with incredible ideas into successful entrepreneurs.
Launched in 2014, the Prize aims to stimulate, celebrate and reward engineers who have developed innovations that will benefit Africans.
12 shortlisted Africa Prize entrants, from nine countries in sub-Saharan Africa, received six months of business training and mentoring during which they learned to develop business plans and market their innovations. The group received coaching on communicating effectively, focusing on customers and approaching investors with confidence.
Zang, who wins UK £25,000 (21 million FCFA), competed with entrants from 11 African countries. At the awards ceremony in Dar es Salaam on 26 May 2016, the four finalists delivered presentations, before Africa Prize judges and a live audience voted for the most promising engineering innovation.
The award was presented to Arthur by the inaugural Africa Prize winner Dr Askwar Hilonga from Tanzania. Dr Hilonga won the Prize in 2015 for his Nanofilter, which purifies water and creates business opportunities in communities.
"Arthur's technology is powerful and solves a real problem," said Hilonga. "It touches the underserved communities, and is a tangible technology that Africa can be proud of – developed in Africa, for Africans.
The three runners up, who each win £10,000, are:
Eddie Aijuka for Kamata from Uganda for an electricity-theft-prevention device that attaches to each household power supply and alerts authorities and cuts off power supply when the power is tampered with.
Felix Kimaru and the Totohealth team from Kenya for a web-based network that supplies mothers and pregnant women with life-saving information and advice
Matt Wainwright and the Standard Microgrid team from South Africa for an electricity utility-in-a-box that speeds up rural electrification and reduces energy costs
"I was very impressed by Arthur Zang and his team, which aims to help patients in communities where access to cardiac specialists is limited. We are very proud to have him as our second Africa Prize winner," said head judge Malcolm Brinded CBE FREng.
"The Cardio-Pad should allow quick, low cost, cardiac illness detection and monitoring in rural villages and towns, addressing a huge African health challenge. Arthur has successfully established an assembly unit in Yaoundé, and incorporated the training that he received through the Africa Prize. His business plan is sound and his innovation could improve quality of life for millions of Africans."
Zang commented: "This award has allowed me to measure myself against the best engineers in Africa. I was pushed to the limits, and it has made me a better scientist and a better entrepreneur.
"It has also grown my ambitions for the Cardio-Pad and my company, Himore Medical – which I now aim to grow into a global leader in medical manufacturing.
"I'm also very proud to win for my country. I hope it will help to restore hope to those who still doubt that Africa has a bright future."
The third Africa Prize for Engineering Innovation is now open. Individuals and small teams living and working in sub-Saharan Africa, and who have an engineering innovation, are invited to enter. Potential entrants can find more information online. The deadline for entries is 27 June 2016.
Africa Prize for Engineering Innovation