The Online Black Book Festival 2022 is a showcase event for authors, publishers and booksellers who work within the global Black book industry.
This radical book festival aims to promote Black books and develop a global network of industry experts and the general community to achieve this aim.
The festival acts as a key part of the Simon Education's SEADS Project, which is an international education movement, that is now operating in several Caribbean and African countries; providing Africentric books (plus educational materials and teacher training) to marginalised communities and those in rural areas.
Festival Schedule
Welcome and introductions from the Simon Education Festival Team
Part 1. Family Hour 2.10pm to 3pm
Festival news bulletin (part 1) on the global Black book industry
African Caribbean storytelling (Tba).
The ten most important books for Black children with educational psychologist Enomwoyi, author of the Zingha series.
Afri-Lit Lab platform, a new free online platform showcasing Black children's literature with Nneb Akpom-Simon and Adachukwu Onwudiwie and creators from the UK and Nigeria.
Introduction to parents of the new Genius series for children (12 workbooks) from Simon Education publishers with best-selling author David Simon (UK).
Part 2. The Art and Craft of Writing 3pm to 4pm
Festival news bulletin on the global Black book industry (Part 2)
Writing as Therapy with writing coach Dr. Michelle Yaa Asantewa (UK) author of In Search of Mami Wata.
Writing for Film with Lamant Gant (USA) and Marlon McCaulsky (USA) authors of the screenplay Returned.
Writing for Black children: fieldwork, design and distribution. (tba)
Podcast host and curator, Precious Obiabunmo (Nigeria) on Chimamanda Ngozi Adichie as Fashion and Literary Icon.
Part 3. Promoting, Distributing and Selling Black Books 4pm to 5pm
Interview with Troy Johnson, founder of America's largest Black book club, the African-American Literary Book Club (AALBC).
Performance Poetry of Windrush Portrait poem as featured on TES
Festival book launch. Tony Fairweather launches his new book Twenty-Eight Pounds Ten Shillings: A Windrush Story.
In-conversation with writer Nels Abbey author of Think Like a White Man: A Satirical Guide to Conquering the World..While Black. ( Founder of the Black Writers Guild).
The Okada Book Movement of Nigeria (recording)bringing Black books to marginalised communities in Africa.
The SEADS Project. The SEADS Project works with authors all over the world whose books provide educational and cultural value to Black children and the wider community. SEADS now distributes donated books to schools in Africa and the Caribbean.
Part 4. Achievements and Awards 5pm to 6pm
Tribute to New Beacon Bookshop, the first Black bookshop in the UK.
Tribute to the African-Caribbean storytellers who have gone before: Louise Bennet and Paul Keynes Douglas.
Lifetime achievement award (tba) presented by Dr. Leonora Simon-Bleasdille
Festival targets and impact for 2022/2023
Festival team closing remarks.
More Online Events Listings MORE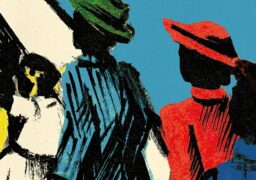 Online Events
Friday 8 December
Join us online for Twenty-Eight Pounds Ten Shillings: A Windrush Story by Tony Fairweather, where we'll delve into…