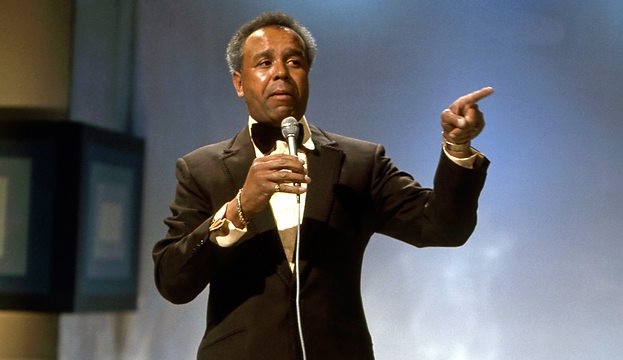 Charles Adolphus Williams MBE (23 December 1927 – 2 September 2006) was an English professional footballer who was one of the first black players in British football after the Second World War, and later became Britain's first well-known black stand-up comedian.
In the 1970s Yorkshire-born Charlie Williams, with his catch-phrase "me old flower", became the first black British stand-up comic to experience mainstream success, especially on television where, from 1971, he enjoyed a long residency on Granada TV's stand-up show The Comedians.
In that era the humour of Williams, struck a chord with the British public. In 1972 there was a six-month season at the London Palladium and his own Granada television show, It's Charlie Williams.
Other successes followed. He was the subject of This is Your Life, and he appeared in the Royal Variety Command Performance (both 1972). The following year he had his own Charlie Williams Show on the BBC and hosted ATV's game show The Golden Shot from 1973 to 1974.
Williams often poked fun at his colour, dabbled with race issues and mostly the jokes were at his own expense. Interviewed in 1992, Lenny Henry described what happened when he started out as a teenage comedian in the mid-1970s: "Charlie told a lot of 'darkie jokes'. 'I've been left in the oven too long' or 'I'm perspiring a lot, I'm leaking chocolate' – which were very stupid and very immature. I remember doing a show in Hull and a guy shouting out 'Oi! You've got to do jokes like Charlie Williams. That's the kind of thing we expect from black comedians up here'.
"I would go to see Charlie pulling the house down doing stuff about 'darkies' and I thought 'this is obviously what you've got to do if it's a predominantly white audience – you've got to put yourself, and other people, down'."
Williams was, very much, a black comic for his time. He was generating laughter in a decade that witnessed the rise – and fall – of the fascist National Front and increased police harassment of young blacks. And the media climate of the decade can be measured in other variety shows; the BBC was still running a series with its roots in the racism of 19th-century minstrelsy, The Black and White Minstrel Show – in which white men "blacked up" – and an ITV comedy contribution was the popular, but reactionary sitcom Love Thy Neighbour. All of this caused hurt, embarrassment and anger within Britain's black community.
And that left Williams. He was, as Henry pointed out, the black Yorkshireman who had played football for Doncaster Rovers, who had the wartime experience of white Yorkshire people, who talked like them, who thought like them – but who just happened to be black.
Williams's initial success on The Comedians was within a show where stereotyping was itself part of the formula. There was the likes of Frank Carson from Northern Ireland, Mike Reid from London's East End. Then there was Bernard Manning.
Williams was born in Ross Lane, Royston, a small mining village near Barnsley, South Yorkshire on 23rd December 1927. His father, also Charles, was a Barbadian whose wanderings brought him to England in 1914 where he enlisted in the Royal Fusiliers. After serving in the first world war, his father settled in Royston where he bought a horse and cart and sold groceries. He also married a south Yorkshire lass Doris Cook.
After leaving Ryhill modern school, Charlie Williams worked as a wartime coal miner and, post-war, began playing football for the local Upton colliery team. Then came the signing with Doncaster Rovers. There he made 171 appearances as centre-half from 1949-59, becoming a regular first team player in 1955. Yet when the 1956 Encyclopaedia of Association Football was published there was no mention of Williams, who together with Roy Brown, of Stoke City, was one of the first post-war black players in British football.
After his football career ended, the 32-year-old Williams began working as a semi-professional singer and comedian on the tough working men's clubs of the industrial north. The patter provided the formula that was to make him a star, telling jokes and stories often against himself in his broad Yorkshire accent. Success came in 1970 when he was invited to appear in the Yorkshire clubland command performance, which was followed by The Comedians, a show that transformed the careers of a clutch of performers who had subsisted on the northern circuit.
By the late 1970s Williams's success was subsiding, and the winter of 1977-78 found him in Dick Whittington at the Billingham Civic, a far cry from the London Palladium. By the 1980s the political – and entertainment – climate had changed which froze out the likes of Williams. "I don't have any regrets," he said later. "I told jokes that I thought would suit the audience." He retired in 1995 following a "twilight tour", but he did make a surprise appearance on television in the BBC's Windrush Gala Concert in 1998. In 1973 his Ee-I've Had Some Laughs was published. In 1999 he received an MBE for his charity work, and in 2004 he was voted Doncaster Rovers "all-time cult hero".
He died on the 2nd September 2006 having suffered from Parkinson's disease and dementia,