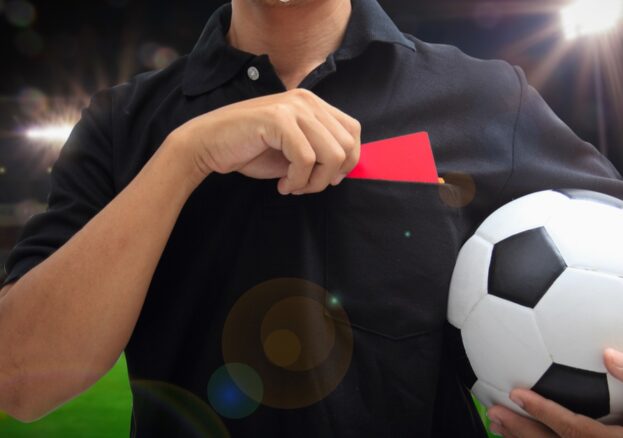 Black footballer Emmanuel Bonaventure of Watford tops the list of cards given in the 2021/22 season with a total in 14 games of six cards, while Paul Pogba another black player from Manchester United has four cards.
Are they being targeted, just because they are black?
Back in 2012-2013 season Science journal Nature analysed the top divisions in England, Spain, France, and Germany.
Twenty-nine teams of researchers looked at incidents in that season to see if there were any patterns.
They looked at how often referees encountered each player, their position, height, weight, and skin colour.
And they found the ref was more likely to penalise black stars.
Their investigations found that players with darker skin have a 30% greater chance of getting a red card.
They said referees varied from "slight" showings of prejudice to "strong" incidences where black players were being targeted.
In the past, Arsenal star Patrick Vieira tied as the Premier League's most sent-off player with eight dismissals. He always felt he was being targeted.
Move forward to the current season 2021-2022 season and still black players not only have to put up with a large number of cards, but the racial abuse on the pitch seems to continue week in week out.
Why so few Black Refs?
Currently out of a workforce of about two hundred referees over the country's top seven divisions, just four (2%) are black or Asian: Sam Allison, Joel Mannix, Aji Ajibola and Sunny Gill.
Head of the Football Supporters' Federation Malcolm Clarke said referee bosses should look at the issue further.
But being realistic, any new black referees would have to have a very brave attitude to take charge at any major football match.
According to Goal, Premier League referees receive a regular yearly wage of between £38,500 and £42,000, depending on their level of experience.
They then receive around £1,150 in additional match fees paid on top of that for every game they referee.
However, is that really enough to persuade a black referee or lineman or woman to take charge of a Premier League match in front of thousands in the stadium and have to put up with racist chants?
If the FA cannot solve racism against players, what protection will can they offer black officials on the pitch and around the grounds against abuse?
Football still lacks diversity
A few years back the Football Association vowed 10% of football match officials would be BAME, but so far, the numbers still fall far short, and the drought continues to this day.
Uriah Rennie, the Premier League's last black referee, has said it is time 'words are matched by action' to increase the diversity of officials.
Not one of the seventy-nine referees on this season's national list — from which all top-flight and EFL officials are drawn — is from a BAME background, even though around a quarter of players in England's top four divisions are non-white.
Despite talk of change by the FA, Rennie fears it is still some way off because of the 'ingrained' cultural habits of football's powerbrokers.
Reuben Simon, a Level 3 official on the FA's National list until 2014, also fears the
numbers will not improve until football's culture changes.
"The trouble is ­unconscious bias," Simon added. "Over the last 15 years, no ­chairman in the Premier League or ­Football League is used to seeing a black person in authority."
After Sir Lewis Hamilton's very public quote last week, stating that he felt manipulated after the Abu Dhabi Grand Prix.
Perhaps it is time for the Premier League and the FA to step up to the plate and address their own problems too.