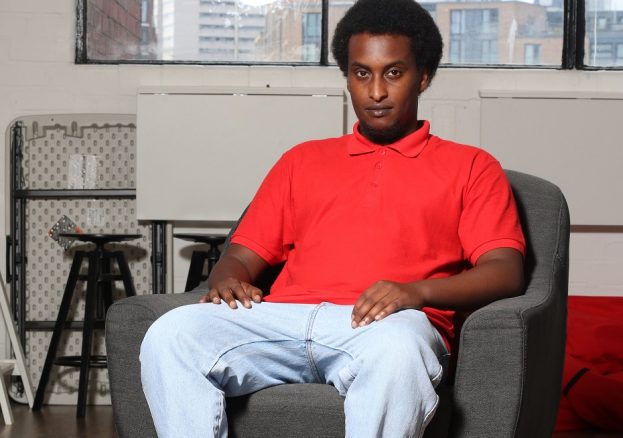 To learn more about the craft he is participating  in  a  filmmakers  talent  development programme  BACK  IN  powered  by  creative  agency  PUNCH,  which  is providing  him with the tools and knowledge to progress  into  making  short  films.
How did you get into filmmaking?
I've only done this professionally for about a year. I started because I was looking for someone to actually do a promotional video for me for a little project that I was doing, and we couldn't really come to an agreement. I knew a couple of YouTubers as well, so I thought to myself, you know what, if they can do it, then I can do it as well. So I set myself a challenge against one of my mates to make a promo video. I didn't have camera, so I used my iPhone and I put something together, edited it and it turned out that people actually preferred that over his one that was filmed professionally. I thought I've got a little knack for this. Before I knew it, I invested in a camera and I got my first professional job, and it just carried on from there. So today I do a lot of freelancing. I've worked with a bunch of brands and companies and I feel like I've come quite a long way in the space of 12 months.
So you're completely self-taught?
Everything's self-taught – filming and editing and After Effects which are 3D animations. At the moment I'm freelancing for a mate of mine that owns a marketing company. I run the video department for him, and I've taken on a couple of interns that's already graduated.
What inspired you to become a filmmaker?
It's the whole process, that you can have an idea and that you can bring that to life. A film can be life changing, it can make you laugh, cry and feel all sorts of emotions. I want people to be inspired, and that's why I want to be a filmmaker. If even one person can feel something I'll feel like at least that way I might have made a change or inspired someone's life.
Sounds like that is important for you to do. Have you had a difficult life?
I was born in Somalia, East Africa, but this was when the fight was, basically the civil war was out there. Mum fled to Kenya and then from there she went to Syria when it was peaceful. We lived in Russia for a bit, done the journey in Sweden. Lived there for a couple of years, my little sister was born there. Grew up in Denmark where I developed a passion for education. Right before my teenage years my mum moved to England. Once we came here I didn't understand the school system and before I knew it, the passion that I developed for education just went out the window and I just ended up making a lot of wrong choices in life but yeah things eventually got better.
So what made you apply for BACK IN?
I was the DOP on two of the shorts shot with last year's group. I found out that the applications were open, and it's something that I always wanted to do, because when I went into filmmaking I didn't get into it just to do music videos, just to do these little promotional stuff. I want to take this the furthest that I can take it, which is at the end of the day, make films and do it for a living as a DOP or Director. I've literally been in the industry professionally for 12 months. I thought this is a challenge and at the end of the day, it's a way for me to prove to myself and show the world that anything is possible.
What have you enjoyed most about being a part of BACK IN?
Everything. As soon as we finish a day  I can't wait to see what we're going to do on the next one. We've got the whole everything planned out over the next six months. We know what we're going to be doing and we're on an incredible journey.
Tell me about the film that you plan to produce for the project?
It's about a married couple that loves hiking and they end up going to Iceland. I don't think I can give too much at this moment but it is really emotional and I'm excited about going to Iceland to shoot for a few days.
What have you learned since working on your first film project?
To network and make connections. Always work hard and never say you know something if you haven't got a clue what you're doing. Your reputation is everything in this industry. Be professional even if it's not a paid job and just make sure that you love what you do. Always have a plan b,c,d,e & f just in case things don't go according to plan.
Follow Mohamed via Instagram and Twitter @Tee_Visuals or visit www.RoyalEmpireMedia.com. The 2017 cohort of the BACK IN film programme, will be hosting a panel discussion around diversity in the UK film market, and showcasing their work in the EVERYMAN cinema, inside the Mailbox on September 26. More details can be found online at https://www.bbc.co.uk/academy/en/articles/art20170321161846901