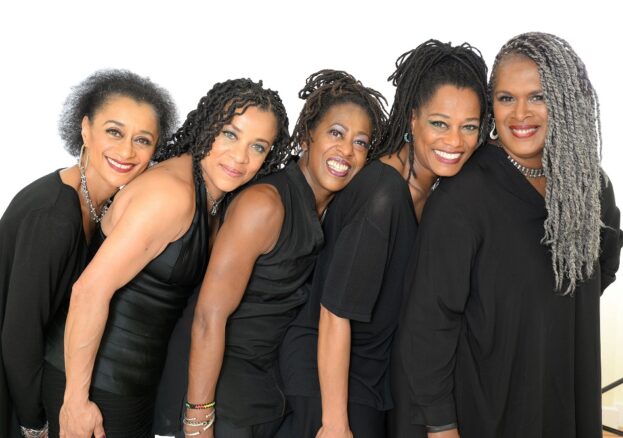 In 1991, seven
creative black women founded the first ever Black British female comedy troupe called the Bibi crew. Joanne Campbell, Judith Jacob, Janet Kay, Suzette Llewellyn, Josephine Melville, Beverley Michaels and  Suzanne Packer came from different parts of the UK but all shared similar lived experiences as black women growing up. Their aim was to produce high-quality new writing from an African Caribbean perspective, introducing the Black British experience to a larger cosmopolitan audience.
The BiBi Crew was committed to redressing the lack of diversity within the creative industry in audiences and on stage. Between these seven sisters, they had experience as actors, writers, directors and producers. They blazed a trail by devising and directing their own productions at Theatre Royal Stratford East (TRSE) from 1991-1995. What impact did the Bibi Crew phenomena have on those involved?   
The Bibi Crew was an inspirational and pioneering group. How did it get started?
"Our ancestors paved a way for us", says Beverley Michaels. "They were the ones that set us on this charge – on this path to have a voice; to be heard. I think because of the platform of the arts, we wanted to be heard and seen"  
It was while watching a tribute and memorial for Calvin Simpson by The Posse (an all-male black troupe featuring Eddie Nestor, Robbie Gee and Victor Romeo Evans), that Beverley noticed that she (and women like her) wasn't represented.  Where were the black women? "I decided to get something together", says Michaels. "So I called in these beautiful women, and honestly, we immediately became a sisterhood" Judith Jacob agreed: "It felt so safe. It provided talking therapy, laughter and we cried together.  And we've been on that journey ever since." 
What impact did this have on you?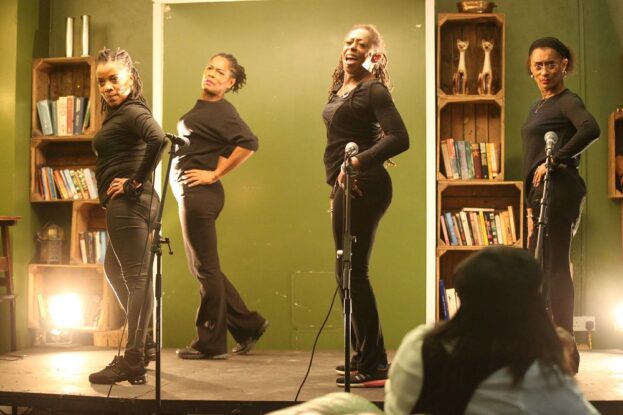 "We're very different as individuals, we really are" says Suzanne Packer "but we have such a bond and it's a lovely bond in that none of us are perfect. We all know our strengths. We all know our weaknesses. But I feel like we're a bit like a jigsaw. We complement one another and it's been like that for 30 years". Packer continues: "It's such a great thing to be part of.  We are a beacon of sisterhood. And if I was one thing to say to younger women, find your sister and find your sisterhood because it sustains you"   
They all agreed that even when they are apart, they draw on the strength of the BiBi Crew. "Having that support system is important" says Jacob, "because being an actress in this business, can be very demoralising, and you think you're the only one that's going through this, that and the other. So to be able to just talk about the challenges with other actors and actresses is comforting.  With my girls, I can openly share my vulnerability or when I feel like I'm a failure, you know that they understand. It's not about sympathy. It's about understanding where you're coming from. It's really nice to be able to feed off each other especially during those moments of insecurity." 
What were some of those highs and lows?
"When we first started, we didn't know about business so we had to learn on our feet" explains Michaels "We focused on our strengths and each led on an area. We knew that we would need sponsorship, a production crew, publicity, admin, costumes, makeup and hair etc. But we knew our art and decided we would do the journey of womanhood of life. So our first show started with the beginning of life and that was a real high – having all the backing and the trimmings of a production.   
Did you get any support?
[Creative Director of TRSE] "Philip Headley was rooting for us from the beginning"  says Jacob. "He gave us freedom, flexibility and trust. Having free rein and not being micromanaged was a rare thing at the time. He gave us really sound advice about budget too. Go for your ideal because they're always going to knock you down. So don't already knock yourself down beforehand! This is so important because many times we want to make all the compromises thinking people won't pay you what you're worth." 
"We weren't arrogant. We asked for help when we needed it" states Packer. "We knew where we needed outside help and we were never shy…and that was a big strength. Nine times out of 10, we got the best people on our side to help us. I think Philip and others recognised that we had a story to tell and we were the best people to tell it!" 
Some of you pursued a career in acting; do you find that the industry has changed when it comes to black women securing roles?  
"There are pockets of amazing jobs that come up, but there doesn't seem to be a consistency with it" explains Jacob. "We have Riches2 which is great but there aren't many like it. Or you might get a little role in a major drama but again its inconsistent."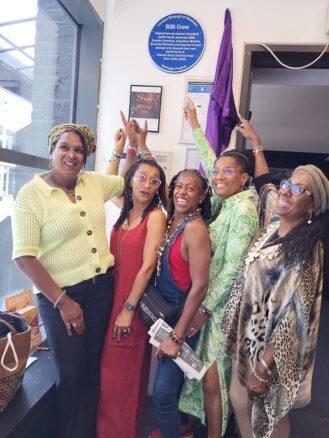 Both Suzanne Packer and Judith Jacob agree that there is still a gap for black female actresses – the more experienced are still vying for minor roles in way that other white actresses don't have to. What does this mean for the next wave of upcoming black actresses? "Despite the challenges, it's the best industry" beams Jacob. "I mean, I love being an actress and regardless of how I feel – like I might be upset about not booking a job – I think, well, I'm not going to do anything else!"  
At this point, Beverly reminds Judith of all the wonderful community work that she does [Reader – this is just one of many examples of the love between these women]. "Both Judith and Suzanne they have played some fantastic roles on TV and stage and are successful in their careers" says Michaels. "The community recognises this and reaches out and ask them to present, give talks etc and both willingly give their time". 
Do you think there's still a sisterhood? Or are we as black women becoming quite siloed?  
"I think there is a sisterhood but I also think we could do more" says Packer "Sometimes we forget to focus on what is our shared essence. We're too busy looking at differences like colourism which at the core is about separating us. I think, regardless of our shade or our age, we've got to remind ourselves that we're all actually fighting the same battle. We can only make inroads and make these big changes when we forget the superficial difference" 
"We always think we're in competition with one each other but that's not true" says Jacob. "I can't do a role the way someone else does it but I can do it! There are plenty of black actresses out there but there's so little opportunity for us. We're seen as homogenous. Casting will say, let's just get that black woman as opposed to this particular black woman with these particular skills!"  
Yes we can see more people of colour on TV but when it comes to the big roles, in leading shows (like Silent Witness) how many are led by Black women? 
Why is Black History Month important?
"This is why we need to know who we are" says Michaels. "I recognise that it's important to mark a particular time in the calendar but personally, I don't think there should be a Black History Month!" 
[Reader – as the editor of BHM Magazine, my eyebrows raised to the heavens] 
She explained: "We are black history. It's important to champion black British excellence. We are woven into the fabric of British society because we have kept this country afloat and for longer than 75 years! We have been here for centuries. We as a people have always made an impression in this society, and I think it's imperative that it continues. I'd like to see my grandchildren, my great grandchildren being a part of creating new material, creating new stories around their generation." 
[Phew!] 
Jacob says: "I'm black all the time! Not just for October! Seriously, at least we have a month. It's a reminder to white people that we are here! It's also a good reminder for black people too. Sometimes we forget how great we are. We forget how powerful we can be. With all the things we have to go through daily, we can be made to feel lesser than ourselves.  If these 31 days allows us to say, "I am great, and I am powerful", it is empowering. I should be able to walk in every space holding my head high. And if that's what Black History Month does and helps to sustain us for another year, it's all well and good" 
"It's got to be intentional. Let's not just have it just because it's on the calendar. Let's make it mean something." Says Packer  "I love the theme 'Saluting our Sisters'.  I think more than ever, we've got to make the 21st century, the century of women. So if saluting our sisters is one step towards it then let's embrace it. Men have had their time and they messed up. I'm not dissing men but we have tried their way. So come on women, let's do it. Let's stop looking at the small differences. Let's use our power. That's why I think it's such a great theme!  
[Reader – I am beaming even more broadly at this point] 
What would you say to your 15 year old self?  
"I will say believe in yourself" says Jacob. "Trust your vision, trust your ideas. Because while I was confident in lots of ways, I'd second guess myself. So definitely, I would say trust yourself, your ideas and move forward with them! 
Packer says: "So I think the first thing would be to stop worrying. Stop worrying about failing and do it anyway. Everything changes – nothing stays the same. There are so many options." 
It is clear that the sisterhood which started nearly 30 years ago is as strong now as it was then. Despite what life has thrown at them, the heart of the Bibi Crew beats loudly. Whatever generation you are, there is something to learn from these courageous, phenomenal and pioneering women. They paved a way and made history. This is why they were recognised with a Newham Heritage blue plaque. BHM magazine salutes the Bibi Crew – a true beacon of sisterhood.   
Suzanne Packer can be seen in ITV's The Bay 
Judith Jacob can be heard on Conscious Radio