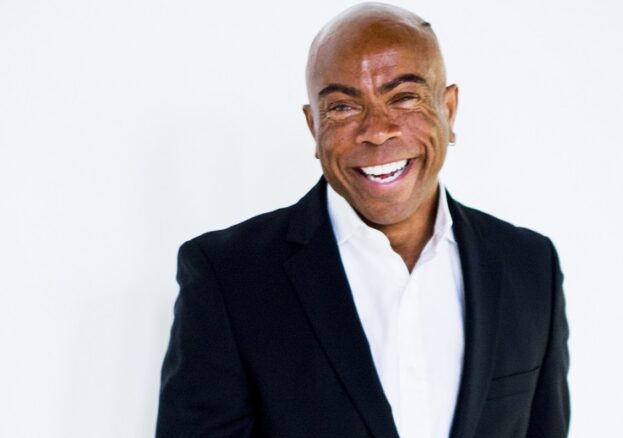 Mark is one of the UK's most successful classically trained professional dancers having enjoyed a stellar career with some of the world's leading companies; Rambert Ballet, Lisbon's Ballet Gulbenkian, and the legendary Dance Theatre of Harlem. 
Could you tell us a bit about yourself and how you ended up being a classical dancer? 
I was brought up in a Westminster children's home in Paddington by a lovely lady named Helen Parry that I called Auntie Hele.  And I was a really hyperactive child – growing up today I would have been diagnosed with some form of attention deficit disorder – but instead, I was diagnosed as a young drag queen!   
There was a weekly programme on Thursday nighst – Top of the Pops – and one of the featured groups was Pans People.   And in the Pans People was one particular dancer called Babs, with long blonde hair…..and I used to stand in front of the tv and just basically imitate Babs.  I'd put a jumper on my hair, flick it to the right, flip it to the left! 
At the time I had a wonderful social worker called Julia Grahame who just thought "right…I think maybe you should just send this young man to dance school".  So I auditioned for the Ballet Rambert and all I remember was meeting this incredibly glamourous elder lady, who was actually Rambert's daughter Angela Ellis. I was in her living room, and she asked me to run run run and do a jeté (and of course I'd seen Nureyev), so I ran and I did a big jump, and the rest is history.   
Now, in '79, when I was completing my training at Rambert, there were almost no working black classical dancers in the UK.   Any  black British dancer that showed promise went directly to the Dance Theater of Harlem in NY.    
Can you tell us a bit about your work and your school? 
In '86, a good friend and mentor, Carol Straker – this amazing black British ballerina – she said "Mark, let's start a company".  So with all the experience she had with her Russian ballet training, and my training with Rambert, the Dance Theater of Harlem and the West End, we started the Carol Straker Dance Foundation.  We founded a school, we wanted to do it properly – we knew what the blueprint was.  To cut a long story short, we were launched by the BBC but, sadly, due to a lack of support from the Arts Council, she had to close down the company.   
I took everything I learned from that experience and I brought it to west London.  I knew I had to contain it, condense it, so I kept everything small and tight.  I got the Mark Elie Dance Foundation (which is a registered charity) and the Portobello Dance School going, and from the school I now produce three shows each year, including Classically British, which is my Black History Month show. 
What was happening, was I was running this Saturday dance school and I had all these talented children.  And still there still wasn't that black ballerina at the Royal Ballet, there was one black ballerina in the English National – Precious Adams, who came to visit the school during the creation of a ballet I was choreographing called Belle, inspired by the life of Dido Belle.  We had a Q&A with the students from the school and Precious Adams, which was very much appreciated by all.         
So I wanted to find a place in the calendar for an event that would actually spotlight black British talent in the classical aesthetic as well as the contemporary.  You see, we have been trained, here in the uk but not but not embraced.  And I thought Black History Month would be a perfect fit. So we have a dress rehearsal in the afternoon for local schools and the public (which we supplement with an educational side touching on the historical accounts of past and present pioneers), and a performance in the evening.   
This year Classically British is being showcased virtually.  Can you tell us what we can expect? 
This year we're going to go global.  With everything that is happening now with Black Lives Matter, this is – I think – a perfect platform to discuss inclusion and diversity and to be able to share that with a wider audience.   I'm fortunate to be working with a really incredible Oscar and BAFTA-winning cameraman – Frank McGowan – and we're bringing together some stunning artists who bring to the table gorgeously varied visions of dance.  Our dancers – Pàje Campbell, Bela de Souza, Nathan Geering, Mukeni Nel, Sam Salter and Layton Williams – are producing pieces (classical, neoclassical and modern) that touch upon diversity, intimacy in isolation and the Black experience – celebrating passion in this challenging time. 
We will be launching globally on 16 October for anyone to be able to tap into through Eventbrite or my website (www.portobellodance.org.uk).  For more information, feel free to contact me, Mark Elie – CEO and Artistic Director – 079 4748 4021.