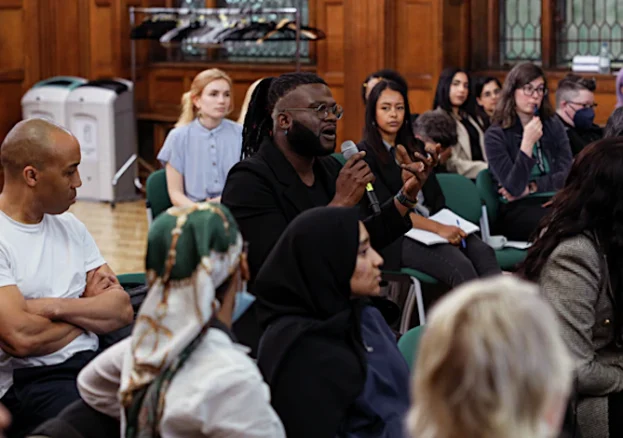 Join us for the Second Annual Westminster Conversations Conference on "Challenging racisms in higher education and beyond". This event will take place on Thursday, May 11th, 2023, in Fyvie Hall, located on 309 Regent Street, University of Westminster.
The conference will feature a diverse range of speakers and panel discussions aimed at exploring and challenging the various forms of racism present within academia and society as a whole. Throughout the day, attendees will have the opportunity to engage in conversations, ask questions, and network with like-minded individuals.
The conference will kick off with an opening session, featuring a welcome from Dibyesh Anand and Alex Hughes. Following this, there will be a panel discussion on the intersections of Black and female experiences in academia, featuring Carlette Norwood, Rutendo Musikavanhu, Cheyenne Holborough, and Yaz Osho in conversation with Deborah Husbands.
After a tea break, attendees will have the chance to hear from keynote speaker Jason Arday on the topic of challenging racisms in higher education. Following this, there will be a panel discussion on Islamophobia as racism, featuring Sanah Ahsan, Myriam Francois and Rakin Niass Fetuga in conversation with Sobia Razzaq.
After another short break, the conversation will shift to a panel discussion on antisemitism as racism, featuring Dave Rich and Camila Bassi in conversation with Dibyesh Anand.
Following this, there will be a panel on lived experience, discrimination and community with students, student leaders and journalists in conversation with Farhang Morady.
The day will conclude with closing remarks and a reception. Don't miss this opportunity to engage in critical conversations about challenging racisms in higher education and beyond. Register today to secure your spot!
Kindly scroll down to view our impressive lineup of speakers and agenda; all the speakers other than those whose affiliations are mentioned are from the University of Westminster.
Location : Fyvie Hall, University of Westminster 309 Regent Street London W1B 2HW
Get ticket here
The 11 May conference is followed by an International Student Conference organised by DEN Westminster on 12 May 2023 on 'Sustainable Development in a Diverse and unequal World: Actions Speak Louder than Words?'
Host: Dibyesh Anand is the Head of the School of Social Sciences at the University of Westminster and a Professor of International Relations. He is the author of monographs 'Geopolitical Exotica: Tibet in Western Imagination' and 'Hindu Nationalism in India and the Politics of Fear' and has spoken about, and published on, varied topics including Tibet, China-India border dispute, Hindu nationalism, Islamophobia, and conflict in Kashmir. He is passionate about challenging the divide between academia and activism and identities as queer in personal and political terms. He is the co-chair of University's EDI Committee and BME Network and an elected member of the Court of Governors.
Host: Alex Hughes is a highly experienced University leader who has worked in institutions across the spectrum of UK HE, building and delivering strategic priorities. As Deputy Vice-Chancellor for Global Engagement and Employability at the University of Westminster, she leads the University's internationalisation activities, working with colleagues across the institution. She also leads our employability strategy, placing it at the heart of student experience priorities. She is co-Chair of the University's EDI Committee. Previously, she was Pro-Vice Chancellor External at the University of Kent, where she led the University's Internationalisation Strategy. Her remit also included the non-academic student experience and the employability agenda. The student experience was a focus of Alex's work at Birmingham University, where she was Pro-Vice Chancellor for Quality and Students.
Deborah Husbands is a Chartered Psychologist and Senior Lecturer in Psychology at the University of Westminster. As a Black Caribbean woman and 'first-generation' student, she has successfully navigated the hard path into higher education and leadership. Deborah is a Fellow of the Higher Education Academy and an Associate Fellow of the British Psychological Society. She is also a member of The Psychologist and Digest Editorial Advisory Committee. Deborah is the Outreach Coordinator for the School of Social Sciences at the University of Westminster and works with schools and colleges to bridge the transition into higher education for school students, with a keen focus on improving access for racially-minoritised students. She also leads the Black History Year steering group, co-chairs the Black and Minority Ethnic Network at Westminster, and sits on university-level Equality, Diversity and Inclusion committees. Deborah's research interests include exploring experiences of belonging and impostorism as well as deconstructing race, gender and ethnicity in under-represented groups using critical race theories to better understand marginality and oppression.
Carlette Norwood is a sociology lecturer, trainer, and PhD mentor with expertise in cultural intelligence and racial literacy. Her research focuses on racism, racial inequality, and racial trauma, and she specializes in microaggression and historical racial trauma. Carlette has conducted training workshops and webinars on racial literacy, cultural competency and intelligence, and white supremacy, and has spoken/lectured to diverse audiences in academia, the private sector, and charities. She has served as both Board Advisor and Academic Advisor for the Birmingham City Council/Lewisham Council African & Caribbean Health Inequalities Review (BLACHIR) in 2021, and has worked with several UK HE institutions' Equity and Inclusion projects. Carlette's most recent commissioned work is a small qualitative study that explores supervisor relationships with Black, Asian, and minority ethnic (BAME) post-graduate researchers, published by the University of Sheffield. Prior to her academic career, Carlette worked extensively in corporate roles in the fields of travel, tourism, and hospitality, with previous Executive/Directorship positions in meetings/events, and conference and tradeshow management.
Yaz Osho is an EDI Lead and Senior Lecturer at the University of Westminster. Her current research projects include studies into the BAME attainment gap; inclusive teaching and navigating HE for Black academic and social media use and racially minoritised academics. Yaz is also the founder of BAMEWA (Black, Asian and Minoritised Ethnic Women in Academia Support Network) and BAN (Black Academic Network). Both Networks aim to support racially minoritised academics working in higher education by through peer support, opportunities for networking and advocacy. Yaz is a certified coach and Race Equality Charter Panel Member.
Cheyenne Holborough is a British Caribbean currently working at The University of Westminster Students' Union as an academic representation coordinator. Having been in a variety of EDI roles, Cheyenne continues her EDI work in her new role at the SU. As she feels that there are still changes that could be made, Cheyenne is continuing with the EDI work she started as a student at Westminster and is also taking up new projects as well so that minoritised students at the university can have their voices heard.