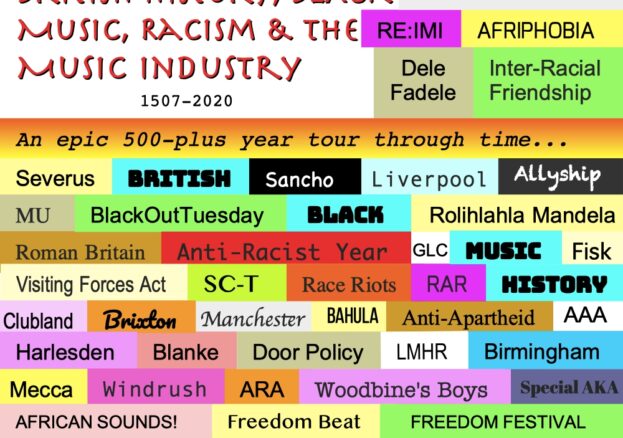 Does #BlackLivesMatter Still Matter To The UK Music Industry?
In this third and final instalment, BBM/BMC/RE:IMI's Kwaku opines on how the UK music industry is dealing with racism, one year on from #BlackOutTuesday.
I'm the co-ordinator of BBM/BMC (BritishBlackMusic.com/Black Music Congress) and its race/ethnicity-facing advocacy RE:IMI (Race Equality: In Music Industry) strand. Having previously focused on the state of Reggae and British black music, I'll end this series of British Black Music Month 2021 pieces, by focusing on the UK music industry and racism, and Afriphobia – which is racism specifically directed at or experienced by people of African heritage.
As I write this article, anti-racists and activists are demonstrating across London and British towns and cities, with a major demo planned outside Downing Street at 3pm, all united under the 'Solidarity With Rashford, Saka, Sancho: We Demand Change' banner. We commend these demonstrations convened by Stand Up To Racism.
This is just one chapter in the huge coverage that's come out of the exposure of Britain's racist under-belly, since the three African footballers missed their penalty kicks at the 2020 Euro finals.
Whilst we are inclined to believe that these racists are in the minority of British society, it nevertheless must be recognised that they aren't merely a reflection of racism in football – of course sector organisations such as Football Association has declared its determination to deal with the issue – which is a wider societal problem. As has been pointed repeatedly, these racists could very well be our doctors, postmen, cops, councillors, accountants, managers, workmates, friends, neighbours, etc.
It's taken football for racism and anti-racism soundbites, online posts, and newspaper articles to go into overdrive. And we must not forget that the Prime Minister and his Home Secretary have both been accused of facilitating what was unleashed after the 2020 Euro finals.
Accusing the Prime Minister of being racist isn't new. During his 2020 Brits Awards performance of 'Black', Dave pointedly called the PM a racist. I believe about 200 complaints were made to OFCOM, which is very low, when compared to the more than 24,000 complaints received on account of dance group Diversity's memorialisation of George Floyd and the #BlackLivesMatter/#AfricanLivesMatter movement.
Most surprising, with the exception of a few positive press coverage such as this Guardian article, why does there seem to have been an almost muted response to Saskilla's excellent 'Do Black Lives Still Matter' exposé, which was broadcast on BBC Three last month?
Why is this one wonders? Are people tired of talking about racism within the music industry? Are people not responding, because they're keeping their heads down?
On July 31 we'll end British Black Music Month 2021 with an online event entitled 'British History, Black Music, Racism & The Music Industry 1507-2020'. This was intended to be a sort of follow up to last September's RE:IMI Music and Racism online conference.
I suspect the consensus on that closing night could be that, in spite of all the positive messages, activities and commitments we heard last year, like what's come out of Saskilla's documentary, the music industry's #BlackOutTuesday/#TheShowMustBePaused, talk of allyship and adoption of #BlackLivesMatter/#AfricanLivesMatter, was, in the main, for a moment, rather than a movement for systemic industry-wide change.
I'll use my own experience to buttress my belief. RE:IMI was a strand started about six years ago, and had some positive responses from the music industry bodies we engaged with, particularly after the #BritsSoWhite furore. It however faltered soon after, partly because it wasn't a time when the elephant in the room could be clearly mentioned.
Anyway, following the Afriphobic murder of George Floyd, we decided to kickstart RE:IMI. We contacted the Help Musicians charity, the UK Music umbrella body and ten of its members – only one did not respond, and another belatedly came on board. The essence of our individual conversations with each of the organisations' senior representatives was published last July – click here to access the 'RE:IMI Black Out Tuesday UK Music Industry Race Diversity Report'.
In contrast to the immediate and positive response from all, bar one of the organisations we contacted last year, we've had a somewhat disappointing response this year.
In early May, we went back to the same organisations, and offered a number of options in which they could engage with us. This included either making very short presentations or sending a single slide that highlighted their work, which could be used within the industry slots during our International Reggae Day (IRD) London UK event on July 1 and the RE:IMI Music and Racism online forum on July 31.
About half responded, mostly on a positive tip, which varied from making presentations, or offering to send a slide, to supporting our events through their online channels.
The other half didn't even bother replying, despite a reminder having been sent. But no worries, we'll try again on Monday – not a begging letter, but one that reminds them about common courtesy and that their deeds should chime with their fine words.
We are loathe to identify organisations by names. So if we don't mention your organisation, it doesn't mean we don't see your support, be that a tweet or a re-tweet in your organisational or private capacity. However, we'd like to point to the Musicians' Union (MU), who made an IRD presentation and co-organised with BBM/BMC a well-attended online music industry seminar earlier this month.
As far as we know, the MU was the only major music industry organisation that organised a post-George Floyd one year on Music and Racism forum. It has also been unequivocal its criticism of the Euro 2020 racism.
I'm sure we'll be hearing about how plans talked about last year have come to fruition in 2021. However, those that I'm presently aware of are PRS Foundation's Power Up grant and career development programme and Sony Music's Social Justice Fund, which has disbursed grants to recipients within the music industry and African community. Hopefully we'll have an update by July 31 on the others, including Ditto Music's $100,000 grant scheme.
Who knows, with two weeks to go before the RE:IMI Music and Racism forum, we may see some of the other music industry organisations belatedly coming on board.
In closing, there are two additions to the July 31 event worth pointing out. Firstly, we'll be screening excerpts of the 'Do Black Lives Still Matter' documentary on July 31, as it shows and speaks superbly to the forum's topic. Secondly, we've created space not just for updates on the music industry race/ethnicity-facing diversity action/programmes, but also for genre reports on gospel, Afrobeats, reggae and R&B. For more information or to book: https://bit.ly/BritHistMusicRacism.
Kwaku
https://BBM.eventbrite.com
https://Linktr.ee/BBMBMC
Celebrating UK Reggae Runnings Tinged With Sadness And Disappointment
https://www.blackhistorymonth.org.uk/article/section/latest-events/celebrating-uk-reggae-runnings-tinged-with-sadness-and-disappointment/
British Black Music Still Finding Its Feet?
https://www.blackhistorymonth.org.uk/article/section/latest-events/british-black-music-still-finding-its-feet/